The shares of Juniper Networks (NYSE:JNPR), the onetime network darling during the Internet boom, have been on the move recently. The stock has picked up some 15% in recent weeks as activists have started to target its underperforming shares.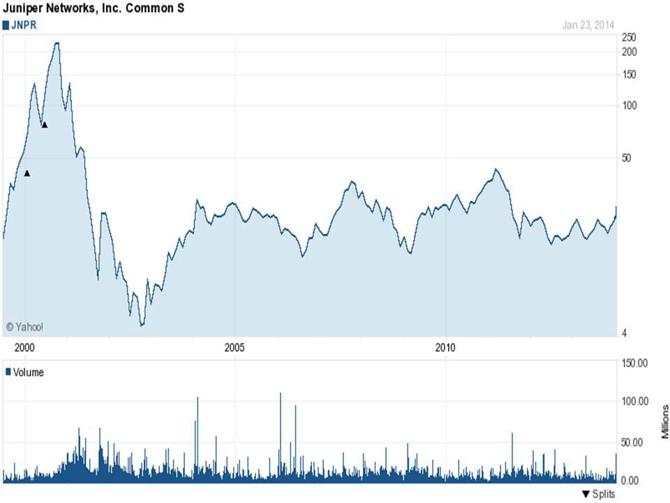 Even with the recent gains, the stock is still down around 40% from highs it reached in 2011 and sells for ~15% of its level reached during the surreal and bygone 'internet boom'. So what is happening with Juniper and what are the prospects for future gains?
Company Overview:
Juniper Networks, Inc. designs, develops, and sells products and services that provide network infrastructure for networking requirements of service providers, enterprises, governments, and research and public sector organizations worldwide.
Enter the Activists:
Elliott Management recently took an over 6% stake in the company. Elliott has a record of creating value by streamlining underperforming corporations. They unlocked some 60% of value last year in my investment in Hess Corp. (NYSE:HES) so I am a big fan of the fund. In addition, Jana Partners, another activist fund has taken a "significant" stake in Juniper.
Turnaround Strategy:
Jana wants Juniper to cut $300M in costs and the company has already agreed to some cuts. Jana also wants the company to initiate dividend payouts, easily doable given the large amount of cash on Juniper's balance sheet. This echoes a demand from Elliott Management who also wants Juniper to boost its stock repurchase program. Elliott believes the true value on Juniper is $35 to $40 a share.
Valuation/Prospects for Success:
Juniper recently reported earnings that came in at 43 cents a share, 6 cents a share above consensus. Revenues also came in at around 5% above expectations or some $60mm. This is certainly an encouraging start to the New Year for Juniper.
JNPR does go for around 19x forward earnings, ~20% above the overall market multiple. However, it is cheaper if you consider 15% to 20% of the company's market capitalization is represented by net cash on the balance sheet. Revenue growth should come in at 4% to 6% over the next year or two, slightly above the average of the overall market.
I believe sales growth could come in higher than those expectations due to intensifying competition among U.S. telecom companies to expand their offerings which has been a boon for network equipment makers such as Juniper. William Blair just upgraded the shares to "Outperform" and I expect other analysts will follow on top of the recent focus on the firm by activist funds.
Juniper has a reasonable valuation and activists should keep the company focused on continuing to make shareholder friendly moves. It looks like a good bet to make on a possible turnaround and worth a speculative buy at these levels. SPECULATIVE BUY.
Disclosure: I have no positions in any stocks mentioned, but may initiate a long position in JNPR over the next 72 hours. I wrote this article myself, and it expresses my own opinions. I am not receiving compensation for it (other than from Seeking Alpha). I have no business relationship with any company whose stock is mentioned in this article.