The biotech industry offers investors an outsize chance to make an above average return on capital in a short period of time. The industries life blood revolves around developing cutting edge remedies for the different ailments that afflict mankind. A company will venture a considerable amount of time and money pursuing a potential therapeutic candidate with the hopes of it being able to demonstrate a clear benefit to the target patient population. The proposition is fraught with great peril as the outcome is far from certain and can only be ascertained after extensive clinical trials are conducted. The payoff for a successful new therapy is immense once the US FDA agrees with the research and approves the drug. An approved drug is a patented product that provides the company who holds the patent a legally protected monopoly. To say the least, a monopoly on a commercially successful product will shower shareholders with a rather predictable stream of future revenue.
The downside to the patent system is the inevitable end of the term. Once a patented drug loses its patent protection, the chemical compound is fair game for generic competition which traditionally erodes over 80% of the sales of the original product. This effect is known as the dreaded "patent cliff" and is evident in the steep revenue drop seen in some of the traditional drug companies such as Bristol Myers Squibb (NYSE:BMY) and Eli Lilly (NYSE:LLY). The article below will discuss my bullish thesis for Amgen (NASDAQ:AMGN), which in my view offers a very compelling opportunity.
Product Sales Detail by Product and Geographic Region
$Millions, except percentages

Q3 '13

Q3 '12

YOY 

US

ROW

TOTAL

TOTAL

TOTAL

Neulasta®/ NEUPOGEN®

$

1,314

$

287

$

1,601

$

1,355

18

%

Neulasta®

905

230

1,135

1,044

9

%

NEUPOGEN®

409

57

466

311

50

%

Enbrel®

1,073

82

1,155

1,079

7

%

Aranesp®

171

278

449

497

(10

%)

EPOGEN®

491

0

491

491

0

%

Sensipar® / Mimpara®

183

76

259

243

7

%

Vectibix®

32

75

107

88

22

%

Nplate®

58

48

106

91

16

%

XGEVA®/ Prolia®

303

136

439

311

41

%

XGEVA®

194

67

261

201

30

%

Prolia®

109

69

178

110

62

%

Other

0

40

40

46

(13

%)

Total product sales

$

3,625

$

1,022

$

4,647

$

4,201

11

%
Info taken from 10/22/2013 8-k page 3. ROW= rest of the world.
As we can see from the chart above, AMGN is pretty well diversified and isn't dependent on a single product for the majority of its revenue. Epogen is one of AMGN original drugs yet it still generates a significant amount of revenue for the company. The patent for Epogen has expired quite a while ago yet the dreaded "patent cliff" has failed to take hold. The reason for this lies in the complexity of the molecule and the manufacturing expertise needed to produce a biosimilar product. The complexity of producing an equivalent product offers a sort of protection allowing AMGN to continue to capitalize on its past success. A similar phenomenon can be observed with human insulin's that are produced by LLY and its main competitor Novo Nordisk (NYSE:NVO). The patent on the products has long since lapsed yet NVO and LLY exist as a duopoly with the ability to consistently raise prices. Insulin has been impervious to the patent cliff to the great benefit of LLY and NVO shareholders.
I expect AMGN to find itself in a similar situation with its older products namely Epogen and Neupogen. AMGN can further mitigate its sales loss by offering favorable terms to Pharmaceutical Benefit Managers (PBM's) such as Express Scripts (NASDAQ:ESRX). LLY recently employed a similar tactic offering favorable terms on its human insulin lines displacing the spot previously held by NVO. AMGN, by simply offering a bit better pricing terms on its other products with the caveat being Epogen and Neupogen remain the preferred product on their respective formulary. By the simple act of being the preferred product on the formulary will virtually guarantee the lion share of all sales to be generated from that particular contract, as MD's are particularly loath to attempt to switch patients to a non preferred product.
| | | |
| --- | --- | --- |
| Product | Lead Indication | Milestone |
| Kyprolis® | Multiple myeloma | Phase 3 Data* |
| Talimogene laherparepvec | Metastatic melanoma | Phase 3 Data*† |
| Trebananib | Recurrent ovarian cancer | Phase 3 Data*† |
| Blinatumomab | Relapsed/refractory ALL | Phase 2 Data |
| Evolocumab (AMG 145) | Dyslipidemia | Phase 3 Data |
| Ivabradine | Chronic heart failure | US Filing |
| Brodalumab‡ | Psoriasis | Phase 3 Data |
| Velcalcetide (AMG 416) | Secondary hyperparathyroidism | Phase 3 Data |
ALL = acute lymphoblastic leukemia
*Event-driven studies
†Overall survival (secondary endpoint)
Slide taken from the JP Morgan Healthcare Presentation from 1/13/2014 page 10.
But simply defending the status quo doesn't make AMGN a compelling candidate unless it can significantly grow revenues from here. In my view, the most exciting part of the AMGN story is the large number of promising phase 3 products in their pipeline. As we can see from the table above, AMGN has up to six new products that maybe given regulatory approval this year. AMGN just announced a successful completion of a phase 3 trial on its dyslipidemia drug. The drug if approved would be a novel way of treating dyslipidemia, through a new class called PCSK9 inhibitors. A commercial success of Evolocumab combined with the ongoing sales ramp of Kyprolis should power AMGN revenues far higher in the future. Naturally, continued successful results in the remaining candidates phase 3 trials will further boost AMGN prospects. My bullishness is based strictly on the commercial success of Kyprolis and one other drug from their rich pipeline. If AMGN gets lucky and is able to commercialize on some of the other candidates, future revenue growth will be even more robust, further amplifying future gains for existing shareholders.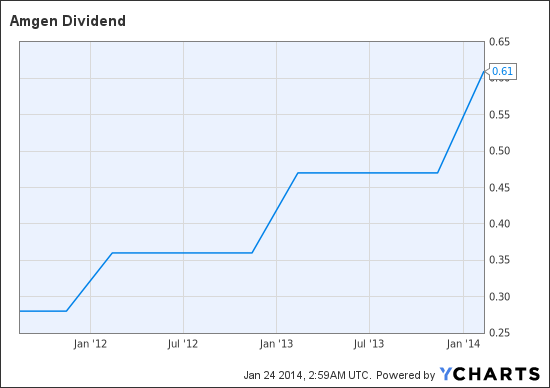 AMGN Dividend data by YCharts
Naturally, the whole story concerning AMGN isn't complete until there is a discussion on its current valuation. AMGN is expected to generate roughly $7 in earnings for 2013, which works out to a roughly a 17.5 multiple to 2013 earnings. The shares are paying out a quarterly dividend of 61 cents per share for a current yield roughly 2%. With a stable lineup of compounds combined with the sales ramp in Kyprolis, earnings per share should be meaningfully higher in 2014. The current valuation of the shares is quite compelling in my opinion. A current investor will be paying a below market multiple for a well run biotech firm with a significant late stage pipeline.
In summary, I view AMGN as a buy and hold type of investment, as the shares will gain significant momentum for quite a few years if they are able to successfully commercialize on their late stage pipeline. I view the risk reward ratio to be quite compelling here as the shares trade at a below market multiple yet may potentially exhibit above average revenue growth potential. I thank you for reading and I look forward to your comments.
Disclosure: I am long AMGN, BMY, . I wrote this article myself, and it expresses my own opinions. I am not receiving compensation for it (other than from Seeking Alpha). I have no business relationship with any company whose stock is mentioned in this article.
Additional disclosure: Investors are always reminded that before making any investment, you should do your own proper due diligence on any name directly or indirectly mentioned in this article. Investors should also consider seeking advice from a broker or financial adviser before making any investment decisions. Any material in this article should be considered general information, and not relied on as a formal investment recommendation.