eBay (NASDAQ:EBAY) is the biggest auction site on the Internet. Founded in 1995, it quickly took off as the "original" online marketplace, eventually spawning sites like Amazon (NASDAQ:AMZN) and Overstock (NASDAQ:OSTK) in years to come. It's approaching its 20 year anniversary, which in Internet years, makes it a billion years old. In the world of online shopping, eBay is one of the original gangsters.
eBay has traded like a dog chasing its tail for the last 12 months - investors who bought a year ago find themselves right about where they were then - give or take a percent or two. The company has been a swing traders dream, bouncing from $50 to $55 about once a month for the past year: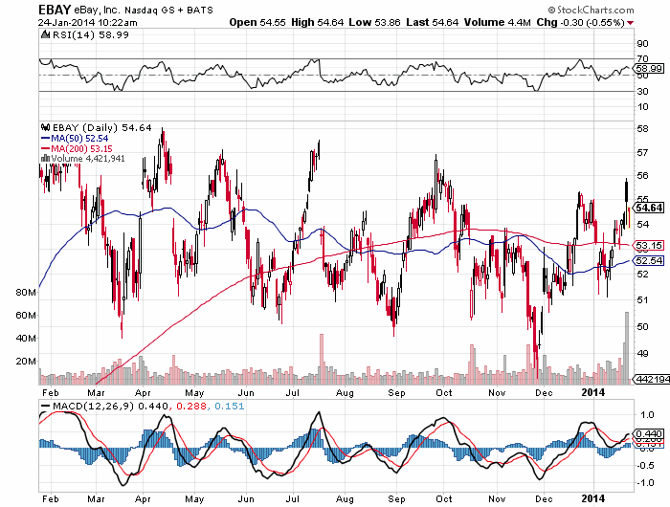 eBay reported earnings on Wednesday of this week and produced excellent results for investors. The company told investors that it had a great holiday season. eBay posted net income of $850 million, an EPS beat of $0.81, and $4.5 billion in revenues - up 13%.
(click to enlarge - from eBay.com)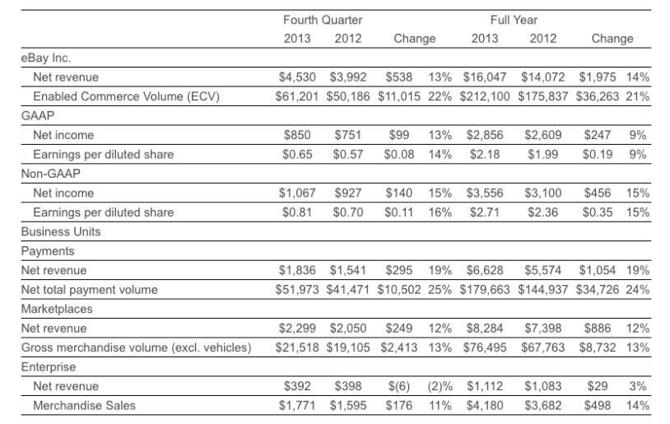 But, that wasn't all of the story.
By now, the news has dropped that Carl Icahn has taken a stake in the company to the tune of 0.82% - and already, just one day after disclosing his position, he's annoying management.
Part of Icahn's plan for eBay was to spin off PayPal, which is currently a part of eBay, into its own company. eBay purchased PayPal in 2002 for $1.3 billion - since then, PayPal has been growing faster than eBay itself. ABC reported on eBay's response to Icahn:
But eBay said it has looked into a split and does not believe it would be the best move for shareholders. CEO John Donahoe said in a letter to employees that spinning off PayPal is also not a new idea, and that "we must not let Mr. Icahn's proposals become a distraction."
Additionally, Mr. Icahn requested members on eBay's board, to which eBay responded that they would consider them "in the normal course of business" - which, in business speak means, no way in hell.
Yet again, Icahn is simply thinking of short term growth for himself with this spinoff. The facts are that eBay cannot afford to lose PayPal. Why?
PayPal comprises 41% of eBay's total revenue with 143 million active users.
eBay, I'm predicting, is going to fall prey to Amazon and the likes sooner, rather than later.
PayPal/eBay could soon become victim to Google (NASDAQ:GOOG) wallet. Google, in my opinion, is going to be taking over a lot - read my short thesis on Yelp (NYSE:YELP) for more color into this.
There's simply no need to separate the two.
But, the problem with eBay right now isn't so much a valuation one - the company trades with a P/E of 25.70 (a bit high) - it's the fact that the platform is starting to become archaic and will, in my prediction lose out to Amazon. eBay, on the Internet, is synonymous with "old", not unlike MySpace, Friendster, AOL (NYSE:AOL), or Hotmail (NASDAQ:MSFT). If you ask the 18-24 demographic where they do their online shopping, the trend is likely to be moving in the direction of companies like Amazon. The "original" eBay user base - believe it or not - has aged 20 years since the company started.
Additionally, you have a growing constituency of people like Matthew Levy, who recently commented on eBay:
I have experienced the "negative" side of eBay, making me rethink my ties to the service. I believe that my experiences are one of the many reasons why 1000's of eBay sellers have left in the previous years, hence slowing eBay's potential market value.

Once more, many sellers are unhappy with the service and some if its ridiculous rules and actions, such as blocking 15,000 eBay sellers from selling on eBay, holding funds from sellers, and hiding listings.
With a short interest in the stock so just 1.7% of the float, there's no shorts to squeeze out, so an upward catalyst is going to have to have some beef to it. The company has a price/book value, currently, of 3.12 - giving a nod to the fact that there is room for this company to pull back.
The forward valuation of the company looks good to investors (P/E around 15), but as soon as the company can't continue to grow, the valuation behind eBay is going to start to look out of whack. And, according to eBay's guidance, we could be at the precipice of the company pulling back a bit:
eBay Inc. updated its FY14 earnings guidance on Wednesday. The company provided EPS guidance of $2.95-3.00 for the period, compared to the Thomson Reuters consensus EPS estimate of $3.12, Analyst Ratings Net reports. The company issued revenue guidance of $18.0-18.5 billion, compared to the consensus revenue estimate of $18.49 billion. eBay also updated its Q1 guidance to $0.65-0.67 EPS.
Finally, the insider trading record of the company over the last year isn't anything special at all. Insider buys are outnumbered by sells/options executions by a 17 to 96 clip.
(from Nasdaq.com)

At the end of the day, Icahn or no Icahn, I'm steering clear of eBay. Though I'm not necessarily advocating it as a short at these levels, I'd be wary marching into 2014 as to whether or not the company is going to be able to sustain the growth that it has. Icahn is simply making a pest of himself at this point. From an investing standpoint, I agree with his stake in Apple (NASDAQ:AAPL) - but not the way he pushes short term gains over the long-term health of a company. He could be more trouble than good here for eBay - and I'll watch this one from the sidelines.
Best of luck to all investors.
Disclosure: I am short YELP, . I wrote this article myself, and it expresses my own opinions. I am not receiving compensation for it (other than from Seeking Alpha). I have no business relationship with any company whose stock is mentioned in this article.