History is merely his story. If you were to ask me, I would tell you that a story is only worth telling if you think that hearing it will make the listener's lives better off.
My friend Taner who I met through my roommate Dan hadn't talked to me since October of 2006. Well, that was until today. You see, Taner reached out today to ask me, "What is Yellow Media looking to do in 2014 that will continue attracting investors?" Well my boy, let me tell you a story in the context of our friendship.
The Yellow Media 2014 Hockey Stick
What is a hockey stick? A hockey stick is a chart with a sharp increase or decrease that occurs over a period of time.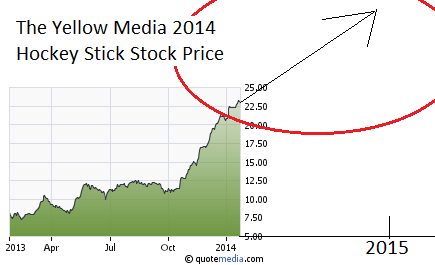 The Tale Begins 8 Years Ago
It all started the summer of 2006. I was out on a pontoon boat somewhere in Angola, IN when I met Taner. Those were the wonder years and Yellow Media (OTC:YLWDF) was still an income trust. YM was paying out around $1 per unit per year on around 500M units to holders, or around $500M/year. Idearc Media was spun off from Verizon with a Debt/EBITDA of 7x. R.H. Donnelley was spun off from Sprint Nextel with a Debt/EBITDA of 9x. From what I can tell, Yellow Media was operating with Debt/EBITDA of around 2.75x. I was a year into college and both I and the directories businesses could do no wrong. Yellow Media was seen as severely undercapitalized and everyone wanted them to take on more debt. They did not.
Flash Forward to 2010
It was time to pay the Pied Piper. Idearc defaulted on 72% of its debt via a Chapter 11 and wrote down its Debt/EBITDA to 3.3x and became Supermedia. R.H. Donnelley defaulted on 67% of its debt via a Chapter 11 and wrote down its Debt/EBITDA to 3.7x. Taner went to work Fortune 500 style. I kept investing my government tuition loans since it seemed to pay better than a job and make my first million. Yellow Media continued on with its Debt/EBITDA of 2.6x but was now paying out $413M/year in dividends while Dex One and SuperMedia were in full credit paydown mode. Dex One stock falls 83%. SuperMedia stock falls 75%.
2011
Yellow Media starts cutting its dividend and eventually cuts it to zero. I lose my first million aka everything. I go and get a job. Dex One stock falls 80%. Supermedia stock falls 71%. Yellow Media stock falls 97% in the first dump - equity holders liquidate.
2012
Yellow Media recapitalizes and now has a Debt/EBITDA of 1.3x. Dex One and SuperMedia announce plans to merge and extend their debt obligations. As you can tell from the chart below, analysts stop caring about Yellow Media. Taner keeps working his job and I fall in love with these businesses at these prices.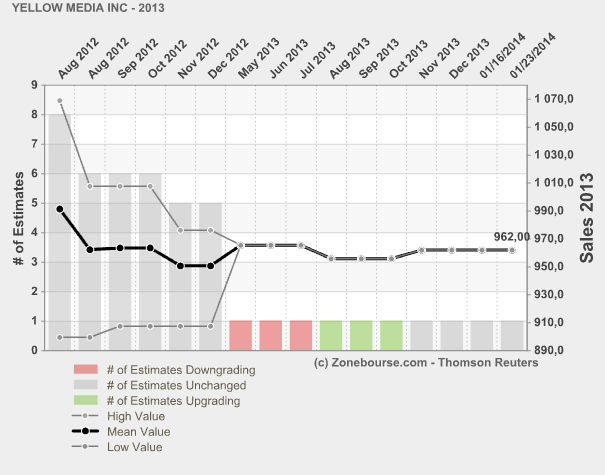 2013
Dex One and Supermedia merge as planned to form Dex Media (NASDAQ:DXM). Yellow Media rallies over 200% on debt fundamentals as the creditors mostly hold the valuation down as they liquidate out of their equity position because most credit funds cannot own equity. Taner keeps his job. I no longer have one as I make 5x my salary in the stock market.
2014
And so here we are. Let me be clear, nothing except correct assumptions about the future are relevant and I could be wrong in my perception. That said, here are my observations that I see as relevant to allocating money in these directories businesses.
Yellow Media has a new CEO who has a history of doing exactly what Yellow Media needs to do, transitioning print to digital while maintaining margins. Apparently he is putting together a plan that we are going to hear about soon? That would be awesome.
Yellow Media has junk credit ratings even though they can pay off all of their debt in the next few years. In the next 18 months Yellow Media will refinance that debt and the Credit Ratings will be higher.
Yellow Media used to have 8 analysts. Now, the only have one. The analysts will return and continue to predict the current stock price plus 10-20%. Here are the reports, which in my opinion are still overly conservative in what appears to be a purposeful effort to not sound ridiculous when, in my opinion, things are ridiculous. Report 1. Report 2. Report 3.
Dex Media stock trades like a call option that expires when their debt comes due. Everyone has given up here and it is my general thought that as YPG trades higher on an EV/EBITDA basis, hope will be breathed into Dex Media if they can show signs of stabilization. I think they can but am interested to see the next 2 quarterlies. I like their new sales approach.
Yellow Media is the largest digital advertising company in Canada. By the end of the year over 50% of their revenue will be digital. Dex Media has roughly 25% of their revenue from digital and around 1000 days till their debt comes due. Note that it took around 1000 days for Yellow Media to increase their percentage of revenue from digital from 25% to 43%.
In the last 12 months the CAD (NYSEARCA:FXC) has fallen 10% against the USD. The consensus is gradually lower oil prices through 2014. Note that for currencies you can margin 40:1 so this 10% move could have been a 400% gain if you shorted the CAD. The Canadian CB will want to keep the CAD relatively week until they see real inflation since there is no reason to raise rates unless there is inflation. Just ask the Fed. Slack in the Canadian economy is significant for the time being. Canadian energy and material companies are trading at significant discounts to their US counterparts. It is my expectation that oil (NYSEARCA:OIL) markets are tighter than consensus and that in 6-18 months the tune will change. Oil prices will be rising, not falling. I'm with Chris Nelder on this one. The CAD will trade back to above parity on the USD when this happens, much like the CAD rallied hard when oil prices ran up 2002-2008. Reference Chart 1 / Chart 2.
Take Action - If You Like Money
Yellow Media will head higher. Dex Media will head higher a lot faster than Yellow Media will head higher if they show signs of stabilization but it will run into the ground if they can't. There's a lot of short interest here betting that the stock is a zero. And then there is Kyle Bass who still owns an equity position here for obvious reasons. The play is to own Yellow Media. The plan is to be prepared to switch into Dex Media.
So, Taner, it's not about what Yellow Media is looking to do, it's more about the fact that Yellow Media is no longer being force liquidated and the market is merely returning from ridiculousness - a reversion to the mean if you will. If you are looking to make money, make the play and plan accordingly.
Famously Relevant Hockey Quotes
Canada knows a thing or two about hockey. The great hockey player Wayne Gretzky is credited with two famous quotes that have been repeated by Warren Buffett:
A good hockey player plays where the puck is. A great hockey player plays where the puck is going to be.

I skate to where the puck is going to be, not where it has been.
Well, don't forget to bring your stick if you want to play.
Disclosure: I am long YLWDF, DXM, YLWWF, . I wrote this article myself, and it expresses my own opinions. I am not receiving compensation for it (other than from Seeking Alpha). I have no business relationship with any company whose stock is mentioned in this article.