Calvin J. Brown is a portfolio manager with Huntsville, Alabama based BlueCreek Investment Partners. Established in 2003, BlueCreek operates as an independent wealth management firm with a focus on high net worth clients and businesses. Mr. Brown has been actively involved in investment analysis and portfolio management for individuals, profit sharing plans and charitable foundations since 1983.
Seeking Alpha recently had the opportunity to ask Calvin Brown about his top stock pick.
What is your highest conviction stock position in your fund—long or short?
I manage long-only accounts and have high conviction on each position in the portfolio. But if I had to single out one position currently, it would be Potash of Saskatchewan (NYSE:POT).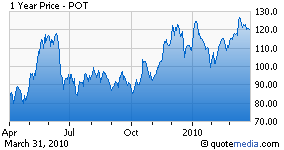 Potash of Saskatchewan is the world's largest fertilizer company by capacity. They produce potash, phosphate and nitrogen - the primary nutrients for food crops. They are the world's largest producer of potash, which is the core component of the company's sales and earnings. According to the company, they are responsible for 20% of the world's potash capacity.
To what extent is this an industry pick, as opposed to a pure bottom-up pick on POT?
I am strictly a bottom-up stock picker with a bit of a contrarian bent. I was initially drawn to Potash of Saskatchewan as the recession took hold and fertilizer prices cratered. The company sold off and became very attractive from a valuation standpoint.
I must admit, however, there is a "macro" or top-down overlay in my analysis of this company that I could not ignore. Potash, as well as phosphate and nitrogen, is absolutely essential to the global agricultural community. As the world's population grows and the amount of available arable land decreases, farmers simply must increase crop yield in order to meet demand. This requires a significant increase in the amount of crop nutrients.
In addition, the developing world's population growth dwarfs domestic population growth. As countries such as China and India, among others, develop, the demand for higher quality diets grows commensurately. This will only add to the demand for the products Potash of Saskatchewan produces.
Can you describe the company's competitive environment? Why do you prefer Potash over Mosaic (NYSE:MOS) or Agrium (NYSE:AGU)?
As I stated earlier, Potash of Saskatchewan is the largest producer of potash globally, so that alone puts them in a position of strength. As a commodity based company, their competitive advantage comes from being a low-cost producer. The fact that they have the ability to increase capacity without developing new mines is also a competitive strength.
The company has been opportunistic and made very strategic global investments that allows them to supply potash to the fastest growing sectors of the world.
MOS and AGU are both fine companies, but at the time I was building my position in POT, its valuation was simply more compelling in my mind. In addition, POT is the more dominant potash producer of the three and that is what interested me.
Some concerns have been raised recently about new entrants to the market and a possible oversupply of potash. What are your thoughts on that?
I certainly understand the arguments of potential oversupply of potash. As a contrarian, long-term investor I simply believe that potash prices will hold firm in the intermediate term and that worldwide demand is not a short-term story. Export list prices for potash have increased in the face of the current bearish sentiment and I believe recently signed contracts (eg. with China) have placed a floor on pricing in the $350 mt range.
Again, at the risk of overstating my position, as a contrarian I do not mind being bullish at what I view as a cyclical low while others remain bearish on the sector.
Can you talk about valuation at POT?
During the 2008-09 timeframe, valuation became very compelling. As I mentioned earlier, the recession took quite a toll on global demand for potash and other crop nutrients. Prices fell precipitously and inventories grew.
As we came out of the recession last year, this process began to reverse. Inventories have fallen as demand returns and prices for potash have firmed up. I wish this interview had taken place a couple of weeks ago—the stock has had a fairly significant short term move, up over 11% in short order.
Valuation is still attractive, however. The company raised their EPS guidance for the first quarter of 2010 last week, reflecting improving conditions. I am looking for full year 2010 earnings in the $6.50-$6.75 range and around $8.00 per share in 2011. I believe earnings can grow 20% annually for the next three to four years.
With the shares currently trading at 19x the 2010 estimate and 15.6x projected 2011 earnings, the resulting PEG ratios are 0.95 and 0.8, respectively. In addition, return on shareholder's equity should exceed 20% over the same timeframe.
As a "growth-at-a-reasonable price" investor, I believe these shares offer very attractive long-term appreciation potential.
What is the current sentiment on the stock? How does your view differ from the consensus?
Sentiment on the stock, until recently, had been fairly negative. It was much "unloved" during the depths of the recession. Again, I am a bit of a contrarian, so being bullish amidst the bearishness was fine with me.
Sentiment has begun to shift, but ever so slightly. I have noticed some of the larger firms upgrading the stock as the global economy improves.
Does the company's management play a role in your position?
Management does indeed factor in to my analysis of the company. The executive team, as well as the board of directors, is very shareholder oriented. That is important to me. I want to see management's interests directly aligned with the shareholders.
Potash of Saskatchewan has been very intentional in this regard. The CEO's compensation is 85% variable - meaning fully 85% of his compensation is directly tied to shareholder return. In addition, each board member is required to own a significant dollar amount of the stock (based on a multiple of their director's compensation) for the duration of their service on the board.
In my mind, this helps assure us as shareholders that those leading the company are properly incentivized to represent our best interests.
What catalysts do you see that could move the stock?
I think we have seen the bottom in potash prices for this cycle. As demand grows, inventories decline and prices increase, the share price should improve dramatically.
As I stated earlier, a strengthening global economy and increased worldwide food production should provide the catalyst for strong performance in POT shares over the long term.
What could go wrong with this stock pick?
A significant global economic slowdown could definitely derail this stock pick. The proverbial double-dip recession is the fly in the ointment—but I think the probability of a renewed, synchronized global recession is remote at best.
Thank you very much, Calvin.
Disclosure: BlueCreek Investment Partners is long Potash
Read more High Conviction Picks »
If you are a fund manager and interested in doing an interview with us on your highest conviction stock holding, please email Rebecca Barnett.