Hewlett-Packard (NYSE:HPQ) is a technology company operating in the industry of diverse computer systems. It is involved in a wide range of operations and is a global provider of products, technology, software, solutions and services to consumers, SMEs (Small and Medium Enterprises) and large enterprises.
Hewlett-Packard generated around 49% of its revenue from Printing and Personal Systems during 2013. ESSN, Services, Software and Financial Services made up around 25%, 20%, 3% and 3% of the revenue respectively, in the same period. This indicates that a substantial amount of revenue comes through printing and personal computers.
Market Performance
Shares of HP are listed on the NYSE. In 2013, valuations grew steadily by 79% with little downward fluctuations. The prevailing reason behind this performance is the consistent EPS performance of the company. HP consistently beat analyst estimates in 2013. An increase in dividends by 10% during the year also helped HP to win the investor's confidence. The table below summarizes the revenue and EPS position of the company.
Trends

Revenue in billions ($)


Oct 2012

Oct 2013

Oct 2014(E)

Oct 2015(E)

Revenue

120.4

112.3

109.1

108.4

EPS

2.95*

3.56

3.67

3.78

*Adjusted for non -recurring expenses
The table indicates that revenues are shrinking and are expected to shrink further in the future. The most obvious reason is the decline in PC growth, which in turn affected the printing demand and resulted in the declined revenues. However, the point to note here is that EPS is improving year on year. This can mean two things. Firstly, the company's revenue mix is shifting towards high margin businesses and secondly it is managing its OPEX and other expenses effectively. HP's plan to lay off 27000 workers by the end of 2014 points towards its cost reduction strategy. The operating margin of printing has increased from around 12% to 18% in the past two years. All these factors contributed towards the strong EPS performance of the company. We believe that the improving EPS performance, combined with dividend increases, is reflected in the valuations growth of the company.
Segments Analysis
The company operates in seven different business segments:
1) Personal Systems
2) Services
3) Printing
4) Enterprise Servers
5) Storage and Network (ESSN)
6) Software
7) Financial Services and Corporate Investment.
Future Prospects
PC and Printing Segment
The PC and printing segments have been HP's flagship segments during the last decade but both are now the worst performing in terms of growth slowdown. The Personal Systems segment provides commercial personal computers, consumer PCs, workstations, calculators and other related accessories, software and services for the commercial and consumer markets. The systems are predominantly based on Windows operating systems and feature compute from Intel and AMD. HP's Printing segment is involved with the provision of consumer and commercial printer hardware, supplies, media and scanning devices. Printing is also focused on imaging solutions in the commercial markets. The product offerings of the company include inkjet and laserjet printers for both mass consumers and enterprises.
HP is facing growth issues in these segments due to the declining PC market. The company recorded a 7% year on year decline in revenue of PC and printing in 2013. Operating margins of personal computers declined to 3%, as compared to around 5% in year 2012. The printing margins increased to around 17% as compared to 12% at the end of 2011. With a leading share in hard copy peripherals and the large format printing market, HP can sustain its revenues. However, the growth factor is sluggish and the PC market will decline further due to the booming tablets and smartphones industry, leaving limited future prospects for HP. Nonetheless, in the printing industry, the large format printing market can generate revenues for the company. HP currently holds approx. 39% market share in large format printing. The PC and Printing segments are valued at $5 billion and $26 billion respectively in the sum of parts analysis. This valuation is a reflection of the declining PC business and depicts the dominating position of HP in the rather slowly growing printing industry.
Enterprise Segment (ESSN)
ESSN segment provides servers, storage and networking products that fulfill a wide range of customer needs and market requirements. It offers industry standard servers, business critical systems, and storage and networking solutions.
The enterprise segment of the company is one of the candidates for future growth. The company recently launched Moonshot servers, which are basically ARM based servers and will have power consumption advantages that can lead to cost savings for the client.
Gary Campbell, infrastructure technology strategy CTO for HP, said:
"HP Moonshot servers are about a tenth of the cost of traditional rack servers, and also use about a tenth of the power, cooling and space of the rack systems. When compared with traditional VDI environments, a remote desktop initiative supporting 180 users based on the AMD-powered Moonshot servers will deploy about 90 percent faster, consume 12 percent the power, come in at about 44 percent the total cost of ownership and offer six times the graphics performance"
The growth in servers rebounded during 2013 and HP can capitalize on this development due to its strong standing in the servers market. According to Gartner's numbers, HP grew its leading market share to 27.6% and generated more than $3.4 billion in revenues in the third quarter, a 2.2% increase over the same period in 2012. However, ESSN has seen decline in revenues at a rate of 10% per annum since 2011, due to reducing operating margins. This is because of intense competition and price cuts.
We believe that HP will sustain its market share in the servers market, given its new server offerings, and will maintain its operating margins as the new offerings are quite competitive. The valuation of the segment is around $30 billion, highest of all the segments, as calculated by our valuation model. This indicates that ESSN is quite valuable and will play a key role in the success of the company.
Services Segment
HP's Services segment provides consulting, outsourcing and technology services related to infrastructure, applications and different business processes. The services segment is further divided into three business units. The Infrastructure Outsourcing Division provides services to streamline and optimize a client's infrastructure. These services encompass the data center, IT security, cloud-based computing, workplace technology, network, unified communications and enterprise service management.
In our view, this segment will spur the future growth of HP. It is currently ranked as the third largest revenue generating source for HP, with approx. 20% share in the total revenue. The data centers, IT security and cloud based services of this segment will be vital for the company's long-term success. Gartner predicts that cloud based security will reach a worth of $3.1 billion by 2015, currently estimated to be at $2.1 billion. The cloud will become the epicenter of new IT spending by 2016 according to Gartner. According to a report by researchandmarkets.com, data centers will grow at a CAGR of 13.6% over the period of 2012-2016. Therefore, the Services segment has many opportunities to post growth and offset the shrinking performance of the PC market.
Recent contract wins including the NGEN network of the US Department of the Navy and a small corporation bank contract indicate that HP is making a strategic shift from PC to services like cloud, data centers and security services. The NGEN contract is worth $3 billion but also includes various alliance partners along with HP. The corporation bank contract is a relatively smaller $64 million contract, but the monetary gain is not important, the strategic shift is. Given HP's stature, it will capitalize on the growth prospects of cloud, IT security and data centers. Our valuation model derives a rather low value for the services segment because of low margins, yet we believe that this segment can have substantial positive effects on the growth of HP.
The sum of parts is performed on the business segments of HPQ. Certain assumptions were made for sum of parts, which are as follows:
Historic CAGR is a good approximation for estimating future revenues and Operating margins.
Estimated profit margins are a good approximation for the calculation of future expected net profits.
Industry P/E can be used to value the individual segments of the business.
EPS estimates were apportioned on the basis of Operating Profit; hence all the expenses are incorporated in the valuations. Average P/E was calculated using segment competitors' P/E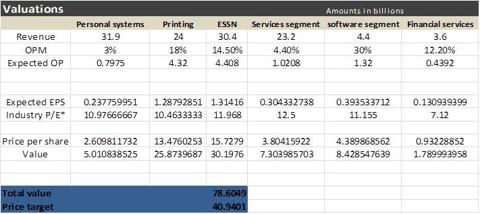 The sum of parts reveals that the ESSN segment of the company carries the most value with Printers just behind. Despite the high revenue share from PC, the segment is only valued at $5.01 billion, quite low as compared to ESSN which has a value of $30 billion according to our estimates. This is because of low operating margins in Personal Systems amidst declining growth and intense competition, which has led to price decreases in order to maintain volume, thereby decreasing the margins.
Conclusion
HP is a technology giant and has well diversified operation. It has the strength to offset the shrinking growth in one particular segment through the growth in another segment. The Personal Systems business revenue of HP is shrinking but we believe that the shift to ESSN and Services will direct HP towards growth once again. The company has a plethora of opportunities in cloud computing and data centers. The recent project wins are an indication of HP's focus on the services segment. Moreover, the server launches will assist the company in maintaining its dominating position in the servers market. All in all, diverse companies like HP do not crumble just because one segment is not showing growth. Given the strong cash generation ability of HP, we believe that the company will excel in cloud computing, data centers and IT services and will be a leading IT player in the future. HPQ is a buy, given our price target of $40.
Disclosure: I have no positions in any stocks mentioned, and no plans to initiate any positions within the next 72 hours. I wrote this article myself, and it expresses my own opinions. I am not receiving compensation for it (other than from Seeking Alpha). I have no business relationship with any company whose stock is mentioned in this article.
Additional disclosure: Equity Flux is a team of analysts. This article was written by our Technology analyst. We did not receive compensation for this article (other than from Seeking Alpha), and we have no business relationship with any company whose stock is mentioned in this article.