The China debate is "boiling over", according to Stephen Roach, who made an attempt to re-formulate his argument in the FT. This time, he shifted his emphasis towards a solution involving both sides. China, he admitted, was "hardly perfect", but he still saw no benefit in currency realignment:
What is needed, instead, is a shift in the mix of global saving. Specifically, America needs deficit reduction and an increase in personal saving, while China needs to stimulate internal private consumption.
Roach gets something right in his argument. But, more importantly, he continues to ignore the fundamentals. Those fundamentals involve the trade deficit and saving. By re-stating the relevant identity, we know that:
Trade Deficit = Government Deficit + Private Sector Deficit
In other words, the "deficit reduction" that Roach calls for can only be achieved with a reduction in the trade deficit. It's pointless to talk about increased saving, or deficit reduction, without an understanding of how we can reduce the trade deficit. So how can that be done?
The first way is to have a deeper recession. As I showed in my previous article, a deeper recession will give us a smaller trade deficit. This is what we will get from attempts to save. Reductions in consumption will hit domestic production, resulting in lower GDP. That means less investment and so less saving, because only investment creates saving.
What about the government deficit? There are good reasons for wanting to cut that, but we have to recognize the constraints. The government doesn't spend much money on imports, so any government saving will be off-set by private sector dis-saving. Whether the government taxes more, or spends less, it will mean less money in private sector pockets. That means less domestic demand and lower GDP. In the long term, we would benefit from lower government deficits, but in the short run, it won't help us with this issue.
Right now, attempts to save will only give us a deeper recession. If we could figure out a way to only save on imports, then this plan would work. But, until that day, it won't. Equally, it will do nothing to address the fundamental issues, so the deficit will only widen again, when we come out of recession.
If we want to close the trade deficit while growing the economy, then the only option is to get more competitive. That is a major challenge for us, because it involves reversing a 30 year trend. You can't do that in the space of a few months. It will take time, but we have to make a start because our current direction is unsustainable. Right now, we need to negotiate with the mercantilists, and that inevitably means China.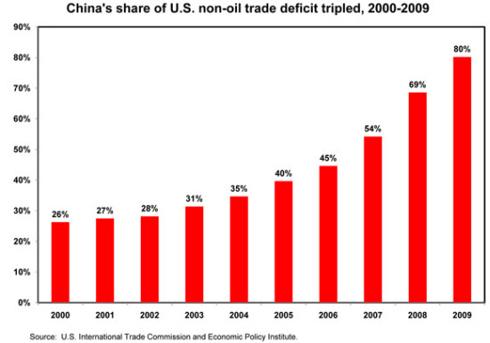 The chart above, courtesy of James Kostohryz, shows China's share of our non-oil trade deficit. Roach thinks that "China is being blamed for all that ails the US". Not true, but China is central to what ails us. Whatever success or failure we get from negotiating with China, will set the pattern for the other mercantilists.
The outcome we need is a revalued yuan. No one expects to see this happen immediately. China will currently be running a trade deficit with the rest of the world, because of their stimulus spending and continued infrastructure building. That will make them even more reluctant to revalue, so negotiation will not be easy. To negotiate successfully we have to reject the received wisdom and learn the lessons of Fei Peng. That means a bit more hardball. Let's remember that China wants a trade war even less than we do.
Roach thinks that all China needs to do is to "stimulate internal private consumption", but that is wrong. If we re-state the identity above to reflect China's position, we get:
Private Saving = Investment + Trade Surplus + Government Deficit
This neatly explains the "mystery" of China's rapid increase in saving. Their high levels of investment and trade surplus, made it inevitable that China would have a huge increase in saving.
This identity also shows that Roach's prescription of increased INTERNAL private consumption, will do absolutely nothing to achieve his stated objective of rebalanced global saving. Any rebalancing of global saving, requires them to spend more on imports. China needs to run an ongoing trade deficit, or a vastly reduced surplus. That, in turn, requires a strengthening of the yuan.
You can't call for a change in the mix of global saving and ignore trade. Equally, you can't call for a change in trade balances and ignore currencies. Roach says that currency changes only "re-slice the pie rather than expand or shrink it". I say, tell that to our businesses that are trying to compete, tell that to our unemployed, and tell that to China. Let's re-slice the pie how our businesses like it for a change.
The outdated view that we don't compete with Chinese products, is just that: outdated. In reality, outside the military, it's hard to find a product that we don't compete on. In today's globalized world, every US private sector worker is competing with Asia. Lose that competition and you lose your job.
The US non-oil trade deficit is caused by a loss of competitiveness, however much Roach wants to deny it. In his view, the US has to "run current account and trade deficits to attract foreign capital", but that is pure double-speak. Just how attractive can a deficit ridden country be?
In the real world, the reason that we "attract" foreign capital is because it arrives automatically as a result of trade. The dollars that we spend on Chinese imports end up in one of China's accounts at the Fed. That's the capital that we "attract". The reason China doesn't sell, is because they don't want to drive down the value of the dollar.
In the long run, the dollar will fall anyway, whatever China does now. The one thing that Roach gets right is that we have a multilateral problem with trade, not just a bilateral problem with China. The negotiations with China will only give us the direction, not the complete solution. That means that a rise in the yuan will only be the first step towards regaining competitiveness. We're also likely to see a long term fall in the dollar.
Disclosure: Long emerging market stocks