To maintain the growth of a master limited partnership such as Kinder Morgan Partners LP (NYSE:KMP), the company must regularly raise debt and/or equity capital to pay for projects and expansions that will produce higher levels of future revenue that can be paid out as ever increasing distributions to limited partner unit owners. However, the market often does not take kindly to secondary equity offerings, resulting in falling share prices when companies try to raise capital by selling a large amount of new units in at a single stroke. Some MLPs, including Kinder Morgan Partners, have instituted At the Market Issuance - ATM - registrations that allow these companies to treat the stock exchange like a bank ATM machine when they need to raise capital.
Note: Master limited partnerships are not corporations, so investors in an MLP own units and not shares. Income payments made to investors are distributions and not corporate dividends. However, to keep things moving along and not become repetitive, the words shares and dividends may be used in this article with an understanding that the use is not technically correct.
ATM Details
To set up an At the Market share issuance program, a company files a SEC S-3 prospectus for the shelf registration with a dollar amount of equity units available for sale. The company can then issue and sell new unit/shares into the market in the amounts and timing of its own choosing without any requirement to announce the issuance of new equity. During the recent fourth quarter conference call, Kinder Morgan management made a point of noting that the company raised $1.1 billion through the in-place ATM program during 2013.
ATM Program Benefits
An ATM program can act as a complement to the traditional equity capital raising accomplished by the announcement and one day implementation of a large secondary offering of units. An ATM provides several positive features compared to a secondary equity offering.
ATM units can be sold into the market to bring in cash to match the spending schedule of capital projects. Instead of a large secondary, which results in a big chunk of cash that sits in the bank until it is needed, capital is raised in smaller amounts with the ATM on an as-needed basis.
The announcement of a large secondary offering can depress the share price. This will result in either less money is raised from the offering or the dilution is greater for existing investors if a larger number of shares are sold to generate the desired amount of cash. Current and potential investors may not be pleased with the share price decline produced by either the announcement or secondary offering. Since there is no announcement for ATM sales, so the share price is not affected. See the Chart below that show secondary offering dates for Access Midstream Partners LP (NYSE:ACMP). S marks the spot.
ATM share sales could possibly be timed to maximize the share price at which units are sold, resulting in a smaller dilution to raise the same amount of cash.
An ATM may allow a company to raise capital during periods when a secondary equity offering would not be well accepted in the market.
The costs and fees of an ATM program can be significantly lower than for the traditional secondary equity offerings.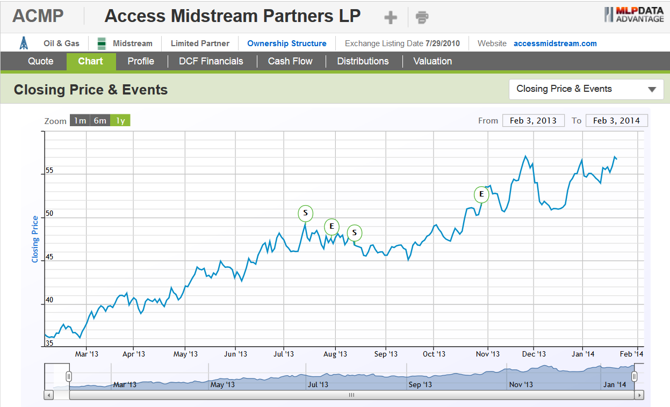 Click to enlarge
ATM Possible Negatives
The biggest danger of an in-force ATM is the possibility of a stealth dilution for investors without a corresponding increase in distributable cash flow to cover the existing distribution rate and any planned increases. A steady increase each quarter in the number units outstanding is an indicator that the ATM is being accessed for cash. At some point investors should see that money put to work to produce an increased distributable cash flow per unit. A run of several quarters with increasing unit issuance and a dropping distribution coverage ratio should be a warning sign.
It can take a period of time before capital spending produces revenue, and a short period - one to three quarters - of a DCF ratio less than one is acceptable. However, if an MLP starts to make a practice of not producing enough DCF per unit to cover the distributions, this could be a sign of ATM withdrawals being used to cover a portion of distributions rather than spent on capital projects.
A Growing Trend That Should Benefit Investors
A company must meet certain financial and other requirements before the SEC will accept an equity shelf registration prospectus to be used as an ATM cash machine. In 2013, 25 of the 106 MLPs tracked on MLPData filed for ATM programs. Other MLPs with ATMs in place include Linn Energy LP (LINE), Enterprise Product Partners LP (NYSE:EPD) and Plains All American Pipeline PAA (NYSE:PAA). $500 million is a common amount for the MLP shelf registrations, but actual filings range from a low of $150 million to $1.6 billion.
Kinder Morgan Partners has been a leader in MLPs for the use of the ATM funding source. For 2013, the $1.1 billion of ATM withdrawals was just a fraction of the KMP's total of $6 billion in equity financing. However, I notices that Kinder Morgan Partners has recently filed a shelf-registration for $2.2 billion of common equity issuance. This type of creative financing will allow this large cap MLP to meet its goal of about 5% annual distribution growth on the current 6.6% yield.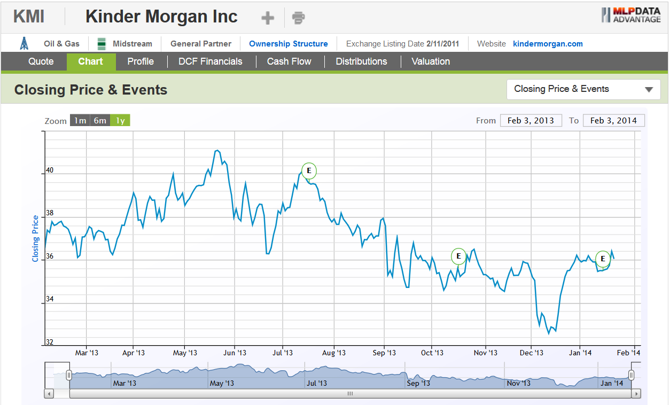 Click to enlarge
Disclosure: I have no positions in any stocks mentioned, and no plans to initiate any positions within the next 72 hours. I wrote this article myself, and it expresses my own opinions. I am not receiving compensation for it (other than from Seeking Alpha). I have no business relationship with any company whose stock is mentioned in this article.