JPMorgan Chase (NYSE:JPM) has issued $850,000,000 of a 35 year non-cumulative preferred stock at 6.70%. The details of the offering are:

There is a noticeable difference between this preferred issue and many others issued by banks recently:
The preferred is fixed for life (most have been fixed/float), and
These are not perpetual
Basically, what you see is what you get for 35 years. This may not seem like much of an advantage, but an investor doesn't have to calculate yield to infinity or worry about the floating rate. In this environment, take any certainty you can.
But what of value? The first step in the process (known by most that read/follow me) is value versus itself.

Looking at the above table, and using the stripped yield to take accrued dividends out of the picture, the new preferred stock is 25-30 basis points cheap to existing. This is obviously very favorable - fixed for life, defined maturity and cheap to existing series.
Next, how does it stack up to peers? For this the peer group will be: Wells Fargo (NYSE:WFC), Goldman Sachs (NYSE:GS), Citigroup (NYSE:C), Bank of America (NYSE:BAC) and First Republic Bank (NYSE:FRC).

JPMorgan at the same yield as Goldman, Citigroup and BAC presents value in my opinion. Despite their current legal woes and the target on their back, this bank is still a powerhouse with diverse revenue streams.
First Republic, a bank tiny compared to the mega-banks, was put in for a reason. The reason is that you can find a decent bank cheap to the mega-banks that has less of a target on their back and is financially sound.

I like the FRC preferred stock (wrote about it here), but also think that JPMorgan has value in this new issue.
Looking at the stock, we can see why this might be cheap: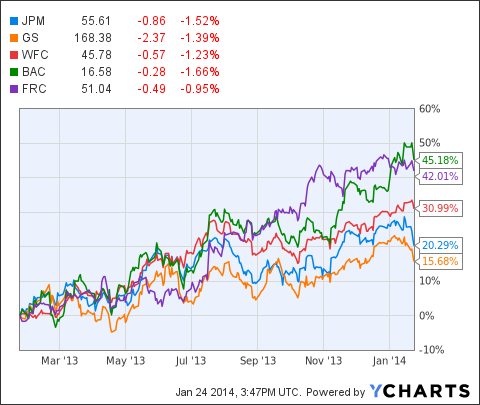 JPM data by YCharts
JPMorgan has clearly underperformed its peers, use this weakness to line your pockets and pick up 4% versus the common stock.
Bottom Line: JPMorgan's new issue preferred stock has advantages relative to peers and is cheap both versus itself and its peers. As a result, it warrants consideration for inclusion in an income portfolio either on a swap versus outstandings (theirs or peers) or an outright purchase.
Disclosure: I am long C, BAC, . I wrote this article myself, and it expresses my own opinions. I am not receiving compensation for it (other than from Seeking Alpha). I have no business relationship with any company whose stock is mentioned in this article.