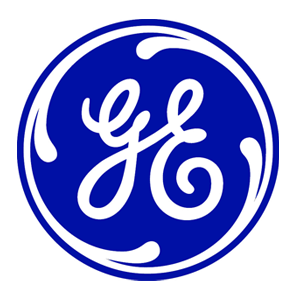 General Electric (NYSE:GE) recently announced an agreement to purchase Cameron International's (NYSE:CAM) Reciprocating Compression Division for $550 million. While the acquisition makes strategic sense for GE's Oil & Gas division, it doesn't move the needle much and was not the game-changing move many have been expecting: a takeover of Dresser-Rand (NYSE:DRC) or Dril-Quip (NYSE:DRQ). That said, CAM's reciprocating compression business increases GE's participation in the growing midstream market of the "Shale USA" revolution. It is a logical continuation of CEO Jeff Immelt's oft-stated desire to significantly grow GE's oil and gas business. But it's a baby step.
And growing it is. GE Oil & Gas is one of GE's fastest-growing businesses. Orders have grown from less than $1 billion per year in 1994 to nearly $20 billion today. Profits are growing at an average 16% clip over the past three years. Cameron's Reciprocating Compression division will enable GE Oil & Gas to better serve the $11 billion downstream and distributed gas segments. CAM's Reciprocating Compression division had $355 million in 2012 sales and provides reciprocating compression equipment and aftermarket parts and services for oil and gas production, gas processing, gas distribution and independent power industries.
If we take a quick look at GE's Q4 earnings report, GE Oil & Gas stands out as the fastest growing segment in terms of revenue - both in Q4 and the prior 12 months. O&G profits are also outperforming: up 24% in Q4 and 13% over the past twelve months.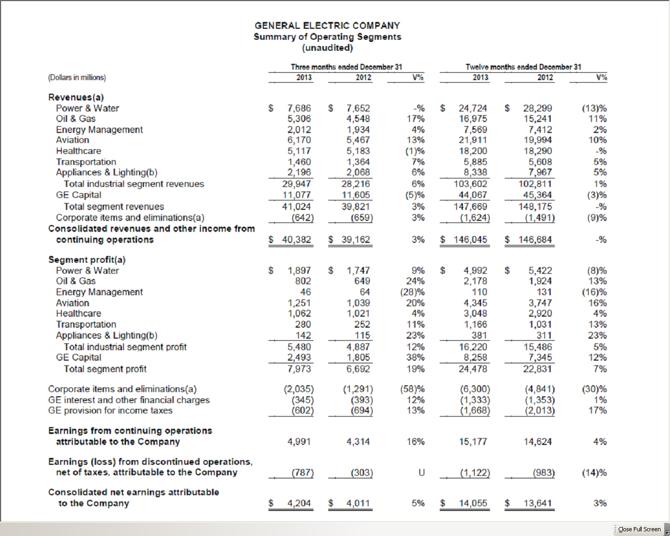 Click to enlarge
So with all due respect to Cameron, $355 million in sales is low-hanging fruit to a company GE's size. GE's O&G business segment alone is a $20+ billion operation. If Immelt wants to take GE to the next level in O&G, he's going to have to dip into GE's wallet - and the wallet had $89 billion of cash and equivalents at the end of Q4. So why not put it to work (in earnest) for one of the company's fastest growing and profitable businesses?
Why Dresser-Rand Is Ripe For GE
Dresser-Rand is a company ripe for the taking. DRC's Q3 earnings were light because several large orders were pushed, not cancelled, just pushed out. Yet results for the first 9 months of 2012 are still impressive:
Revenues: $2.205 vs $1.892 billion (+16.5%)
Net Income: $135.6 vs 98.8 million (+37.3%)
Diluted EPS: $1.77 vs $1.30 million (+36.2%)
Dresser-Rand's aftermarket parts and service business is very attractive because it is a stable source of cash flow in both good times and bad. This is due to the mission critical nature of the equipment. If a customer needs a new rotor, he needs it now - he doesn't want his refinery or gas processing plant to go down. As a result, customers like to keep a sufficient inventory of spare parts to mitigate downtown risks. High speed rotating equipment must be maintained - it's just the nature of the business. And this is the beauty of DRC's aftermarket business: the more equipment they sell, the larger the installed base and the bigger the aftermarket services and maintenance business becomes. Aftermarket parts and services bookings were strong in Q3: $406 million. To put this business in perspective, in 2012 it was 52% of total revenues.
As attractive as the aftermarket parts and service business is, the big opportunity for DRC (and thus GE) going forward is shown on the following graphic (slide 7 of a Capital One presentation given last December):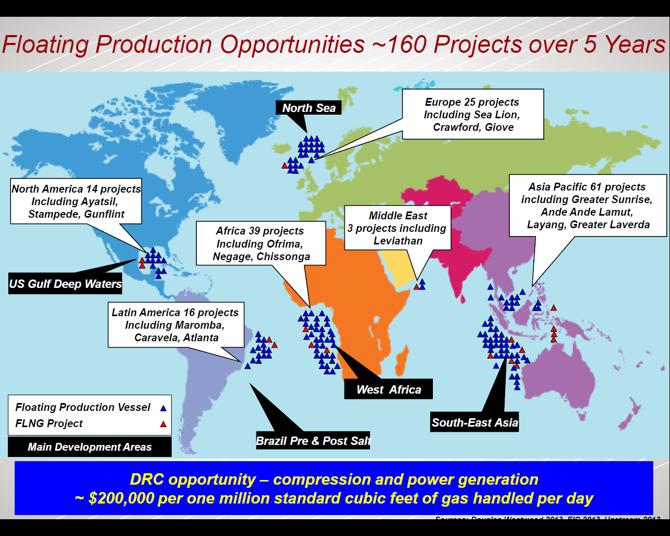 Click to enlarge
Floating production, storage & offloading ("FPSO") Vessel Opportunities
As you can see, Dresser-Rand has identified ~160 FPSO worldwide opportunities over the next 5 years. As a result, DRC has embarked on a strategic "compact compression development" plan. The goal is to develop compressors that are 65% lighter, have a 50% smaller footprint and a 45% height reduction. This system level approach will lead to smaller topside footprints on FPSO and sea floor applications. The new designs should also lead to more contract wins. Such a strategy fits in well with GE's ambitions to grow its worldwide O&G business. Winning FPSO contracts is a great segway into additional sales for equipment on rigs and on the seafloor.
Small scale LNG is another business where there are synergies between GE and Dresser-Rand. DRC recently announced its new small scale "LNGo" plant is producing LNG. These are stand-alone portable plants that can produce ~6,000 gallons/day of LNG.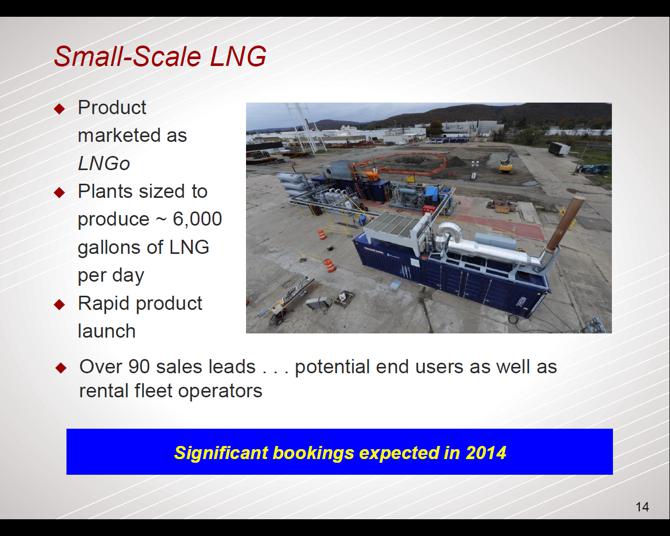 Click to enlarge
Dresser-Rand's LNGo system would be a nice compliment to GE's Micro-LNG product, which can produce up to 150,000 gallons/day. I do suggest they switch the names after the companies merge.
The point is, they are both going after the same markets - whether its compression, FSPOs, or small scale LNG. Instead of competing and driving down margins, why not combine the assets of both companies and be a market leader in O&G equipment and after market services? It's an obvious win-win.
Another symbiotic business is Dresser-Rand's compressed air energy storage ("CAES") systems. CAES is a great way to back up intermittent energy from GE manufactured solar and wind power generation products. DRC's CAES capabilities are a natural fit with GE's Ecomagination solutions.
GE's Historic Ties To Solomon Dresser

Back in 2010, GE bought the oil-field equipment maker Dresser Inc. for $3 billion. At the time, Dresser had $2 billion in revenue. Innovator Solomon Dresser founded what would become Dresser Inc. in 1880. by inventing and patenting a packer used to isolate oil below the ground. Halliburton (NYSE:HAL) merged with its main rival Dresser in 1998 and divested it in 2001.
Dresser-Rand Company was formed in 1986 as a 50/50 joint venture between Dresser Industries and Ingersoll Rand. When Dresser merged with Halliburton, HAL became a 51% owner in Dresser-Rand. Due to agreements made in the original venture, Dresser Industries, then a unit of Halliburton, was required to either purchase the remaining interest in Dresser-Rand Company or sell it to Ingersoll Rand. In February 2000, the 51% ownership of Dresser-Rand Company was sold to Ingersoll Rand. Dresser-Rand was eventually taken public in an IPO in 2005.
Summary And Conclusion
GE's recent acquisition of Cameron International's Reciprocating Compression Business was strategic and sound. But it was a baby step. It doesn't move the needle for a company of GE's size - 2012 revenues for the division are less than 2% of GE's ~$20 billion Oil & Gas segment. Dresser Rand on the other hand is a $4.5 billion market cap company with expected 2013 revenues of ~$3.4 billion and operating income of ~$400+ million. Adding DRC would grow General Electric's O&G revenue by ~17%. Now that moves the needle. That would raise GE to the level of a top-tier oil services company.
According to the most recent 10-Q, Dresser-Rand has $1.3 billion in long-term debt. I doubt DRC's management would accept anything under $90/share. If GE met that price, the deal would be worth ~$8.2 billion. With $89 billion in cash and cash equivalents on hand, one has to wonder what Immelt is waiting for. Sometimes you have to climb up high to pick the sweetest fruit on the tree. Dresser-Rand is a BUY, with or without a GE takeover.
Mkt Cap = $4.5 billion
Long Term Debt = $1.3 billion
P/E ((ttm)) = 20.9
EPS ((ttm)) = $2.82
Div (Yield) = nil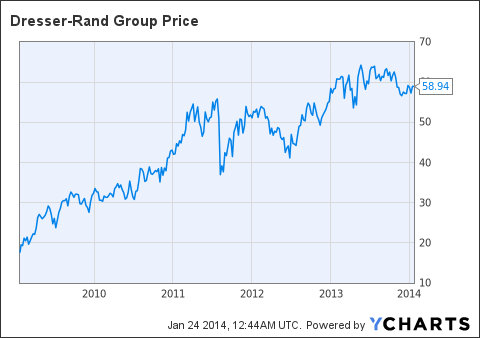 Disclosure: I am long DRC, DRQ. I wrote this article myself, and it expresses my own opinions. I am not receiving compensation for it (other than from Seeking Alpha). I have no business relationship with any company whose stock is mentioned in this article.
Additional disclosure: I am an engineer, not a CFA. The information and data presented in this article was obtained from company documents and/or sources believed to be reliable, but has not been independently verified. Therefore, the author cannot guarantee its accuracy. Please do your own research and contact a qualified investment advisor. I am not responsible for investment decisions you make. Thanks for reading and good luck! NOTE: I am long DRC and DRQ. GE is in my "5 Natural Gas Transportation Stocks For 2014" portfolio, which I track quarterly on Seeking Alpha.