Galena Biopharma (NASDAQ:GALE) is a publicly-traded company which focuses on developing innovative cancer therapies addressing the medical needs of cancer patients. It has recently introduced Abstral, a tablet used to provide relief from breakthrough cancer pain, in the market. Other products that are still in the pipeline, waiting to pass different levels of clinical trials, include NeuVax, NeuVax + Herceptin, NeuVax prostrate and FBP (Folate Binding Protein).
Financials
The main concern for any biotechnology company is the cash needed to fund its R&D. Galena ended the quarter with approximately $54.23 million in cash & cash equivalents. This balance includes the $37.5 million that the company raised through stock offerings in September and the $9.9 million in net proceeds from the issuance of long term debt; the remaining balance comprises warrants and stock based compensation. On the other hand, the cash used for operations was approximately $20 million for the nine months ended September 2013. With a burn rate of around $2.3 million per month, Galena can only fund its operations till the end of 2015 (without taking into consideration the revenues generated from Abstral).
| | | | | |
| --- | --- | --- | --- | --- |
| Period | Expected Revenue From Abstral ($)* | Cash Generated from Abstral ($)** | Cash Burn ($)*** | Remaining cash balance ($) |
| 3Q13 (Actual Results) | 1.17 | 0.869 | 6.9 | 54.23 |
| 4Q13 | 3 | 2.22 | 6.9 | 49.55 |
| 2014 | 15.3 | 11.3 | 30.4 | 30.45 |
| 2015 | 28 | 20.7 | 33.44 | 17.73 |
| 2016 | 89.5 | 66.23 | 36.78 | 47.18 |
Note: All figures are in millions.
* We assume that the revenue will increase by 10% per quarter in 2014, by 20% per quarter in 2015 and by 40% per quarter in 2016.
** GP margin is 74%.
*** Cash burn rate is $2.3 million per month and increases at 10% per annum.
We believe that with Abstral in the market, Galena will be able to earn enough revenues to break even and generate positive cash flows in 2016. This will enable the company to generate enough cash to fund its pipeline projects without any dilution or debt arrangements.
Launch of Abstral
Abstral is used for the management of breakthrough cancer pain (BTcP) in patients who are already receiving, and are tolerant to, background opioid therapy for their persistent baseline cancer pain. Even though Abstral was officially launched on 3rd October 2013, the company reported net revenues of $1.2 million from Abstral sales for the three months ended 30th September 2013. According to Galena, Abstral has a $400 million market in the U.S. The company anticipates revenues of $1.5 million-$3 million in 2013 and $8 million-$12 million in 2014; peaking at $40 million-$60 million in revenues in the next three to five years.
The success of Galena's competitor, Insys Therapeutics (NASDAQ:INSY) is also worth noting. Insys is marketing 'Subsys', a fentanyl spray used to treat the same cancer pain as Abstral. Insys has generated major revenues from the sales of Subsys; totaling $9.7 million, $18.8 million and $28.4 million for the first, second and the third quarter respectively. The only difference between the two products is that Abstral dissolves under the tongue and its absorption rate is much faster than the spray marketed by its competitor.
With the tablet outperforming expectations (even before its launch) and Galena owning a product which is superior to its competitor in its performance, it is safe to assume that Abstral's sales will exceed those of Subsys. This indicates that in the near future one should expect Galena to generate substantial revenues from Abstral, which will result in a rapid increase in share price, supplemented by the announcements relating to Abstral's success.


Chart: Pipeline of GALE
NeuVax
Almost all women diagnosed with node positive breast cancer require drug treatment in addition to surgery and radiation treatment. Galena Biopharma is in the last phase of clinical trials for NeuVax, a product developed to prevent the recurrence of early stage, node positive breast cancer with low to intermediate HER 2 expression. The patient goes under two stages of treatment:
· 1. Intradermal injection once per month for six months, followed by
· 2. Booster shots once every six months for 30 months


Overview of Phase 1 and Phase 2 Trial
p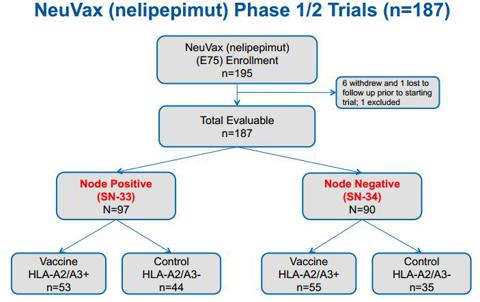 Chart: Clinical program description
Patients were initially given injections every month, for six months, in order to evaluate the effectiveness of the prevention. However, as the trials progressed researchers identified that although the NeuVax compound did have an effect on cancer cells, the effect reduced with time and did not fulfill the desired objective of prevention. So the researchers introduced voluntary booster programs in the trials to maintain long term immunity following the initial monthly injections.
After the completion of both (phase 1 and phase 2) trials the enrolled patients were rendered disease free after the standard care treatment. The boosters, on the other hand, were proven to be a major add on in the trials and will be added in the phase 3 trials as well; as they have shown no side effects and maintained long term immunity.
Phase 3 Trials
PHASE 3 TRIAL DESCRIPTION

Official Title ICMJE

PRESENT (Prevention of Recurrence in Early-Stage, Node-Positive Breast Cancer With Low to Intermediate HER2Expressions With NeuVax((TM)) Treatment)

Brief Summary

Purpose of this trial:

To assess the efficacy and safety of NeuVax((TM))a peptide (E75) vaccine administered with adjuvant Leukine(R)(sargramostim,GM-CSF).
To evaluate and compare the Disease Free Survival (DFS) in the vaccinated patients and control patients.

Detailed Description

The active portion of the study will last three years (36 months). The follow-up will last from 5 to 10 years.

Endpoints:

The primary efficacy endpoint is comparing Disease Free Survival in the treatment group versus the control group.
The secondary efficacy endpoints are
5- and 10-year (disease free survival) DFS
3-year overall survival ((OS))
5- and 10-year overall survival ((OS)), and Overall safety profile
Source: Clinicaltrails.gov
Partnerships
Galena Biopharma and Leica Biosystems announced their partnership to develop companion diagnostics for NeuVax Phase 3 trials. Leica Biosystems is the global leader in anatomical pathology solutions and automation and is striving to advance cancer diagnostics, hence helping Galena researchers in ensuring the proper and accurate assessment of breast cancer patients.
Galena also has an agreement with a subsidiary of Teva Pharmaceutical Industries Limited (NYSE:TEVA) for the commercialization of NeuVax. The agreement binds Teva to provide regulatory registration in Israel, financial support for local development and the effective commercialization of the product in its designated region.
A recent partnership with Dr. Reddy's Laboratories (NYSE:RDY) will help Galena in increasing the commercial footprint of NeuVax. Dr. Reddy has a lot to offer in India with its significant development and commercialization expertise. India, as a country, is experiencing an unprecedented rise in the number of breast cancer cases with over 100,000 new breast cancer patients diagnosed annually. This agreement enables Galena to commercialize its drug in a market that is almost equal to the U.S.; the expected revenues will be doubled if the drug gets approval and is launched successfully.
With Galena Biopharma reaching out for agreements to ensure the commercialization of NeuVax (with its first 2 trials being successful), it's evident that NeuVax will be successfully approved and launched in the future; targeting patients which may have no alternative treatment for the disease they are diagnosed with. The approval and launch of NeuVax will boost the revenues, as well as the share price, of Galena.
FBP (Folate Binding Protein)
Folate Binding Protein-E39 (FBP) is a targeted vaccine aimed at preventing the recurrence of ovarian, endometrial and breast cancers. On November 11, 2013 Galena Biopharma announced the initial results of FBP phase 1 trial in which the vaccine was proven to be safe and immunogenic. The management of the company was satisfied by the results of trials:
Mark J. Ahn, President and CEO of Galena said:
"We are encouraged by the initial results of our Phase 1 trial with the FBP vaccine, showing that it is well-tolerated and demonstrated promising immune responses in high risk gynecological cancers. As a result, we are moving forward with the Phase 2a component which will be initiated by year end and will include the enrollment of additional patients at the optimal dose as well implementing a booster regimen."

Chart: Pipeline of GALE
Additional Catalysts
Upcoming annual report in early 2014, which will ascertain the performance of Abstral in the fourth quarter.
Additional partnerships in the future. Galena has yet to strike a deal with companies in the U.S. and other parts of the world. With the release of such information, share price will definitely rise.
NeuVax Phase 3 interim results: Mid 2014

Risks of Investment
Galena is dependent upon its sole product, Abstral, for its long-term sustainability. Even though Abstral is performing above expectations, there is a chance that the product may not be a commercial success in the near future because Galena is mostly dependent upon third parties for manufacturing, marketing and distribution. Galena must also be able to comply with regulatory requirements and work effectively with physicians to ensure that the patients are treated to an effective dose of Abstral, for the product to perform as required. In order to make sure that Abstral continues to be successful in the future, Galena should manage every risk associated with it.
Furthermore, Galena is also dependent upon the success of leading drug candidates (which may not pass the clinical trials or be successfully commercialized), such as NeuVax, which has a possibility of being rejected in the last phase of its trials even though its earlier trials have been successful.
Another major risk would be the availability of cash needed to fund its R&D. Even though Galena has sufficient cash to operate till 2015, with the cash required to fund clinical trials and the marketing costs for Abstral in the future the cash may burn out much faster.
Roche, Teva and Galena
Roche (OTCQX:RHHBY), a Swiss pharmaceutical giant, is taking major steps to defend its cancer drugs as its patents expire in 2014. It has several candidates in the pipeline; such as Pertuzumab, a vaccine used to treat early HER 2-positve breast cancer which is in its last phase of trials (phase 3) and is expected to complete these trails by the end of 2016. These efforts are done to protect the market of Herceptin, which will have its patent expired in 2014. That is why Roche is finding alternative candidates to enhance its defense strategy. For that reason, it is showing an increased interest in NeuVax, a vaccine which has successfully passed its second trial for positive breast cancer patients with low HER2 expressions, making it a competitor to Pertuzumab. NeuVax expects the completion of its Phase 3 trials in mid-2015 and has results of 0% disease-recurrence after treatment (a feature unmatched by any other candidate). Roche has initiated its strategy and has partially funded the phase 2 trials of NeuVax as well.
NeuVax can complement, or add to, Herceptin's market because it can be used to treat a larger number of patients than Herceptin. With Roche's need to protect its consistent flow of revenue, maintain its diversified product line and prevent its decreasing market share in the cancer market, there is a major chance that Galena will be acquired by Roche so that NeuVax takes the place of Herceptin as the leading breast cancer product in the market.
Galena's results relating to NeuVax have also attracted the attention of Teva Pharmaceuticals which has already acquired the rights to market NeuVax in Israel. Teva, a billion dollar generic giant, has been experiencing trouble with its franchise of COPAXONE which will expire in May 2014. Though Teva has filled petitions to make sure the deadline gets extended, the courts have ruled against Teva up till now. COPAXONE is not only the largest product for Teva in terms of revenue, its profit margins are also better than anything else in the company's marketed product line. That is why Teva has experienced major revenue declines in 2013. Teva's recent past also shows fumbling efforts at drugs tried and failed. The company has reshuffled its management, as it showed its incompetence with different strategies failing. With increasing generic competition, no strong branding, decreased revenues and incompetent management, Teva is in need for a star candidate or product which can spur its growth. It has initiated steps to become more involved with Galena (via its rising candidate NeuVax) by entering marketing agreements and may decide upon acquisition if results of the trials are positive.
Both Billion dollar companies, Roche and Teva, are facing franchise issues and are in need for a candidate to replace their existing star products. Roche and Teva may be competing in a race to acquire Galena but till now it all depends on the interim results of the phase 3 trials of NeuVax. However, with respect to the shareholders of Galena, any of the two acquiring will certainly pay a huge premium and increase the share price. We believe that Roche would be a suitable candidate to acquire Galena and its candidates because it has been acquiring different development stage biotech companies in the past to refuel its product line and candidate pipeline and it has the cash to fund any acquisition, with around $3.6 billion in cash. So we expect that at a worth of $400 million, Galena can easily be acquired by Roche even if it has to pay premiums of up to 100%. On the hand, Galena would prefer Roche over Teva because Roche has the required alliances and partnerships around the world to market and distribute its products and also the dedicated segments that can provide technology and specialized research teams that can carry out clinical trials in an effective manner.
Acquisition of Mills Pharmaceuticals
On 13th Jan 2014 Galena acquired Mills Pharmaceuticals and obtained the exclusive rights of Gale-401; a patented, controlled release formulation of anagrelide. Gale-401 is used in the treatment of Essential Thrombocythemia. It is a rare chronic disorder characterized by the overproduction of platelets that could lead to blood clots and death. Galena is hoping for the approval of an orphan drug status by FDA, which will give it extended exclusivity rights and other financial incentives. Galena has estimated the market of this drug to be around $200 million in the U.S. alone. This acquisition will help the company to increase its revenue streams and enable it to fund the clinical trials of its candidates without the need for any financial assistance through dilution or debt.
Conclusion
Galena has a lot to offer. Abstral has just been launched in the market and is expected to be a large revenue generator which will aid Galena in funding its pipeline projects, especially the upcoming Phase 3 trials of NeuVax. With a successful product in the market and a candidate in the pipeline which seems to be a major setback for billion dollar competitors, Galena may be on a journey to become a billion dollar company itself. Such opportunities do not come often for investors, which offer more than the normal returns. Our recommendation is to buy this stock.
Disclosure: I have no positions in any stocks mentioned, and no plans to initiate any positions within the next 72 hours. I wrote this article myself, and it expresses my own opinions. I am not receiving compensation for it (other than from Seeking Alpha). I have no business relationship with any company whose stock is mentioned in this article.
Additional disclosure: Equity Flux is a team of analysts. This article was written by our Healthcare analyst. We did not receive compensation for this article (other than from Seeking Alpha), and we have no business relationship with any company whose stock is mentioned in this article.