By Kenny Fisher
The Australian dollar continues to fall, as AUD/USD trades below the 0.87 in Friday's European session. The Aussie has faltered late in the week, coughing up about 15o points since Wednesday. These are the lowest levels we've seen since July 2010. In economic news, US Unemployment Claims posted another respectable reading but Existing House Sales continued its downward trend. It's a quiet end to the week, with no releases out of Australia or the US on Friday.
The wobbly Australian dollar didn't get any help from a weak Chinese Manufacturing PMI on Thursday, which led to investors dumping the risky Aussie in favor of the safe-haven US dollar. The key Chinese PMI dropped below the 50-point level for the first time since June, coming in at 49.6 points, missing the estimate of 50.6 points. A reading below 50 indicates contraction.
Australian inflation indicators looked strong on Wednesday. CPI, a key event, posted a gain of 0.8% in December. This was a drop from the 1.2% gain a month earlier, but well above the market estimate of 0.5%. Trimmed Mean CPI, which excludes the most volatile items purchased by consumers, came in at 0.9%, up from 0.7% in November. The indicator beat the estimate of 0.6%. Although these numbers were better than expected, the Aussie has not been able to find its footing against the surging US dollar and continues to lose ground.
Weak inflation concerns are not restricted to Europe or Japan, as the US has also been plagued by persistently low inflation, an indication of an underperforming economy. This was underscored by Core CPI, which posted a weak gain of just 0.1% in December. Producer Price Index posted a gain of 0.4%, reversing directions after three consecutive declines. Last week, Chicago Fed President Charles Evans said that the low rate of U.S. inflation is "both puzzling and worrisome," and enough reason to maintain low interest rates, even if the employment picture continues to brighten. Analysts will be watching closely whether incoming Fed chair Janet Yellen shares these sentiments. Yellen takes over the helm of the Federal Reserve on February 1, replacing Bernard Bernanke.
AUD/USD for Friday, January 24, 2014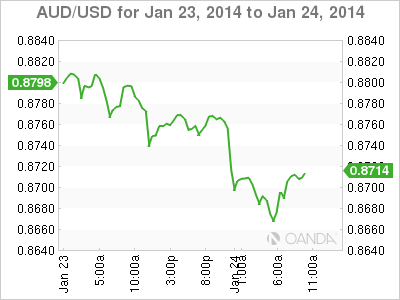 AUD/USD January 24 at 12:40 GMT
AUD/USD 0.8695 H: 0.8775 L: 0.8660
AUD/USD Technical
| | | | | | |
| --- | --- | --- | --- | --- | --- |
| S3 | S2 | S1 | R1 | R2 | R3 |
| 0.8425 | 0.8505 | 0.8658 | 0.8735 | 0.8893 | 0.9000 |
AUD/USD continues to point southwards in Friday trading. The pair touched a low of 0.8660 earlier in the European session.
0.8658 is providing support. This line is under pressure as the Australian dollar continues to drop. This is followed by support at 0.8505, which is protecting the 0.85 line.
0.8735 is the next resistance line. It is followed by resistance at 0.8893.
Current range: 0.8658 to 0.8735
Further levels in both directions:
Below: 0.8658, 0.8505, 0.8425 and 0.8363
Above: 0.8735, 0.8893, 0.9000, 0.9119 and 0.9229
OANDA's Open Positions Ratio
AUD/USD ratio is unchanged in Friday trading. This is not consistent with what we are seeing from the pair, as the Australian dollar continues to lose ground. AUD/USD is made up of a substantial majority of long positions, reflecting a trader bias towards the Australian dollar reversing direction and moving higher against the US currency.
The Aussie's woes continue, as the currency has dropped below the 0.87 line. The pair has steadied late in the European session.
AUD/USD Fundamentals
Day 3 – World Economic Forum Annual Meetings.
There are no Australian or US releases on Friday.
*Key releases are highlighted in bold
*All release times are GMT
This article is for general information purposes only. It is not investment advice or a solution to buy or sell securities. Opinions are the authors; not necessarily that of OANDA Corporation or any of its affiliates, subsidiaries, officers or directors. Leveraged trading is high risk and not suitable for all. You could lose all of your deposited funds.