What a panic I've seen since Intel (NASDAQ:INTC) reported earnings last week -analysts and contributors are screaming that the sky is falling and all hell is breaking loose for the chipmaker.
Last Thursday, after the market closed, the semiconductor company reported EPS of $0.51/share that missed by a penny and revenues of $13.8 billion that exceeded expectations. This revenue was up from $12.5 billion the same quarter prior. Surprise? Hardly. Intel reported what analysts were predicting - a less than stellar quarter.
One of the biggest issues to hit Intel, and the PC industry as a whole, has been a trend shift from people using PC's to tablets and smartphones.
Intel remains the leader in processors for PCs and, as such, if the PC industry has bottomed or starts to grow again - so should Intel. TechRadar, like many others, seems to think that the PC market has already bottomed:
According to preliminary results from Gartner, PC shipments totaled 82.6 million units in the fourth quarter of 2013, a 6.9 per cent decline from the fourth quarter of 2012.

Gartner believes that despite a decline in shipments, the market in regions such as the US and Europe have "bottomed out" - that is, fallen as low as it can go - as consumers cease to seek upgrades on their computers as rapidly as in the past.
And, in the midst of that, Intel has been pushing its foray into mobile devices and tablets. While it's true that Intel was a little slow on the uptake for mobile, there's no doubt that the company - with its resources, staff and experience - are eventually going to figure out a way to monetize mobile & tablets.
The fact that Intel's opex has outpaced revenue growth means that they're simply still working on it. Eventually, Intel is going to get it right again. The PC market has bottomed and Intel stands to benefit as it rebounds, even though Mac will continue to gain market share on PCs - that's of no concern since Intel supplies Apple, as well.
I'm not invested in Intel simply for the dividend, like a lot of investors. I'm in because I see growth in the future for the company. In terms of the dividend, investors are acting like the company's stock price and free cash flow have gone through the roof and they still chose not to raise the dividend.
That's simply not the truth - I want a company that I'm invested in to raise the dividends commensurate with growth and cash available. If the company doesn't have it - why spend it on the dividends? You're getting short term gain for long-term pain - so, Intel is doing the responsible thing here by not raising their dividends, which - by the way - have grown steadily over the last few years.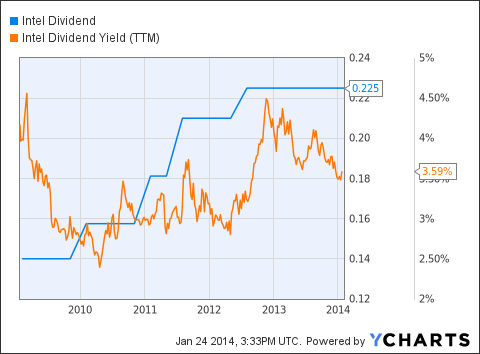 INTC Dividend data by YCharts
Let's take a look at what we're panicking about - a dividend yield of 3.5% for a company that is setting a stage for its own growth in the coming years.
With a P/E of 13 and a decent dividend yield, it's by no means time to panic with regards to Intel. As I've pointed out in previous articles, the company has staying power - with $8.4 billion cash on hand and a price/book ratio of 2.29 - the company isn't going anywhere anytime soon.
I remain long Intel and will add on the dips accordingly.
Disclosure: I am long INTC, . I wrote this article myself, and it expresses my own opinions. I am not receiving compensation for it (other than from Seeking Alpha). I have no business relationship with any company whose stock is mentioned in this article.