With what appears to be the beginning of another correction we think that investors should pull out their lists of stocks to buy and begin looking for entry points in those names. We have been crafting our various lists for a period such as this for some time and believe that taking advantage of the dips is key in a rising market.
Yesterday we went bullish on Freeport-McMoRan (NYSE:FCX) advising a client that adding exposure at this time and at current prices fit their long-term objectives. This morning Kansas City Southern (NYSE:KSU) caught our eye and we already made a call to an individual with a recommendation to buy; that call took place right around the lows for the day. Long-term one has to like both of those names which are being beaten up over short-term news events.
Natural Gas has topped $5/MMbtu today for the first time in years and is the top commodity in 2014 thus far. We have stated our skepticism regarding the sustainability of a rally through the year, but right now the momentum is to be ridden higher. It is always important to remember that the trend is your friend.
Chart of the Day:
The rally in gold has been overshadowed by the move in natural gas, but it too has been impressive. We recommended the closing of our bearish gold trade because the miners looked poised for a bounce after tax loss selling and that has turned out to be quite a good call. No we did not see this bounce coming, but thankfully we were not pigs and opposed to booking profits.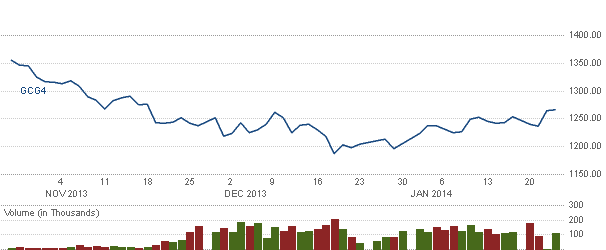 Source: CNBC
Commodity prices this morning are as follows:
Gold: $1,266.80/ounce, up by $4.50/ounce
Silver: $20.065/ounce, up by $0.055/ounce
Oil: $96.70/barrel, down by $0.62/barrel
RBOB Gas: $2.6496/gallon, down by $0.00122/gallon
Natural Gas: $4.992/MMbtu, up by $0.262/MMbtu
Copper: $3.278/pound, down by $0.0075/pound
Platinum: $1,432.80/ounce, down by $30.40/ounce
Ideas For The Pullback
We have already discussed Kansas City Southern and Freeport-McMoRan today, but we do feel the need to give some more color on the Kansas City Southern call for that is not a name we often go into detail about.
The shares are getting pounded this morning as the company missed the EPS figure by $0.07 when they announced their quarter. Revenues came in line but the focus is most definitely upon the bottom line right now and caused by what we view as the market's short-sightedness on the matter. Part of this is due to the recent results from competitors and the rest has to do with the market weakness which appears to be compounding the losses.
Looking forward the company does see 2014 shaping up to be a good year with strong growth in nearly all of the company's shipping categories. Utility coal shall continue to be a weak spot, but then again for which railroad is it not? Oil shipments are expected to increase this year and looking further out Kansas City Southern expects to see increased traffic from Mexico's new energy initiatives. For long-term investors this certainly appears to be a winner.
Another name which we believe is priced to buy is US Steel (NYSE:X) which is the safer of the two steel names we have covered for readers. If one thinks that the current market activity is simply a result of a hiccup then the overall economic bullishness one previously had must still be in place. So if your beliefs are constant and bullishness on the overall economy, including China, is present then the outlook on steel must still be as strong as it was just a few weeks ago.
We think that US Steel has found some support at current levels and that any further move lower will be muted versus peers.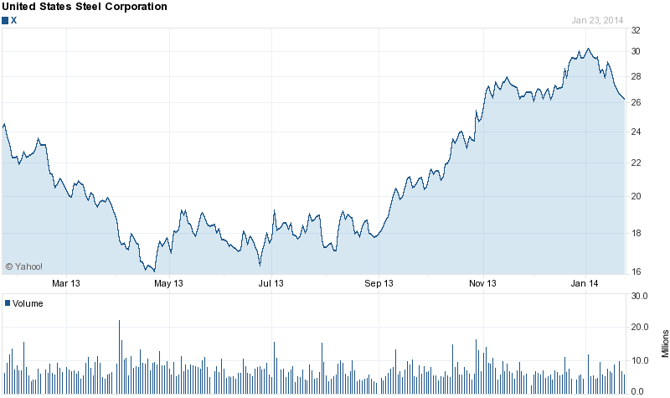 Source: Yahoo Finance
We have many readers ask us about another steel name, AK Steel (NYSE:AKS), and aluminum player Alcoa (NYSE:AA). As we look at these two companies we think they are a little bit rich still and have room for further pullbacks before one should buy. AK Steel has itself been moving lower after a strong move higher recently but with the fears in the market right now regarding emerging markets we think that there is a bit more downside in the name before it moves higher again.
Disclosure: I have no positions in any stocks mentioned, and no plans to initiate any positions within the next 72 hours. I wrote this article myself, and it expresses my own opinions. I am not receiving compensation for it (other than from Seeking Alpha). I have no business relationship with any company whose stock is mentioned in this article. FCX and KSU have previously been recommended to clients.