A few weeks ago, I wondered why monthly dividend champ Realty Income (NYSE:O) was struggling so mightily. The company's fundamentals were rock solid, yet the stock price has floundered for months. I came to the conclusion that the weakness in its share price was caused by a change in market sentiment towards favoring growth and away from income. Since then, Realty Income has regained some of its lost luster, up 4% compared to a 1.5% decline in the S&P 500.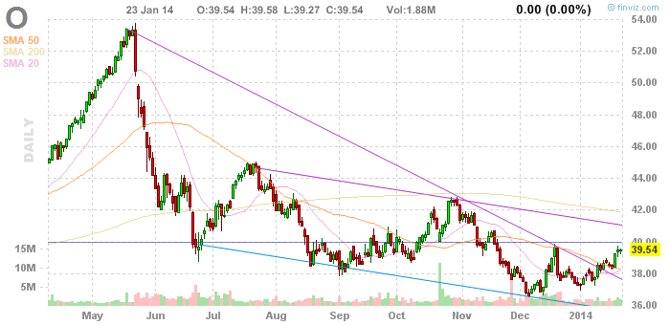 Source: Finviz.com
The shopping mall concept is dead
However, the recent news coming from the retail space has me somewhat concerned. Major retailers such as Sears (NASDAQ:SHLD), J.C. Penney (NYSE:JCP) and Macy's (NYSE:M) have announced significant amounts of store closures. Even Target (NYSE:TGT) is struggling, recently announcing 475 job cuts at its Minnesota headquarters. This has lead to some concerns over the impact to REITs such as Realty Income.
These department stores are the ground zero of a larger trend: the death of the mall. Frankly, the mall concept is a relic of the past, with consumers now much preferring to shop online. Mall traffic trends remain challenging, with an estimated 15% decline in foot traffic this holiday season. When consumers do make the effort to visit retail locations, they are also preferring to visit smaller boutique shops or stand-alone big box stores.
No traditional malls indoor malls have been built in the US since 2006. Even so, stores are closing faster than they open. It is estimated that overall retail square footage may see a decline of between one-third and one-half within the next five to 10 years.
Good news: Realty Income has little exposure to declining segments in retail
Luckily for investors in Realty Income, the company has little exposure to the declining segments in retail. While the company does have a large exposure to the overall retail sector at 77% of revenues, its tenants are mostly in growing industries.
In terms of its revenue mix, Realty Income is most exposed to the following industries: convenience stores, drug stores, dollar stores, health and fitness, restaurants and casual dining, theaters, and transportation services. Below is a list of the top 15 largest tenants for the company.
Source: Realty Income November 2013 Investor Presentation
Notice a trend? Few of these retailers are in decline. In fact, many of these companies are growing like weeds. Dollar and drug stores are booming due to the weak economy. In addition, convenience stores and gas stations are basically recession proof.
It is also worth noting that Realty Income focuses on single-tenant commercial properties. The company vets its tenants, looking for large owners with reliable and sustainable cash flow from multiple sources. In addition, Realty Income's customers also are mostly investment grade at about 65% of total revenues.
Simply put, Realty Income has a diverse consumer base which insulates it from declines in one particular segment or another. In addition, due to the long-term (10 and 20 year) nature of its leases, the company sees very little volatility to its occupancy rates. As shown below, Realty Income has maintained high occupancy rates for quite some time now.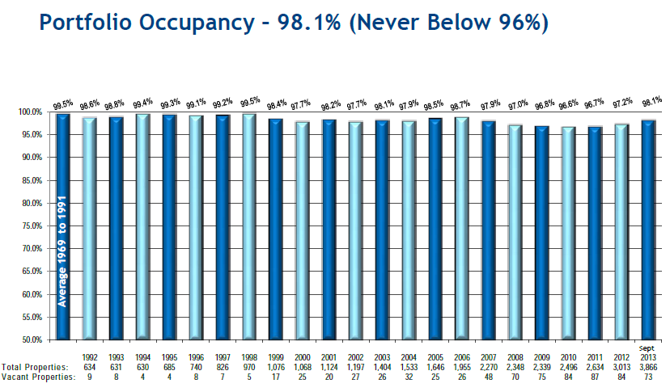 Source: Realty Income November 2013 Investor Presentation
Lower rates may provide a positive catalyst for REITs
Another major positive for Realty Income would be the recent decline seen in interest rates. The company makes the vast majority of its money via the spread between its cost of capital and the rent generated from its property portfolio.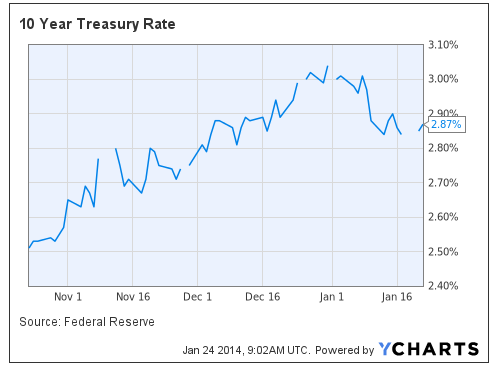 Source: ycharts.com
As a result, lower rates can often mean cheaper access to capital for Realty Income. This in turns gives the company more options in terms of acquiring and financing deals. I suspect that as long as rates move lower, Realty Income will continue to stage a rebound.
Final Thoughts and Conclusion
In a few weeks Realty Income should be posting its Q4 2013 results. I expect the company to report an inline quarter, possible with a 2014 FFO per share boost due to the December $503M portfolio acquisition. All things considered, Realty Income is likely to have a strong 2014. FFO is likely to grow 5% to 8% this year. When combined with the current 5.50% yield, this amounts to double-digit growth.
Disclaimer: The opinions in this article are for informational purposes only and should not be construed as a recommendation to buy or sell the stocks mentioned. Please do your own due diligence before making any investment decision.
Disclosure: I am long O, . I wrote this article myself, and it expresses my own opinions. I am not receiving compensation for it (other than from Seeking Alpha). I have no business relationship with any company whose stock is mentioned in this article.