Have you ever dreamt of being a Wall Street guru, like Warren Buffett, or a high flying activist, like, say...Carl Icahn? This article will offer you some different ways to profit from the legendary Mr. Icahn's market savvy.
Icahn Enterprises LP, (NYSE:IEP), is a diversified holding company with operating segments in Investment, Automotive, Energy, Gaming, Railcar, Food Packaging, Metals, Real Estate and Home Fashion.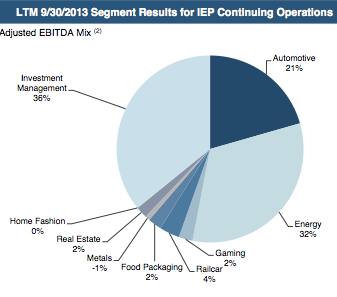 Always in the news, Mr. Icahn pointed out the value of his firm's activism in this table, which shows the rise in market value of firms which have appointed his nominees to their boards. Overall, the average annualized returns during these board tenures was 28%, vs. 14% for Mr. Buffett's Berkshire Hathaway, (NYSE:BRK.A) (NYSE:BRK.B), 9% for Leucadia, (NYSE:LUK) and 11% for Loews, (NYSE:L):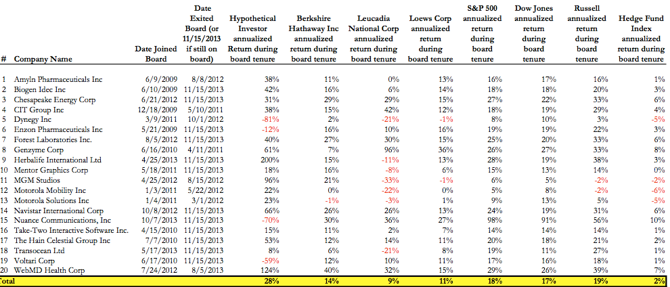 Click to enlarge
The market certainly rewarded IEP in 2013 for its highly-publicized winning stakes in Apple, (NASDAQ:AAPL) and Herbalife, (NYSE:HLF). However, after topping out near $150.00 in early December, IEP has fallen around 24%, to its current price, but it has still outperformed its peers: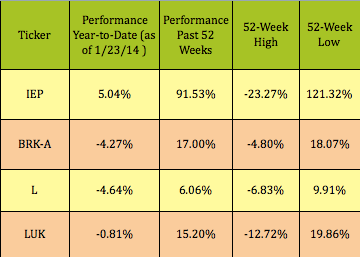 IEP grew its Net Asset Value by 52% in 2013, to $8.08B as of 12/31/13, vs. $6.1B as of 12/31/12.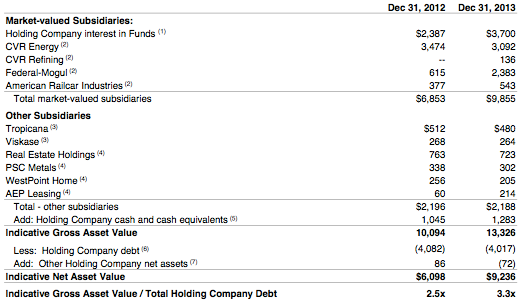 More recently, it appears that Mr. Icahn has taken around a 2% stake in eBay, (NASDAQ:EBAY), and is pushing EBAY's board to spin off PayPal, warning of a possible proxy fight. Mr. Icahn has observed that many corporations aren't utilizing their cash to its maximum potential - they're sitting on record amounts of excess cash, which they aren't using for R&D or reinvestment, and that this cash should be returned to shareholders in the form of stock buybacks or dividends. He has been pushing Apple to increase its already large buyback program due to its record-breaking cash hoard.
Dividends: We've added IEP to the Financials section of our High Dividend Stocks By Sector Tables. IEP increased its quarterly distribution to $1.25, from $1.00 in 2013. It benefits from increasing cash flows from its subsidiaries: for example, CVR Energy pays $3.00 in annual dividends, and paid $12.00 in special dividends in 2013. CVR Refining had $3.23 dividends declared in 2013.
Many investors are riding Mr. Icahn's coattails by simply buying and holding his stock for dividend income. As he stated on IEP's Q3 2013 earnings release: "I believe that by far the best method to utilize in investing is the 'Activist' model. I have spent a great deal of time and effort perfecting its use and I am happy to say that IEP has been a beneficiary of this. An investment in IEP stock made at the beginning of 2000 has increased by approximately 1,500%, or an average annual return of 22%, through October 31, 2013. While I am very proud of IEP's record over the past decade, I believe this record will pale in comparison to what is yet to come." (Source: IEP website)

Options: Given the ups and downs of this stock, maybe you'd want to hedge your bet a bit? Like many of the dividend stocks in our articles, IEP also has options available. Our Covered Calls Table now lists this September 2013 trade, which features an out-of-the-money $120 strike price that offers you an $8.30 premium. (By the way, there's a big bid/call spread on this trade: $8.30 bid/$11.60 ask, so you should be able to improve upon this 11% call yield.)

Click to enlarge
The $120 strike is $6.20 above IEP's price/share, which offers you more than enough dividend coverage, if your shares get called away prior to the 2 ex-dividend dates in February and May:

Selling Puts: If you are leery of recent market turbulence, you could consider selling puts below IEP's price/share. This September $110.00 put option pays $12.10, an 11% yield. (As with the calls, IEP's puts also have a large bid/ask spread: $12.10 bid/$15.80 ask, so you can probably improve upon the $12.10 price.)
You can see more details for this and over 30 other trades in our free Cash Secured Puts Table.

Valuations: Other than Price/Sales, one can't make the argument that IEP is currently undervalued vs. all of its peers. On a forward P/E and Price/Book basis, Loews looks the cheapest...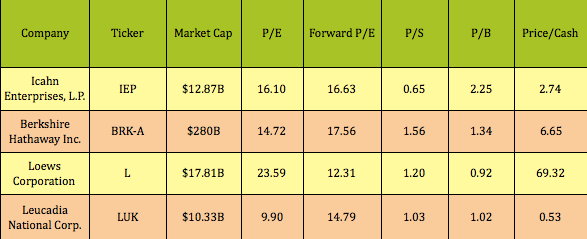 ...However, none of its peers offer a competitive dividend yield, and IEP has better Management Efficiency ratios: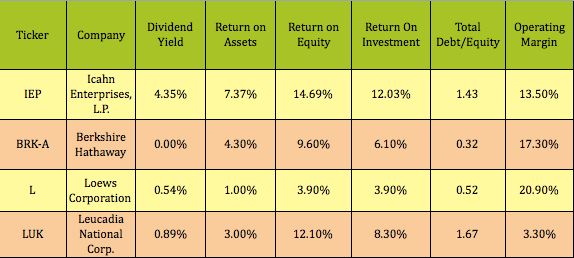 Disclosure: Author was short IEP put options at the time of this writing.
Disclaimer: This article was written for informational purposes only.
Disclosure: I am long IEP, AAPL. I wrote this article myself, and it expresses my own opinions. I am not receiving compensation for it (other than from Seeking Alpha). I have no business relationship with any company whose stock is mentioned in this article.
Additional disclosure: I'm short IEP and AAPL put options.