I do not write about Apple (NASDAQ:AAPL) often, but as readers who follow me know, I have been bullish on the stock for some time now. Initially the reason was the valuation, however on my past couple of articles I have been bullish on Apple for two specific catalysts that I see evolving that might just double Apple's stock over the next two years (that was not a typo).
To begin with Apple is buying a lot of its stock back. With about $150 billion in bank it can repurchase a lot of shares. If Carl Icahn has his way and Apple repurchases about 25% of its float over the next couple of years, that alone is a reason for owning Apple.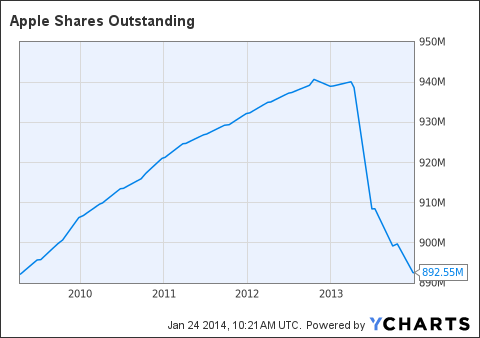 AAPL Shares Outstanding data by YCharts
But there are also several other reasons that I have spotted, that are just as good, if not a better catalyst for Apple's stock over the next 12-24 months.
First of all, the Apple ecosystem makes for a platform that can expand and promote many different things alongside the iPhone. Yes that also applies to the Google (NASDAQ:GOOG) and Microsoft (NASDAQ:MSFT) ecosystem as well, however Apple is a design and engineering firm that actually makes money selling hardware and not software.
In other words, when Apple comes out with some kind of a gadget, it is usually the talk of the town. And while the iWatch is something that everyone is anxiously waiting for, I think the Watch will be but a subset of Apple's next move.
A while ago I wrote that Apple was buying many little companies to acquire their technology, and I said I think they are doing this because they are up to something (please consider: Apple Has Many Aces Up Its Sleeve). I also hinted that Apple seems to be getting in the medical gadgets business.
As I said back then:
Obviously the iWatch is one thought, but why stop there? Imagine for example if you can implant a small device to monitor your heart or blood and send the data via Bluetooth to you iPhone and the data is automatically monitored by your doctor from his iPhone or from a desktop computer in his office.

While the idea is not new (for example here and here), all these devices require some sort of external power source. Imagine however if these devices could work for months at a time, or can even be recharged via some sort of wireless recharging technology in the future

While it is unclear what Apple is aiming to produce with such technology, we cannot rule out the medical and health devices industry. This is an extremely big industry and I am surprised that Apple has not used its cash hoard to get into this sector as of yet.
Well guess what, Apple read my mind and is doing just that. According to Mark Gurman of http://9to5mac.com (I highly recommend reading the whole article for it really sheds light on what I am saying here), Apple is on a hiring raid in the medical sensors field. According to the article, Apple has hired an extensive line of scientists and engineers with expertise in biomedical technologies, glucose sensors, and general fitness devices.
Make no mistake folks, the next big wave for Apple will be wearable gadgets and medical devices. And if I am correct, the money to be made in the gadgets space (wearable or not) is even more than the revenue Apple takes in from the iPhone.
In fact, the iWatch is just a fraction of the business. Imagine for example all the wearable gadgets that can work with either the iPhone or in conjunction with the iWatch. Just in the medical devices business alone, the possibilities are endless. Maybe that's why Apple has begun selling third party gadgets on their site lately. I am assuming they are kicking the wearable gadget tire to test the waters.
And if Credit Suisse is correct, the wearable devices and personal accessories industry (in biomedical and fitness technologies) will balloon between $30 and $50 billion in the next 3-5 years from now. My opinion is that these numbers will be upgraded upwards several times once Apple starts rolling out these devices, because like I said, the possibilities (and the revenue from these devices) are mind boggling. Also if I am correct, the market will start to discount all these possibilities.
Like I have said before, Apple is not an expensive stock. Currently it sells for about 12x forward earnings. However It can easily sell for 20 times earnings, if the market begins discounting all these possibilities. That means that the stock has the potential for an upward move, even in the absence of an earnings rise.
Now if we combine the share repurchases (that by default act as a pillow under the stock), with the possibilities for Apple in the gadgets space, then not only is Apple a safe haven at the moment, but probably a two bag no brainer also.
Bottom line
If I am right, Apple is preparing to enter the wearable devices space. My guess is that medical applications will be the cornerstone. The possibilities are literally endless, as are the amounts of money Apple can make, if it comes up with a new generation of gadgets that everyone must have.
If we add to that the current share repurchases, and the fact that Carl Icahn continues to buy shares, then not only is it very difficult to lose buying Apple at these levels, but if I am right, you also have a good chance to double your money over the next two years.
Disclosure: I have no positions in any stocks mentioned, and no plans to initiate any positions within the next 72 hours. I wrote this article myself, and it expresses my own opinions. I am not receiving compensation for it (other than from Seeking Alpha). I have no business relationship with any company whose stock is mentioned in this article.