The "Internet of Things," or IoT, is a relatively new trend that is taking off in the connected-device market. This concept involves the manufacturing of a multi-purpose device that can have both intelligence and connectivity. IoT combines three elements: one or more environmental sensors (temperature, pressure, yaw, pitch etc.), a smart computer to process the data gathered by the sensor, and a wireless radio to connect the smart sensor to the Internet. The entire process is handled by a very low-cost chip, or microcontroller. ARM's (ARMH) power-efficient microcontroller, or MCU, designs make the company a preferred choice among manufacturers, and thus the company has gained a leading position in this market. Around 2 billion devices based on ARM Cortex-M microcontrollers were shipped in 2012, resulting in ARM's gaining 18% market share in 2012. Meanwhile, in connectivity (radios) the company gained 75% market share in 2012.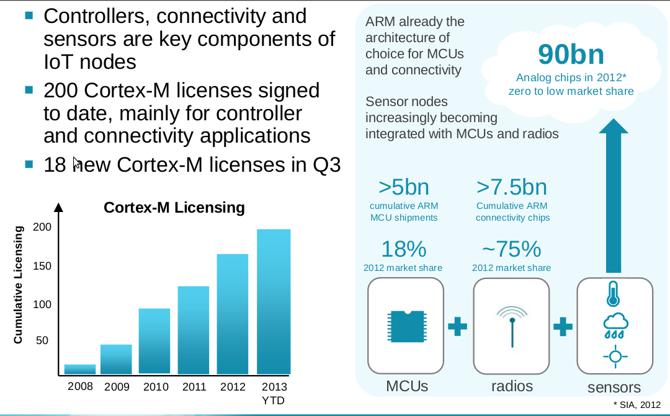 Click to enlarge
IoT provides ARM an opportunity to increase its total addressable market beyond mobile device-based processors. The IoT is expected to reach 26 billion devices by 2020, from a mere 0.9 billion in 2009. This figure is far ahead of other connected devices such as smartphones, tablets and PCs, which in totality will reach 7.3 billion units in the same year.
Thus, ARM is set to dominate this rapidly growing market and its popularity can be substantiated by its biggest rival, Intel (INTC), also using an ARM-based chip in the smartwatch prototype it revealed at the 2014 CES. This smartwatch is powered by an Intel system on chip, or SoC, which contains an ARM cpu inside.
Diversifying its market provides ARM an opportunity to offset the potential risk of a slowdown in smartphone sales. It is also looking to establish a major presence in the server market, which is dominated by Intel with its x86 architecture. ARM is trying to leverage its power-efficient capabilities to target the lower end of the server market. Top server hardware manufacturers such as Dell and HP have already announced their server designs on ARM architecture, which will be launched in this year.
Meanwhile, the second largest player behind Intel in x86 architecture, Advanced Micro Devices (AMD), will launch its ARM-based server chips, thus providing both ecosystems under one roof. By 2016 or 2017, ARM CPUs are expected to have a 20 percent of the server market from a small market base currently.
AMD has been losing market share to its rival Intel, and therefore it believes that bridging the gap between x86 base and ARM architecture will help in establishing its presence in the overall server market as its market share was just 4.4% in 2012. This is the first time a processor maker will have both ARM and x86 ecosystems for the server market. Increasing penetration of AMD's ARM architecture chips in the server market will boost ARM's royalty revenue, thereby contributing towards the company's revenue growth.
Can Intel shake up big daddy of processor market?
ARM chips have been famous because of high-performance and low power-consumption features. This is the area where its competitor Intel has been lacking, and therefore hasn't provided a real threat to ARM. Intel is trying to turn the table in 2014 by gaining traction in the lucrative tablet market (where ARM has a share of more than 90%).
Intel has been closely working with Google (GOOG) to make its x86 architecture compatible with the Android operating system, or OS. This resulted in introducing its Bay-Trail application processor, which provided Android support with the latest 64-bit architecture. This new Atom processor is aimed at repositioning Intel in the mobile-device market with tablets as the prime target. The company plans to grow its tablet volume to 40 million units this year, up from 10 million units in 2013. This figure represents 15% to 20% market share of the overall tablet market.
So, are Intel's ambitions too high?
Looking at Bay-Trail positioning for the high-end tablet market, this target would have been difficult to achieve. Therefore Intel has adopted an aggressive strategy for pushing its new processor in the tablet market, including using its cash-rich position to subsidize manufacturers for covering the additional cost of moving from an ARM design to Intel's Atom processor (Bay-Trail). The company calls it "contra revenue" subsidies, and developers will thus be entitled for reimbursement on additional costs incurred on account of using Bay-Trail. Intel's strategy looks at gaining market share at the expense of margins, but this strategy can be seen as a weapon for increasing its x86 base in the tablet market and providing a base for Intel's true low-cost Atom chips, code-named Broxton and SoFIA, which will hit the market in 2015. Intel's strategy doesn't stop at tablets. For the smartphone market, the company plans to introduce a dual-core "Merrifield" SoC, which will come early this year, while its quad-core "Moorefield" chip will also arrive in the second half of the year. Both processors are aimed at mainstream and performance smartphones and tablets.
Intel's product roadmap is a threat to ARM's dominance and marks the beginning of intense competition that ARM will see in coming years. Although the company has established a strong grip on the market, and the popularity of ARM chips will make it interesting to see how things pan out in the mobile computing market.
Conclusion
ARM's prospects for 2014 look strong, and increasing its presence in the non-mobile-device market will provide long-term growth. This will help offset threats such as intense competition, adverse impacts on revenue because of inventory buildup, or a slowdown in demand. Also, new market opportunities in mobile devices such as 64-bit architecture and increased adoption of big.LITTLE and Mali graphics architecture will further ease pressure on royalty revenue as these are higher-royalty technologies. I recommend buying this stock.
Disclosure: I have no positions in any stocks mentioned, and no plans to initiate any positions within the next 72 hours.
Business relationship disclosure: Fusion Research is a team of equity analysts. This article was written by Rohit Gupta, one of our research analysts. We did not receive compensation for this article (other than from Seeking Alpha), and we have no business relationship with any company whose stock is mentioned in this article