A key parameter sought by many dividend growth investors is a company enjoying the competitive advantage of a wide moat business model. Few industries impose greater barriers to entry than railroads. Government deregulation, coupled with massive consolidation over the past 40 years, have evolved railways into virtual monopolies segmented across the North American continent. Seven major companies dominate the landscape, with only minor overlaps in competing service areas; Union Pacific, Burlington Northern, CSX, Norfolk Southern, Kansas City Southern, Canadian Pacific, and Canadian National Railway (NYSE:CNI).
CNI operates Canada's largest rail network. With routes spanning from the Atlantic to Pacific and south to the Gulf of Mexico, it has the distinction of connecting three coasts and being the lone transcontinental railroad in North America. This enviable distribution footprint enables CNI to service all major markets in Canada, and approximately 75% of the U.S. population.
Canadian National Railway network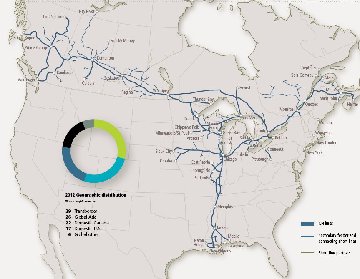 Corporate Profile
Canadian National Railway Company is engaged in the rail and related transportation business. The company's network of 20,000 route miles of track spans Canada and mid-America. CNI's extensive network and its co-production arrangements, supply-chain collaboration activities, routing protocols, marketing alliances, and interline agreements, provide its customers with access to all three North American Free Trade Agreement ("NAFTA") nations. CNI's freight revenues are derived from seven commodity groups representing a diversified and balanced portfolio of goods transported between a wide range of origins and destinations. This product and geographic diversity better positions the company to face economic fluctuations and enhances its potential for growth opportunities. The company is the originating carrier for approximately 85 per cent of traffic moving along its network, which allows it to capitalize on service advantages and build on opportunities to efficiently use assets. (Source; CNI's web site)
17 Consecutive Years Raising Dividends at Phenomenal 16% Growth Rate
CNI has been nothing short of spectacular for the dividend growth investor since its conversion in 1995, from a Crown Corporation to a publicly-traded company. Starting with a modest $0.0675 dividend in 1996 to the $0.81/share today, compounded by 4 stock splits over that period, CNI's dividend has increased every year at a wealth-building 16% annualized growth rate over those 17 years.
Stock splits since going public in 1995
September 27, 1999 - 2 for 1
February 27, 2004 - 3 for 2
February 28, 2006 - 2 for 1
November 29, 2013 - 2 for 1
Even more impressive, the payout ratio has remained at a very manageable level of 24% or less. Payout ratio is calculated by dividing the yearly dividends by net income, expressed as a percentage. The lower that percentage the wider the margin of safety for continued dividend growth. This is especially important in the cyclical railroad industry that can experience fluctuations in earnings, depending on the health of the overall economy.
Generous free cash flows have allowed CNI to invest 18 to 20 per cent of revenues in capital programs- strengthening the growth, safety, and productivity of its network- while still increasing shareholder returns with higher dividends and share repurchases. Over the past five years, CNI has repurchased 71.2 million shares. On October 22, 2013, the company announced a new repurchase program for cancellation of up to 15 million common shares, representing approximately 4.1% of the outstanding float.
While it may be unrealistic to expect continued 16% dividend growth going forward, an annualized rate at even half that pace would be attractive to many dividend investors.
Fueling the Phenomenal Growth is an Industry Leading 62.9% Operating Ratio
Railroads are five times more energy efficient than trucks at moving freight long distances over land. CNI is the most fuel-efficient railroad in North America, consuming nearly 15% less fuel per gross ton-mile than the industry average.
In an era where every stakeholder is striving to reduce costs and improve efficiencies, CNI has been best in class for several years as measured by Operating Ratio. Expressed as a percentage, Operating Ratio is simply total expenses divided by revenue, and a key metric quantifying a railroad's operational efficiency. The lower the percentage, the more efficiently it operates. CNI is the undisputed industry leader, attaining continuous improvement the last 4 years. (Operating Ratios as published in Annual Reports)
2009 67.3%
2010 63.6%
2011 63.5%
2012 62.9%
Diversity of Earnings, Geographically and by Commodity Group
| | |
| --- | --- |
| Geographic Rail Traffic | Commodity Group |
| U.S. domestic - 17% | Intermodal - 20% |
| Canadian domestic - 22% | Petroleum and chemicals - 17% |
| Transborder - 29% | Grain and fertilizers - 16% |
| Overseas - 32% | Forest products - 13% |
| | Metals and minerals - 11% |
| | Coal - 7% |
| | Automotive - 6% |
| | Other revenues - 10% |
Intermodal growth, bolstered by trade with China and Asian nations, are producing record-high shipment volumes that have steadily increased 65% over the past three years. This growth is far above the overall economy. Agreements with all major ports and terminal operators in Canada, along with significant improvements in end-to-end service, have contributed to major gains in this expanding segment of CNI's business.
About 10% of CNI's revenues are tied to housing. The U.S. housing recovery is boosting shipments of lumber, panels, furniture, televisions, metals, roofing materials, and other commodities. Expected continued improvement in the U.S. housing market, as well as lumber products bound for Asia, bode well for CNI's future growth.
CNI provides unique access to Alberta's heavy-crude oil fields, with a track network directly overlaying the Peace River, Athabasca and Cold Lake areas. The Athabasca Oil Sands are the world's largest known deposit of crude bitumen, and CNI is investing significantly in the branch lines of these energy rich areas. For 2013, the company expects to double its business in the shipment of crude-by-rail.
CNI is an automotive transportation leader, delivering more than 2 million vehicles a year. It also handles parts distribution to 14 assembly plants in Ontario, Michigan and Mississippi. Canadian vehicle sales remain on an upward trend, and growth of U.S. light-vehicle sales is expected to continue.
Inherent Risks that Can Derail Profits, or Stymie Dividend Growth
My low tolerance for risk is why I focus my investments on dividend growth stocks. However, as attractive as a company's dividend growth appears to be, it is imperative to recognize what can put those dividend distributions at risk.
The railroad industry is heavily dependent on the overall economic cycle, domestically and abroad. Two recessions to begin this millennium hammered stocks and depressed profits, worldwide. Yet, sustainable, high quality, companies- Canadian National Railway among them- navigated the storm while continuing to raise dividends.
Services provided by all railway companies are similar, with productivity gains and cost controls the major contributors to margin improvement. Earnings are vulnerable to volume changes because of high fixed costs. Railroads require large investments of cash to build and maintain networks. Trust and confidence in management's ability to invest wisely in productive growth is quintessential, before purchasing a single share of stock.
Safety and environmental disasters are expensive, and potential public relation nightmares. Train derailments, hazardous waste spills, and lethal accidents all come with the tracks. Well-managed railroads deal responsibly with those inevitable challenges, emerging stronger and more proficient from the lessons of those unfortunate experiences.
I pitch my tent in the camp that sees steady incremental improvement, albeit slow, in Europe and Asia, and the continued recovery in U.S. housing. The energy renaissance sweeping North America, the emerging middle class around the world, and the ever-evolving global marketplace, are game-changing events, offering immense opportunities. All are catalysts for continued growth in the railroad industry overall, with CNI poised to capitalize on from its position of strength.
The View from F.A.S.T. Graphs™ 2005 - 2014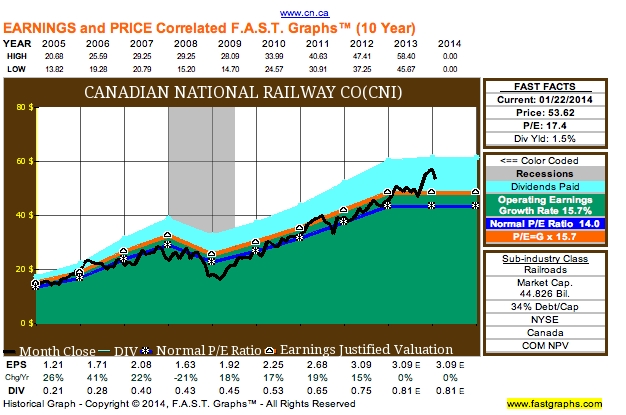 The stock price (black line) is well above the earnings justified valuation (orange line), and its historical 14.0 PE (blue line). Union Pacific and Norfolk Southern both reported strong quarters already, and issued positive guidance, which may propel the sector overall. On January 30th, CNI reports 4th quarter and full year results. I would like to see a pullback before adding to my own position.
Disclaimer
Always perform your own due diligence, and respect that my enthusiasm for a dividend growth investment may not be suitable for your portfolio.
Disclosure: I am long CNI, UNP, NSC. I wrote this article myself, and it expresses my own opinions. I am not receiving compensation for it (other than from Seeking Alpha). I have no business relationship with any company whose stock is mentioned in this article.