The Oil & Gas Midstream Industry has grown over 25% on total returns in the past five years. The geographic nature of Canada gives it a financial leverage over most of the world in crude oil production and transportation. According to IHS Cera, by 2035 the Canadian Oil Sands have the capability to provide North America with 7 million barrels per day (bpd). The United States and Canada have the largest energy-trading relationship in history. Canada supplies more than 20% of US energy import demand, with Alberta alone accounting for 7% of the crude oil transported to US refineries. Enbridge, Inc.'s (NYSE:ENB) leading position in Alberta should help it establish a successful moat in the Oil & Gas Midstream Industry during the next three years.
Financials for ENB from 2011-2014
| | |
| --- | --- |
| Changes Between 2011-TTM | ENB |
| Operating Income | $118 Million |
| Revenue | $13 Billion |
| Net Income | $30 Million |
| EPS | -$0.23 |
| Total Assets | $18.8 Billion |
| Total Liabilities | $9.8 Billion |
| Stockholders' Equity | $4.3 Billion |
| Free Cash Flow | -$4.5 Billion |
Valuation Relative to Industry
| | | |
| --- | --- | --- |
| Valuation | ENB | Industry Average |
| P/E TTM | 44 | 35 |
| P/B | 5 | 3 |
| P/S TTM | 1 | 1 |
| Operating Margin % TTM | 6 | 9 |
| Net Margin % TTM | 3 | 4 |
| ROA TTM | 2 | 3 |
| ROE TTM | 12 | 9 |
| Debt/Equity | 2 | 1 |
Since 2011, ENB has seen a slight decrease in EPS. Ironically, this decrease came with increased dividends. Current dividend payments cannot be maintained based on current earnings and future projects. ENB has a PEG of 4.2 and a PE of 43. The industry's position on PEG and PE are half that of ENB's. These ratios indicate that ENB is currently over-priced. As the Oil, Gas & Consumable Fuels industry was able to improve its earnings during the last fiscal quarter, ENB was not; despite its increase in assets and ROE TTM.
The financial outlook is not entirely bad, however. Although ENB's debt to equity ratio is 56%, its operating profits are 4.5 times greater than its interest payments.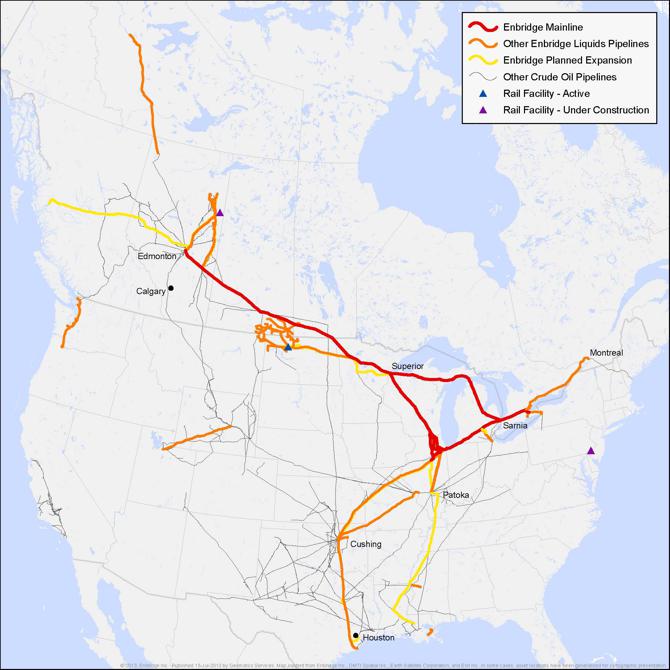 ENB's Bullish Pipeline:
ENB generates more than 50% of its earnings from liquids and pipelines. Operating and owning the world's longest crude oil and liquid transportation system helps it provide energy efficiently to the United States and other parts of Canada. ENB is planning on expanding the distribution of these assets tremendously during the next 2 years, including but not limited to profitable pacific transports to Asia.
Athabasca Capacity Expansion Project
This expansion, accomplished by modifying five existing pumps with three 5,750 hp pump/motor units a piece, will allow the transfer of 570,000 bpd to ENB's mainline hub at Hardisty, Alberta. ENB also plans to create four new pump stations with the same 5,750 hp pump/motor units.
Athabasca Pipeline Twinning Project
The twinning project will provide improved transportation for increased oil production in the Kirby Lake area by following a similar path as the original Athabasca Pipeline. ENB will be creating two new pumps, one at Kirby Lake and another at Bonnyville Station. The new pipeline will be 365 km long and 36 inches wide. This pipeline will run from the Kirby Lake to Battle River Terminal.
Bakken Expansion Program
ENB is working on a number of projects that will ultimately allow greater transport of crude oil between North Dakota and Sashkatchewan. This will accommodate for the increase in oil production from both the Bakken and Three Forks formations.
Line 9 Reversal
Because Western Canada's crude is significantly cheaper than foreign oil, ENB is planning on using its own product rather than oil from West Africa and the Middle East. By replacing 240,000 bpd of foreign oil with a domestic product, more jobs will be created in the communities that harvest and process the crude. This supports greater security in the future of North America's energy supply.
Eddystone Rail Project
The Eddystone project will allow light sweet crude oil to be transported from North Dakota to Pennsylvania. From Pennsylvania the oil will be transferred to refineries near the Delaware River. During 2014, the Eddystone Rail project will allow for 80,000 bpd transferred to and from refineries along the river.
Edmonton Terminal (South) Expansion Project
This proposed expansion will be complete by 2015. The infrastructure's capacity will increase by the addition of five tanks, each with a maximal usable capacity of 432,500 barrels. Since no new lands will be required for this project, expenses will be lower. A new central mainfold will be created to allow diversion of crude oil into a storage tank without disrupting the flow. Transfer lines to existing ENB terminals will be installed under roads using a horizontal drilling technique. This will allow traffic on Baseline Road to remain uninterrupted.
Edmonton to Hardisty Pipeline Project
The Hardisty project, still pending approval, will transmit crude oil 181 kilometers from ENB's existing Edmonton Terminal to its Hardisty Terminal. For this to occur, ENB will need to create a new pump station at Edmonton's terminal and, two new pumps at Kingman and Strome Stations in addition to enhancing their facilities and infrastructure at both Edmonton and Hardisty Terminals.
Since the blueprints for the pipeline right-of-way runs alongside an existing ENB pipeline for almost its entire length, the pipeline is still pending approval based on safety concerns. ENB's history of pipeline leakage may raise eyebrows amongst inspectors.
Flanagan South Pipeline Project
The pipeline will be 600 miles in length, 36 inches in diameter, and it will carry crude oil from Pontiac, Illinois, to Cushing, Oklahoma, crossing through Illinois, Missouri, Kansas, and Oklahoma as it goes. Seven new pump stations will be installed to assist the passageway. The pipeline will be able to carry 600,000 bpd. This $2.6 billion project will help tremendously in bringing crude oil to refinery hubs along the U.S. Gulf Coast by mid-summer 2014.
Line 6B Phase 2 Replacement Project
This project will replace 210 miles of an already existing crude oil pipeline in Indiana and Michigan. This pipeline plays a tremendous role in providing gasoline and other refined petroleum products in to the Midwest region. The projected cost for this replacement is $1.6 billion. This project will help prevent anticipated maintenance problems, ultimately saving the company from additional future expenses. ENB expects these improvements to be completed by August of 2014
Line 78 Pipeline Project
Line 62, a pipeline to and from regional refineries near ENB's Griffin terminal in Indiana, cannot handle recent increased demands for crude oil. The Line 78 pipeline project responds to this increased demand. This 79-mile pipeline will allow for the creation of more jobs and increased processing of domestic crude oil relative to product imported from outside of North America. Although the project is subject to approval, ENB estimates an in-service date during the third fiscal quarter of 2015. Investors will learn more about the project's progression once a Certificate of Good Standing is received from (ICC); ENB expects to receive this certificate in February of 2014.
Line 79 Pipeline System Project
Completed in March of 2013, Line 79 is already in-service. Land restoration is currently occurring along the 64 miles of pipeline located in Michigan. This pipeline can handle 80,000 bpd and cost an estimated $190 million.
Natural Gas
ENB is also working on projects focused on Natural Gas Transportation and Storage. Nagrara Link Gas Storage Project was started in 2013. It has allowed for incremental gas transportation capacity from Enbridge Gas Distribution's Tecumseh storage facility near the Dawn Hub to Corunna. The Nexus Gas Transmission Project (NGT), a collaboration between ENB, Spectra Energy (NYSE:SE), and DTE Energy, will be able to transport at least one billion cubic feet of natural gas per day to Ohio, Michigan, and Ontario, Canada - regions that have seen increased demand. ENB's Greenfield pipeline will run 250 miles and interconnect with existing pipelines. NGT should be up and running by 2016. ENB is also working with Gaz Metro, and Gaz de France to provide liquefied natural gas (LNG), an energy source that takes up much less space than natural gas, is odorless, and is non-toxic.
ENB is currently working on a project known as Whitetail Peaking Station. The station will be a 189 MW natural gas-fired simple cycle power generation facility providing electricity to all of Alberta, Canada.
Green-Friendly
Even though crude oil transport is ENB's biggest revenue generator, the company also seeks to help the environment by providing more efficient ways for North America to attain power and energy. Wind, Solar, and Geothermal projects are just a few ways ENB is investigating efficiency in alternative energy sources.
During the past ten years, ENB has provided over 500,000 homes with 1,622 megawatts (MW) of power, making it the second largest wind energy generator in Canada. Through this venture it has reduced annual greenhouse gas emissions by 1.3 million tonnes.
Being the largest solar energy generator in Canada, it has the capability to displace 92,000 metric tonnes of annual greenhouse emissions. With 150 MW of emission free power capacity, ENB can provide up to 25,000 homes with solar power.
With a zero emission capacity of 22 MW, Neal Hot Springs in Oregon is ENB's entry into geothermal energy production. Through this project, 24,000 homes can be powered with an annual greenhouse gas emission reduction of an estimated 375,000 tonnes.
ENB's Bears
ENB has a tremendous amount of debt, well above the industry average. ENB's debt to equity ratio is almost twice that of the industry. The company's liabilities are much greater than those of its peers; Enterprise Products Partners LP (NYSE:EPD), Kinder Morgan, Inc. (NYSE:KMI), and TransCanada Corp (NYSE:TRP). ENB's competitors also provide higher yield dividends that are actually sustainable. With that being said, the companies operating margins are well above its interest rate. ENB should have no problems paying off its debt.
ENB is currently investing heavily in new projects. Some projects involve the repair of old pipelines. Unfortunately, this leads to increased scrutiny from federal credentialing agencies for approval of pending projects. The Oil & Gas Midstream Industry also has very strict caps on returns. ENB's participation in numerous long-term contracts should off-set these caps by providing protection from commodity price exposure.
A Warren Buffett Approach
Since 2008, ENB has significantly outperformed growth patterns demonstrated by both the Oil & Gas Midstream Industry and the S&P 500 TR USD. ENB's R&D expenditures are paying dividends in their expansion on crude oil, pipeline, natural gas, and alternative energy services. With a diversified foundation from which they can venture new strategy and capital into large scale improvements, ENB has a very wide economic moat. Warren Buffett's philosophy of investing acknowledges this competitive advantage as a high priority.
Management
In 2012, when Al Monaco took over as CEO, ENB's revenue drastically increased by $6 billion. Total assets increased by $13 billion, outperforming the relative increase in total liabilities. Operating cash flows increased $171 million during this year.
Thanks to Al, ENB is expanding worldwide. ENB is not only providing to the United States, but has also received approval for its Northern Gateway Pipeline allowing export to Asia. This Pacific transport will be able to drive in more revenues, further funding the company's projects. With new management and better corporate culture, Al Monaco has provided the company with a soft economic moat and an exciting future.
A Buy for Long-Term Investors
"If you want a love message to be heard, it has got to be sent out. To keep a lamp burning, we have to keep putting oil in it."
-Mother Teresa
Since Mother Teresa's time, crude oil remains a dominant player in our day to day operations. ENB has numerous projects in its pipeline to expand on the transport and production of this commodity. It is also expanding in the fields of alternative energy, preparing itself for the future. Although it is currently in poor financial health, numerous projects in the upcoming years should provide a remedy. The prognosis looks good for long-term investors.
Disclosure: I have no positions in any stocks mentioned, and no plans to initiate any positions within the next 72 hours. I wrote this article myself, and it expresses my own opinions. I am not receiving compensation for it (other than from Seeking Alpha). I have no business relationship with any company whose stock is mentioned in this article.
Additional disclosure: Assistant Editor: Dana Lee, Harvard University, M.Ed/ Research Assistant: Nicole Reynolds, BBA, Emory Goizueta