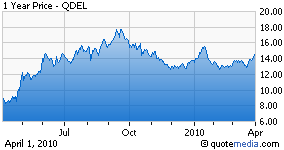 Quidel (NASDAQ:QDEL) is a maker of rapid medical diagnostic tests that are aimed at the point of care (POC). Basically, this means the test can be administered by a doctor, nurse, or other health-care worker and results can be received in a few minutes, compared to hours for the typical "send to the lab" method known as IVD (in-vitro diagnostic). Quidel markets tests in two primary segments under the QuickVue brand name - infectious disease (78% of sales) and reproductive/women's health (13%). Tests focus on things such as influenza, strep throat, RSV (an upper respiratory virus associated with children), pregnancy, Chlamydia, and various digestive tract problems. Quidel generates about 20% of sales outside of the United States, mainly in Japan.
The company expanded its business by about a third when it acquired Diagnostic Hybrids (DHI) earlier this year for $130 million in cash. DHI is a provider of specialized IVD testing for similar indications as Quidel's POC tests. Looking at DHI on a stand-alone basis, it was growing sales at about 25% per annum and expanding operating margins faster than that. Quidel's purchase price looks to be at a reasonable valuation (7.7% MFI earnings yield, about a 19.3 enterprise value/earnings ratio).
The DHI purchase makes it imperative that we analyze Quidel on a consolidated basis. Putting the two companies together and penalizing enterprise value $130 million dollars, we have a combined entity selling at about a 14.3% trailing earnings yield and a 123% MFI-adjusted return on capital. Those are great numbers, made even better by good long-term growth prospects due to the demographics and move towards better service and lower costs in healthcare. Its products are consumable, meaning repeat purchases are required, something we always like. Quidel's balance sheet will be in good shape and the combined company should put forth solid free cash flow margins near 15%. Is this a Magic Formula "slam dunk"?
Well, not quite... I believe Quidel is a good company, and for patient investors willing to hold it 2-3 years, a decent choice for investment at current prices around $14. For one-year "by the book" MFI investors, Quidel doesn't quite make the Top Buys cut, though. Let me explain why...
Few have forgotten the global H1N1 flu panics in both the spring and fall of 2009. This "swine flu" dominated airwaves, front pages of newspapers, and magazine covers, leading to long lines of folks waiting to be immunized. It also led to a large amount of fear, where any sniffle could send families scurrying to the doctor to be tested. Cue the cash register ringing in Quidel management's ears as QuickVue influenza tests shipped in ever-increasing volumes. In the forth quarter alone, the September-December height of the pandemic, Quidel doubled revenues from 2008! Flu products by themselves were up nearly 120%. Similar year-over-year increases can be seen for Q2 and Q3. But in Q1, prior to the initial wave of H1N1 (and against a strong traditional flu season in 2008), sales of infectious disease tests fell 76%!
The point is, Quidel relies heavily on sales of its flu tests, and the severity of any given flu season is a complete crapshoot. 2008 and especially 2009 were historically severe seasons. Not only revenues, but also gross margins are affected, as the flu products are higher-margin than reproductive/women's health. The reproductive testing products have been stagnant to slightly declining for several years. Our Magic Formula statistics are being measured against an exceptional, and likely non-recurring, blowout year.
Realizing this, I made some normalization assumptions and have tried to value Quidel+DHI on that basis. Using the "normal" trends from 2003-2008, I tagged the company with about 10% annual revenue growth, and a normalized operating margin of about 16%, removing out the incremental gains from H1N1. Using those numbers over the next 12 months, I get a forward earnings yield of about 6.8%, which is perfectly average. I also did a discounted free cash flow, assuming a 50% drop for 2010, and then 15% per annum growth for 5 years, trailing off to 8% for years 6-10 (and a 3% perpetuity), coming out with fair value right around $20. If that's anywhere near accurate, that represents a decent 40% gain, but it could take a few years to get there.
So that's Quidel - A Magic Formula "mirage" due to a one-time, non-recurring revenue windfall, yet still an interesting stock in its own right.
Disclosure: Steve owns no position in any stocks discussed in this article.