Pengrowth Energy (NYSE:PGH) has been a favorite holding of mine for over a year now. The stock has been on a tear as investors begin to realize that the Lindbergh Steam-Assisted Gravity Drainage ("SAGD") program is planned to reach 50,000 barrels a day by 2018 versus about 1,700 barrels a day right now.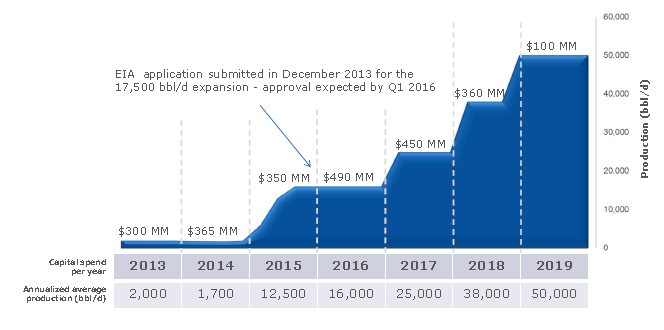 Source: Pengrowth
The SAGD development is frequently referred to as a Thermal Oil Development since it uses Steam to make the bitumen flow more readily and of course gravity to drain the flowing pool. Each SAGD well pair (one well to inject steam and one to recover the oil) should operate steadily over the duration of the reservoir being exploited. Production decline rates in these types of wells are much less than with conventional wells. As a result, Thermal oil has relatively low cost in comparison to other sources as shown on this slide from Pengrowth's recent investor day.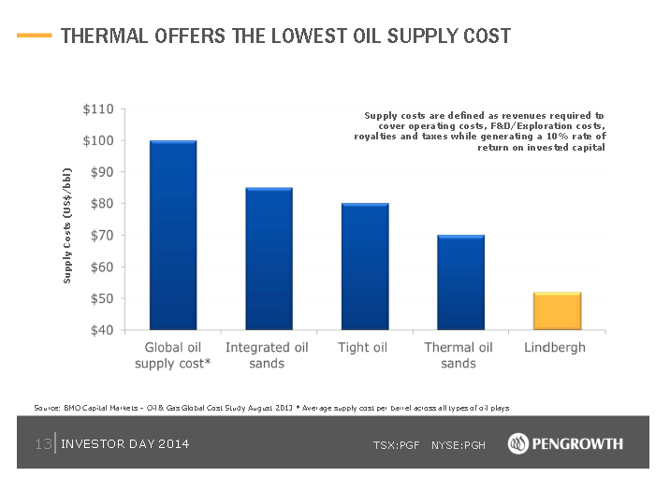 Source: Pengrowth
Hand in hand with the lower cost of the Thermal oil is a lower cost to replace reserves, often called "sustaining capital". Sustaining capital for Pengrowth's SAGD wells is estimated at $4,000 per barrel of oil equivalent ("BOE") versus a sustaining cost o f $9,500 per BOE for a typical natural gas project or $28,000 BOE for a light oil development.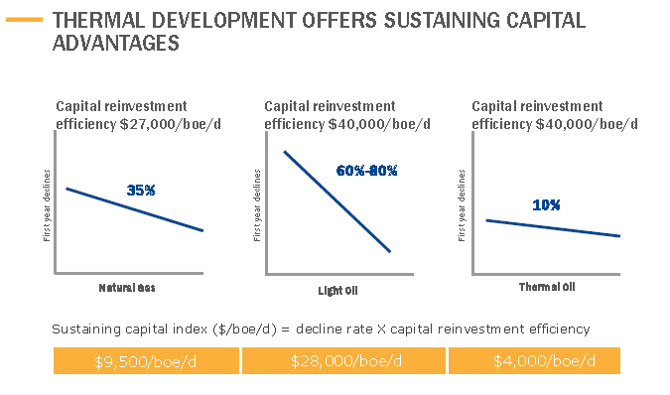 Source: Pengrowth
What I particularly like about Pengrowth under its current management is its transparency. Pengrowth has set out a very clear path forward together with a complete financial picture if they succeed in their execution of their plans. Over the next 5 years Pengrowth expects to increase production from 72,100 BOE per day to 95,500 BOE per day, more than doubling operating profit as its mix shifts to 79% liquids from 53% today. Pengrowth expects its debt to remain relatively constant at about $2 billion but Pengrowth's ratio of debt to cash flow is forecast to drop materially over the period.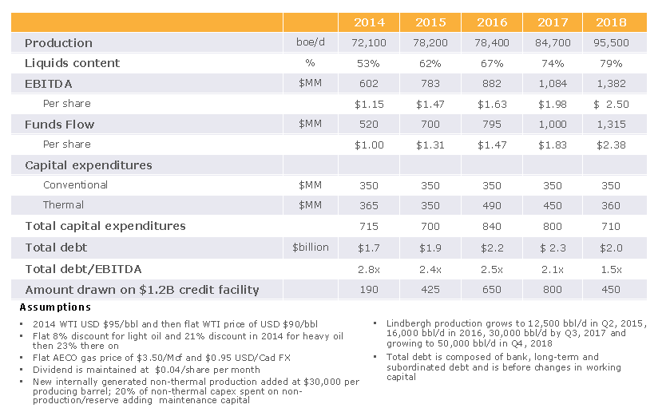 Source: Pengrowth
The role Lindbergh plays in Pengrowth's forecast is material with its contribution to cash flows weighted towards the later part of the 5 year forecast horizon as the SAGD production gathers steam. Pengrowth, which used to be heavily reliant on natural gas prices should emerge by 2018 as primarily an oil producer.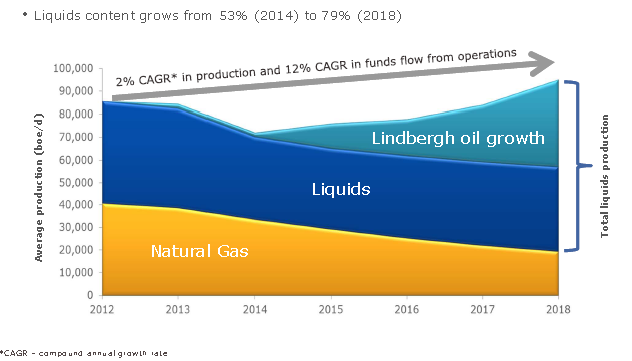 Source: Pengrowth
Lindbergh is not the only arrow in Pengrowth's quiver, however. Pengrowth is also the largest operator in the prolific Cardium play.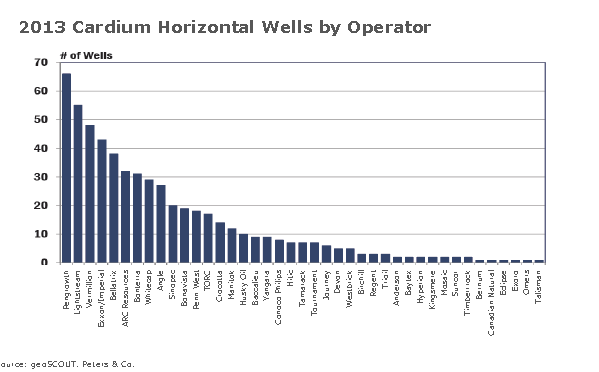 Source: Peters & Co. and Pengrowth
Pengrowth estimates that Cardium drilling produces a recycle ratio of between 1.4 and 3.1 to one depending on the oil price at the time. At today's oil prices a new Pengrowth Cardium well should produce a recycle ratio of 2.7 to one and an internal rate of return in the range of 30%.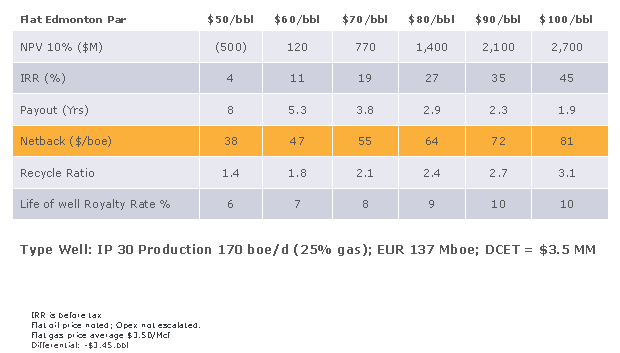 Source: Pengrowth
With its excellent Cardium land holdings, Pengrowth's Cardium wells have historically outperformed those of its peers.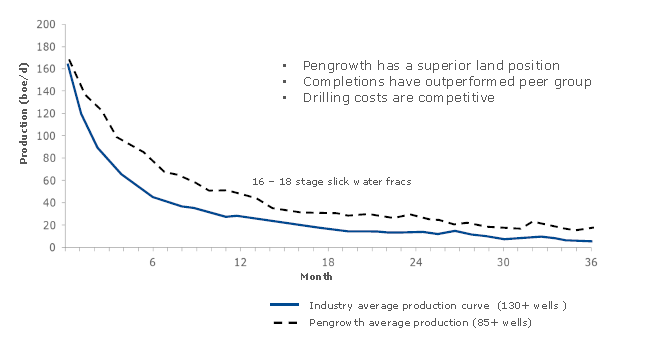 Source: Pengrowth
Lindbergh is where all the excitement is and should be, however. The SAGD program is well underway with 55% of the capital either expended or committed to date.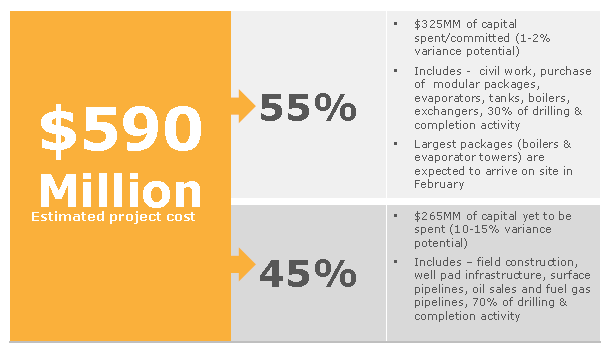 Source: Pengrowth
Based on the pilot production results, the Lindbergh SAGD program promises very good looking (i.e. low) Steam to Oil ("SOR") ratios and reasonable average well production making it one of the most attractive SAGD programs in Western Canada.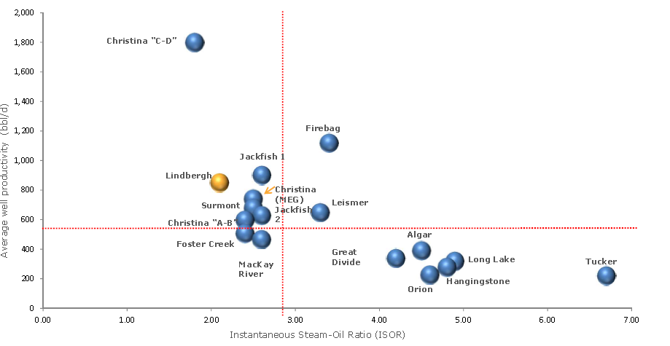 Source: Pengrowth
Management's stated plan is to maintain the current dividend and its financial plans take the dividend into account. I am happy to receive the cash, but I believe investors should see the dividend as a "cushion" which can be cut if needed to ensure the program meets its goals and time lines even if commodity prices fall.
Currently, Pengrowth has a few tailwinds. Natural gas prices in the spot market have spiked in the cold winter and have risen past $5.00 per Mcf, a price they haven't seen in a few years. The Canadian dollar has fallen about 10% from its above par peak and now trades in the $0.90 U.S. range. And, the spread between Canadian oil and gas prices and those in Texas seems to be narrowing as the southern leg of Keystone Excel comes on stream.
I think Pengrowth stock will be a solid performer relative to its peers over the coming five to ten years. I won't be the least concerned about day to day fluctuations in the share price or changes in the dividend rate if management executes well against its very clear plans. I am long 160,000 Pengrowth shares.
Note: Charts in this article were selected from Pengrowth's Investor Day presentation.
Disclosure: I am long PGH, . I wrote this article myself, and it expresses my own opinions. I am not receiving compensation for it (other than from Seeking Alpha). I have no business relationship with any company whose stock is mentioned in this article.