Altisource Residential Corporation (NYSE:RESI) has been a big winner over the past year. Buying bulk sale NPLs to cheaply create single-family rentals (NYSE:SFR) has been a very smart idea. However, the market and RESI shareholders improperly value this stock. RESI is overvalued at current prices due to the substantial fees paid to its external manager. I would recommend shorting RESI at current prices.
Typically, shareholders own 100% of the future cash flows from a company and, under Finance 101, discount back the future value of these cash flows to the present and come up with a current value. Externally managed REITs are an exception to this rule. These REITs typically pay a separate entity a management fee from 1%-1.5% of raised equity. Therefore, the shareholders of the REIT receive 98.5%-99% of the future stream of cash flows. Not a big difference -- so the market, analysts, and shareholders use NAV as approximation of underlying value.
For example, Starwood Waypoint Residential Trust (SWAY) pays its external manager a management fee of 0.375% of the adjusted equity market capitalization for the preceding quarter (or 1.5% on an annual basis). SWAY also focuses on SFR and NPL purchases. SWAY's NAV has recently been reported at approximately book value (has been reported at $28.61 (BV of $26.11 + ~$2.50 of mark-to-market adjustments) vs. the stock's current price of $28.50.
Altisource Residential Corporation is very different. RESI pays Altisource Asset Management Corporation (NYSEMKT:AAMC) significantly higher fees -- anywhere from 2% to 50% of their future cash flows. What a nice business for AAMC.
Let's just assume for simplicity that RESI eventually can earn a levered 8%-10% ROE on its homes. Most peers in the SFR marketplace are targeting 6%-7% unlevered net yields. On pro-forma NAV per share (calculated later in the article) of $31.60, gross net income per share is projected to be $2.53-$3.16. What portion of total cash flows are going to RESI shareholders? Below is the quick math: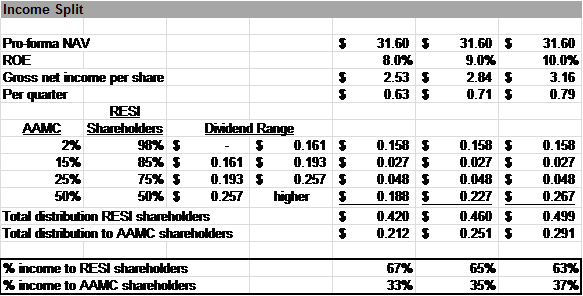 So, on a blended base, RESI shareholders will get roughly 63%-67% of the future cash flows and AAMC will get 33%-37% of the future cash flows. RESI is not worth NAV because it doesn't receive 100% of the future cash flows from its assets. RESI is only worth 63%-67% of NAV.
What is the NAV of RESI? Looking at their slide from their Q3 2013 earnings call (see below), if RESI had deployed 100% of its capital at October 2013 and then immediately mark-to-market the underlying assets, RESI's NAV could have been approximately ($760mm + $310mm)/42.26 shares or $25.32 per share.
Click to enlarge images.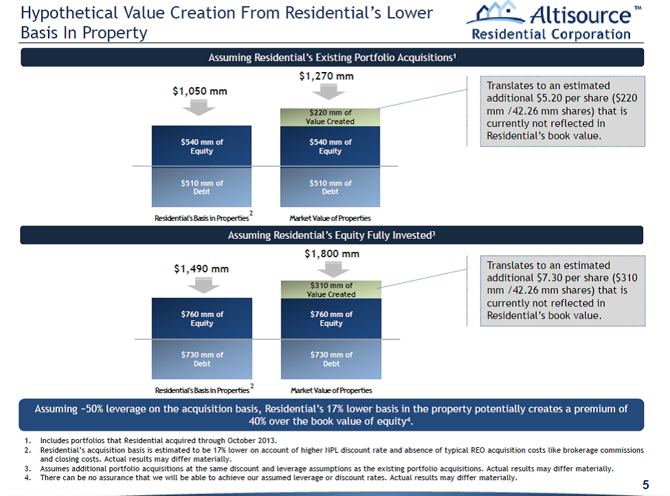 However, RESI shareholders will only receive ~65% of the future cash flows of these assets. Going back to Finance 101, if shareholders only get ~65% of the cash flows, then "shareholder NAV" was only ~65% of $25.32, or $16.46. Shareholders of RESI should only care about their future cash flows not the ones, which AAMC will receive.
Recently, RESI issued 16.33mm shares at $34, assuming underwriters exercised their overallotments. Not sure why anyone would buy stock at 215% of shareholder NAV, but they did. Giving RESI the benefit of the doubt, we assume the company is able to fully deploy this capital immediately at the same terms as during this fall. On a pro-forma basis, RESI could have a mark-to-market NAV of $31.60 by deploying the new capital raised.
Here is the simple math behind my future mark-to-market NAV: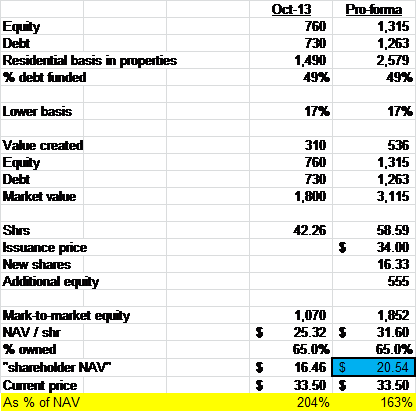 Unfortunately, for RESI shareholders, the NAV is only 65% theirs given the onerous management fees AAMC charges. Pro-forma "shareholder NAV" is approximately $20.54. So, at $33.50, shareholders are effectively paying over 160% of the market value on the homes not even yet purchased. If shareholders are looking to invest in a company, which purchases NPLs to create SFRs, I would recommend SWAY, which is trading at approximately NAV while paying only 1.5% fees to its external manager.
What is the fair value of RESI's stock today? I think shareholder NAV of $20.54 is a great proxy. I would recommend shorting RESI into the low $20s.
Disclosure: I am short RESI, AAMC. I wrote this article myself, and it expresses my own opinions. I am not receiving compensation for it (other than from Seeking Alpha). I have no business relationship with any company whose stock is mentioned in this article.