Click images to enlarge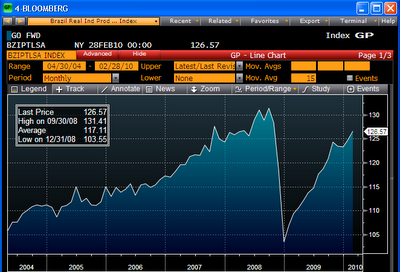 The top chart shows the level of Brazil's industrial production, which has in just over a year managed to retrace almost all of its 2008 losses. Not surprisingly, Brazil's stock market is now within inches of its former all-time high. This has got to rank as one of the most amazing recoveries to date, a super-V.
It's also a reminder that while we struggle with bad policies and high unemployment, many economies around the world are recovering rapidly. This fits with the very strong NAPM export orders number reported earlier today. The global economy is on a tear, and this can only help lift the prospects for the US economy.