Stocks took it on the chin to close out the trading week. After having already fallen by nearly -1% on Thursday, the stock market accelerated to the downside with another -2.09% decline on Friday. This sudden sharp decline likely has many investors looking for answers as to whether this is simply a benign pullback or the start of something much bigger. Finding the answer to this question lies in the details, and monitoring some key qualitative and quantitative themes can provide useful perspective and guidance if volatility continues into the coming week.
Clearly, today's stock market provides a number of reasons why investors should be concerned. Stocks have risen by nearly +50% over the last two calendar years despite a lackluster economy and revenue and earnings growth that has been relatively non-existent. Gains over the last year have been fueled by unprecedentedly aggressive monetary stimulus from global central banks including $1.1 trillion in new money from the U.S. Federal Reserve. Investor bullishness has been hovering at historically peak levels and stock margin debt is currently at all-time highs. Stock valuations are running well above trend both by short-term and long-term measures. And the disparity of stock market outperformance in 2013 relative to all other major asset classes including those with which it is most highly correlated was unusually wide with most other categories posting losses or marginal gains at best. Thus, an extended pullback in the stock market is long overdue at this point. But the question remains as to whether the price action to close out the end of the week represents the start of such a major correction.
The answer? Not necessarily. This does not mean that the recent pullback will not evolve into something bigger. But we are not anywhere close to confirming such a development quite yet. With this possibility in mind, it is worth monitoring the market on a variety of fronts to determine whether the recent pullback is set to expand into something far more painful.
The following are just a few things to keep in mind.
To begin with, stock investors have become soft if Friday's price action is considered a sharp correction. Yes, it was the worst daily decline in stocks since last June, but price action like this has been a typical day in the life for the Treasury (NYSEARCA:TLT) and Gold (NYSEARCA:GLD) investor for much of the past year. One has to expect at least some volatility is going to return to an equity market that has added nearly 600 S&P points over the last two calendar years. The "tanking" as some have described it had the market falling back to levels last seen just one month ago in mid December. If stock investors are uncomfortable with Friday's price action, they may not be at all prepared for the swings that may lie ahead.
Also, the uptrend in stocks is still firmly intact. Yes, the absolute numbers that came off the Dow Jones Industrial Average (NYSEARCA:DIA) and the S&P 500 Index (NYSEARCA:SPY) are big numbers, but it looks miniscule when viewed on a one-year price chart. And the market is far from anything that would be considered oversold after Friday's pullback. Although relative strength, momentum and money flow readings are trending lower, many are still positive or in reasonably solid shape. In other words, stocks are still holding up OK despite some ugly trading to close the week. Of course, this fact could be viewed another way, however, which is that a great deal of room still exists for the recent decline to grow into something far more painful.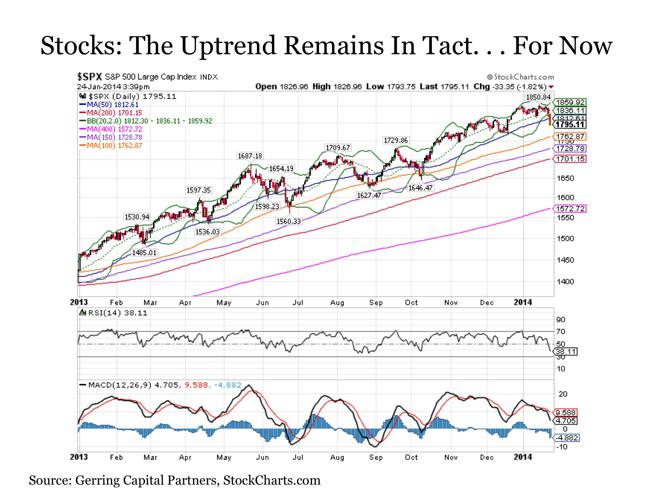 So what should investors be watching to determine whether the recent decline is just a short-term correction in an ongoing cyclical bull market or the beginning of a new bear market phase?
The first is the trend. Stocks on Friday sliced below their 50-day moving average on the S&P 500 Index for the first time since early October. It should be noted that mid-cap (NYSEARCA:MDY) and small-cap stocks (NYSEARCA:IWM) both held their 50-day M.A. supports on Friday, which is a signal in favor of the bulls. With that being said, the next key level of support for large caps is the 100-day moving average at 1763 on the S&P 500. Stocks found support to bounce higher on three separate occasions in 2013, so this is a technical level that has been battle tested. Whether it responds again this time around if the decline continues into next week is something worth monitoring as a starting point. If stocks were to break the 100-day M.A., investors should look to keep a closer eye on the critical 200-day M.A. at 1701, although we remain far away from such levels at this time.
The second is the liquidity. The headline news disrupting stocks to close the week focused on worries over the developing situation in emerging markets, and these are legitimate concerns that should be garnering investor attention. But a signal suggesting that things are really starting to get out of hand would be if everything started going down at once including bonds (NYSEARCA:AGG) and precious metals such as gold and silver (NYSEARCA:SLV) that are typically uncorrelated if not negatively correlated to stocks. The bond market in general and Treasuries (NYSEARCA:IEF) in particular have rallied on the stock market sell off. And the precious metals were solidly higher until the almost too predictable hammer was brought down on Friday at around 11:30. Even utilities (NYSEARCA:XLU) were holding their own in positive territory until Friday afternoon. In short, the recent decline does not appear to be a result of a liquidity issue and instead seems typical of orderly allocation shifting. At least for now, of course.
The third are the catalysts. Right now, the focus for stress is on emerging markets, so it is worthwhile to keep a close eye on particular countries or asset classes where the stress is most profound to determine whether it is likely to spread into a broader contagion. In this regard, it is worthwhile to put a select group of markets at the top of the list for monitoring. These include the following.
Emerging debt markets (NYSEARCA:EMB) (NYSEARCA:PCY) are certainly in a sustained downtrend. And they have not performed well in recent days, but any decline is far from disorderly at this point.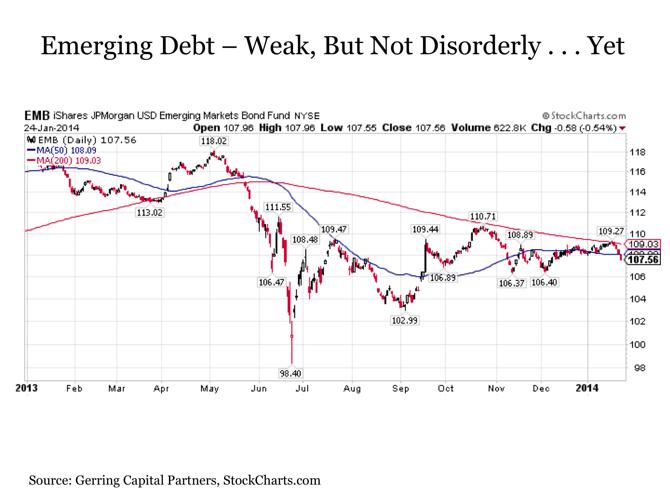 Emerging market currencies (NYSEARCA:CEW) paint a more disquieting picture. The pace of weakness over the last week has been accelerating, and the basket has fallen to lows seen in August. A continued break to the downside should be monitored very closely in the days ahead, as broader trouble would likely follow any such decisive move.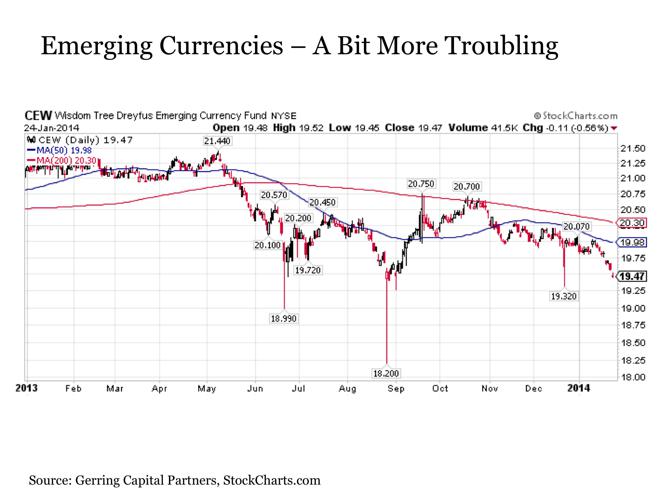 China (NYSEARCA:FXI) in particular is worth watching closely, as it has been undergoing pains trying to extract excess liquidity from its frothy real estate and asset markets. And the fact that some shadow banking failures are looming on the short-term horizon could lead to far greater challenges depending on how events play out. Market conditions remain on par with where they were last April and considerably above levels seen last June, but the pace of the -15% decline since the beginning of December is troubling to say the least.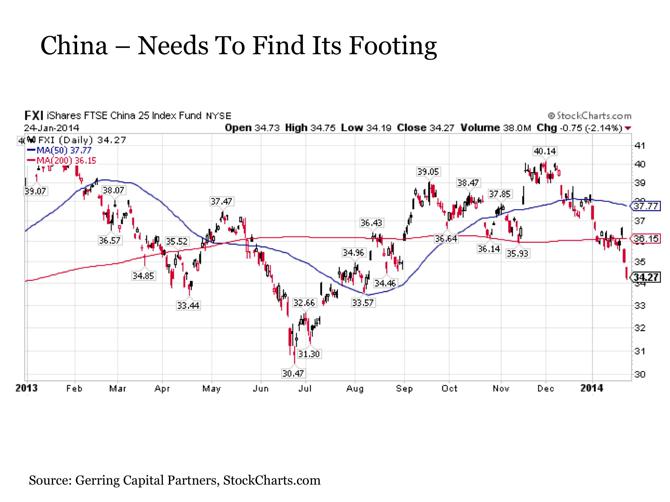 Turkey (NYSEARCA:TUR) is another market worth watching closely, as political instability and a weakening currency has sent this market back to levels last seen at the beginning of 2012. Of course, we saw similar developments brewing in India in August and this market bounced, but the situation in Turkey should remain high on the investor radar screen for further deterioration and potential knock on effects in the coming week.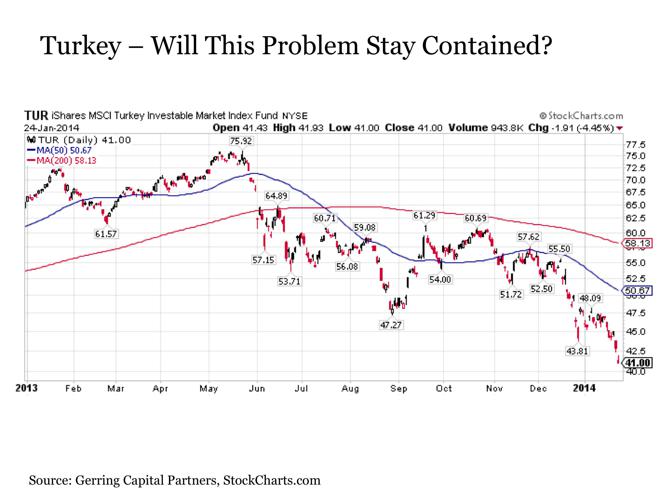 Brazil (NYSEARCA:EWZ) is one more major market on which to keep a close eye. Conditions in Argentina are also worsening, and Brazil by its close proximity would be adversely impacted by any meaningfully negative developments. Brazilian stocks have fallen back to levels that prior to this past summer were last seen in early 2009, demonstrating that stock markets are not necessarily in the clear in our post financial crisis world.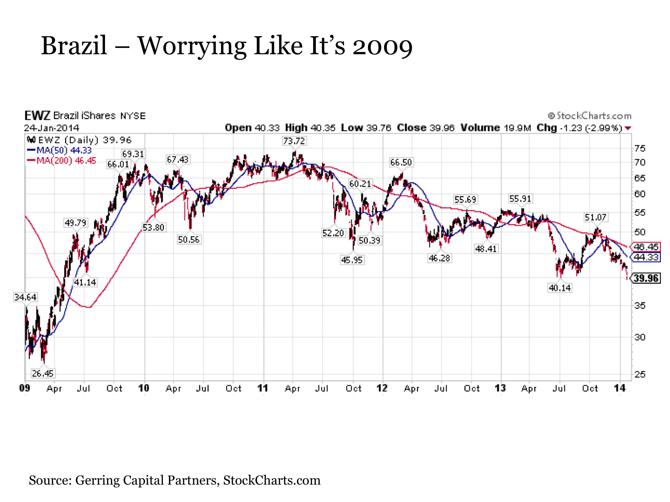 Bottom Line
While the sharp stock market decline on Friday was jarring, it does not necessarily signal the beginning of something bigger, as the uptrend remains very much intact. But this also does not mean that it could not quickly evolve into a far more severe correction. Monitoring the markets in general and particular segments in particular will be useful for investors in trying to draw more conclusions on this front as we move through the coming trading week.
Disclosure: This article is for information purposes only. There are risks involved with investing including loss of principal. Gerring Capital Partners makes no explicit or implicit guarantee with respect to performance or the outcome of any investment or projections made. There is no guarantee that the goals of the strategies discussed by Gerring Capital Partners will be met.
Disclosure: I am long XLU. I wrote this article myself, and it expresses my own opinions. I am not receiving compensation for it (other than from Seeking Alpha). I have no business relationship with any company whose stock is mentioned in this article.
Additional disclosure: I am long SPLV as well as selected individual stock names.