General Electric (NYSE:GE) has stumbled to start 2014, with the stock drifting 10.7% year-to-date. It started as a move in concert with general stock market decline, and gained steam after the company offered tempered guidance at its earnings report last week. However, the stock's decline can only be justified so much by valuation and at some point, GE becomes a pound the table sort of buy opportunity. I see the soft floor for GE at $24, where I suggest investors can begin to buy again. Should it by some act of God get to $20 a share, it becomes a pound the table sort of recommendation, in my view.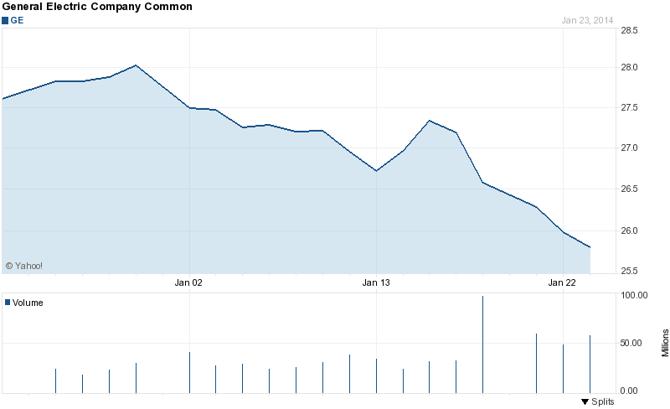 Click to enlarge
1-Month Chart at Yahoo Finance
The stock has fallen year-to-date, but in 2013, GE's performance was stellar. GE shares appreciated approximately 38% in 2013 after adjustment for dividends, and that marked outperformance against the SPDR Dow Jones Industrials ETF (NYSEARCA:DIA) adjusted appreciation of 30%. What we see in the 1-year comparison below is that GE shares have already compensated for recent company specific news on the downside and erased that outperformance against the DIA.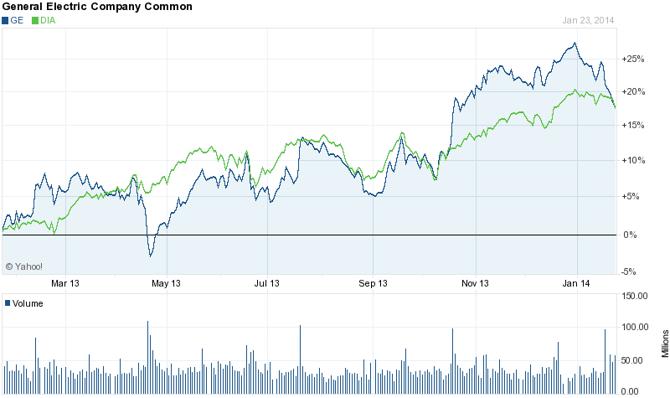 Click to enlarge
GE now trades at 14.7X the analysts' consensus EPS estimate of $1.70 for 2014. GE's valuation was 15.9X estimates when we authored our EPS preview on the company. Within that report, we said that GE was in a position where it would have to perform at earnings to rise further. The judgment, based on price action around the report, seems to clearly be that it did not do so. However, we also suggested investors buy the stock if it fell on the report, when it settled. While it seems to remain unsettled at this point, there is a point at which GE becomes a must purchase.
Given analysts have a long-term growth expectation of 8.5% for the stock, the PEG ratio sits at 1.7X now. However, the stock offers new investors a dividend yield of 3.3%, and I suspect that is not fully incorporated into growth expectations. I would adjust the PEG, therefore, to a KPEG of 1.25X, to account for the yield. The KPEG ratio gets to 1.0X when the stock reaches $20, and at that point, in my view, it becomes a must buy. However, I do not expect GE to drift that far in this decline. Rather, I would begin to consider selectively adding to holdings at $24, depending on momentum into that price, when the stock trades at 1.2X on my KPEG basis. That is because I continue to view the U.S. economy in a positive state, and this adjustment in stocks as temporary, so the issue's 1.2 beta coefficient indicates relative value about there in that case. If the stock drops toward $20 on momentum, I believe it becomes a must buy at that point.
Disclosure: I have no positions in any stocks mentioned, and no plans to initiate any positions within the next 72 hours. I wrote this article myself, and it expresses my own opinions. I am not receiving compensation for it (other than from Seeking Alpha). I have no business relationship with any company whose stock is mentioned in this article.