American Electric Power (NYSE:AEP) is a leading electric utility serving over 5 million customers in 11 states covering 200,000 square miles. In addition, the company generates 38,000 MW of power fueled by various sources at 66 power plants. AEP operates one of the largest transmission networks in the US. From their website description:
AEP's U.S. customers are served by one of the world's largest transmission and distribution systems. System wide there are more than 38,000 circuit miles of transmission lines and more than 215,000 miles of distribution lines. Our transmission system supplies about 10 percent of the demand in the Eastern Interconnection, the transmission system that serves 38 U.S. states and eastern Canada, and 11 percent of the demand in ERCOT, covering much of Texas.
Below is a map of its regulated service territory: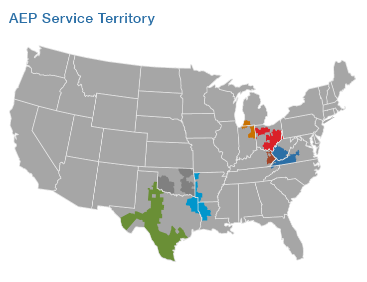 Many investors expect AEP to provide 4% to 6% long-term earnings growth. About 95% of revenues are generated from regulated assets, providing steady cash flow and operating margins. However, this percentage is due to drop as deregulation in Ohio takes hold. It is anticipated the regulated utilities percentage of AEP's business will decrease to around 85%, but is still a substantial portion of earnings.
Below is nine month net income by business segment as reported in their latest 10-Q (pdf):
| | | | |
| --- | --- | --- | --- |
| 9 month 2013 Net Income $Mil | 2013 | 2012 | 2013% |
| Utility Operations | $ 980 | $1,220 | 86% |
| Transmission Operations | $ 53 | $ 31 | 5% |
| AEP River Operations | $ (12) | $ 11 | -1% |
| Generation & Marketing | $ 15 | $ 4 | 1% |
| All Other | $ 101 | $ 25 | 9% |
| 9 -Month Total | $1,137 | $1,291 | |
As shown, the vast majority of net income is generated from traditional electric utility operations. The relationship with state regulators will affect earnings growth going forward. S&P Credit Assessment of Regulatory Climates for US Investor Owned Utilities offers an analysis of the regulatory environment and is categorized as to level of "Credit Supportive," or how accommodative the regulatory bodies have been over time. Their latest public update is 2008 and below is a list by state served by AEP:
More Credit Supportive: Indiana
Credit Supportive: Missouri, Arkansas, Michigan, Ohio, Kentucky, Virginia
Less Credit Supportive: Texas, Louisiana, Oklahoma, West Virginia
In addition, the allowed return on equity ROE has been declining across the country. A victim of lower interest rates, many recent rate decisions are reducing the allowed ROE returns to reflect lower utility interest costs. The trade group Edison Electric Institute complies the average state-allowed ROE industry wide and charts quarterly. The average state-allowed ROE for new rate cases for 2012 was 10.15%. Below demonstrates the drop in allowed ROE over the past few years;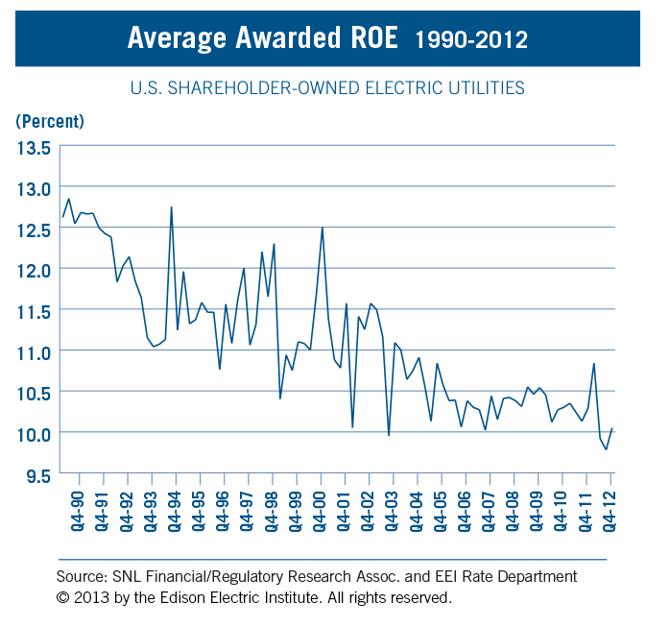 The good news is that while the ROE seems to have bottomed nationwide, AEP has had some positive rate decisions that will improve revenues and margins during 2014. The bad news is these rate increases were approved because AEP was not generating sufficient returns to exceed the approved rate.
This weakness has also shown up on AEP's return on invested capital (ROIC). Investors should be seeking companies which have historically generated higher than 5.0% ROIC. AEP's 15-yr average is 4.05%, but there has been an improvement in their 5-yr average to 4.6%. Below is a 15-yr ROIC graph, courtesy of fastgraph.com: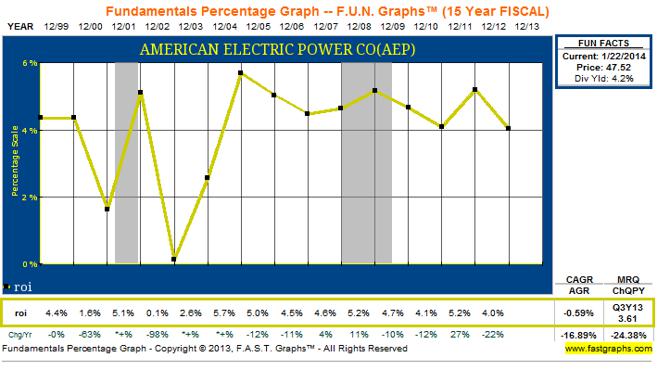 Some analysts are focusing on the transmission growth in regulated assets, as these historically generate a higher return. The FERC regulates transmission assets and will allow upwards of 12% to 13% ROE compared to the 10% of recent state rate approvals. More information on FERC transmission rates can be found in an article from June 2013. While AEP is a large operator of transmission assets, it comprises a relatively small percentage of overall net income, as shown above.
Management has offered their proposed capital expenditure budgets looking out to 2016. Below is a graph from their most recent presentation at the EEI conference (pdf):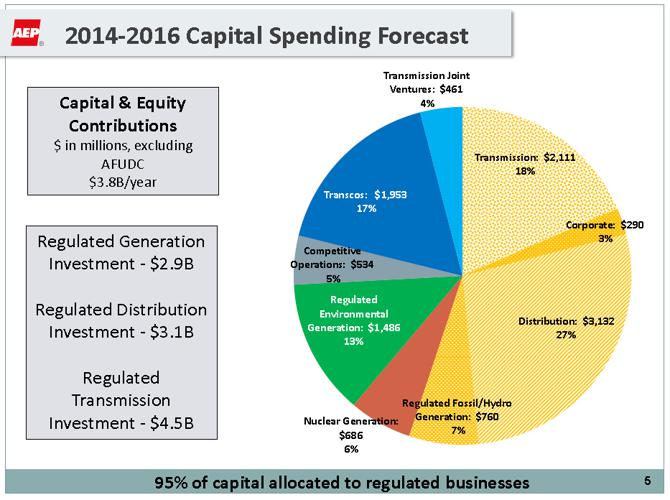 While the regulated transmission category will receive a nice injection of additional capital, and makes up about 40% to 45% of planned three-year expenditures, the overall addition to net earnings will be somewhat minimal. Below is the estimated EPS contribution from transmission investments. In 2013, AEP's transmission business contributed $0.16 to total earnings per share and is expected to grow to $0.43 by 2016. The real payoff seems to be in 2018 when management expects earnings contribution from the transmission business to grow to $0.65 a share.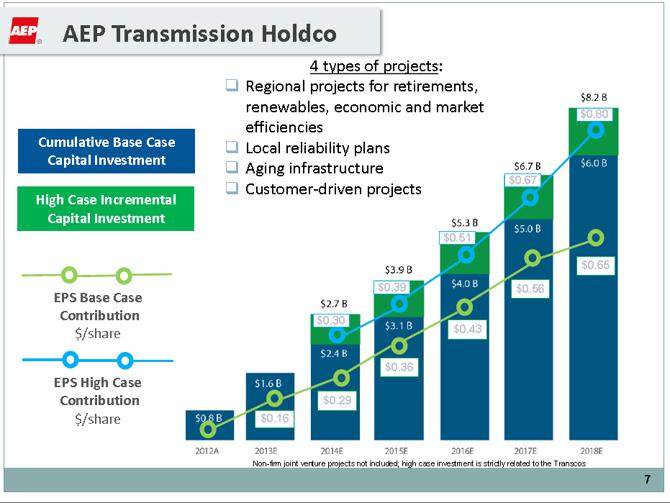 Using the above base case expectation and applying it to anticipated EPS growth, the table below would illustrate the growth in the balance of the company ex-transmission assets:
| | | | | |
| --- | --- | --- | --- | --- |
| | Transmission EPS | Balance of EPS | Total EPS | % EPS Transmission |
| 2013 Estimated | $ 0.16 | $ 3.04 | $ 3.20 | 5% |
| 2014 Estimated | $ 0.29 | $ 3.04 | $ 3.33 | 9% |
| 2015 Estimated | $ 0.36 | $ 3.11 | $ 3.47 | 10% |
| 2016 Estimated | $ 0.43 | $ 3.22 | $ 3.65 | 12% |
| 2017 Estimated | $ 0.56 | $ 3.27 | $ 3.83 | 15% |
| 2018 Estimated | $ 0.65 | $ 3.37 | $ 4.02 | 16% |
| | | | | |
| Annual Average Growth Rate 2013-2018 | 51% | 2% | | |
As shown, the above breakdown of earnings growth relies heavily on the performance of transmission investments. Without the 51% annual growth in transmission earnings, the company would be growing at a paltry rate of 2% annually.
Current share prices at $47 seem to be fully valued based on projected EPS growth, as demonstrated by the following fastgraph.com charts: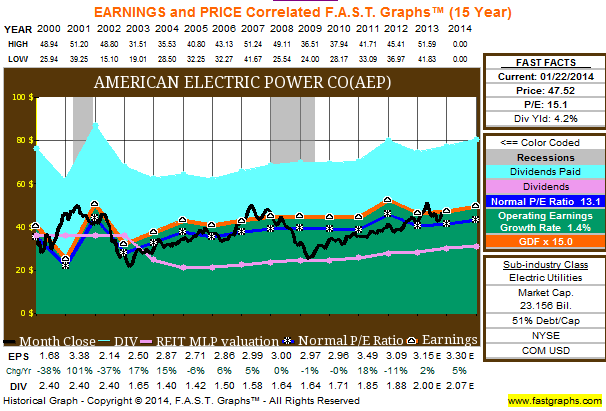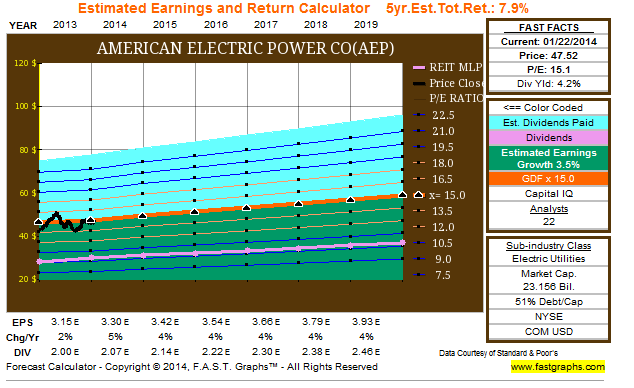 As shown, according fastgraphs.com, the current PE of around 15 provides the potential for a total annual return of about 7.9% over the longer term. With a current yield of 4.3% and a 3.5% 5-yr dividend growth rate, capital gains potential would seem to be fairly muted.
Management's earnings projections are based on maintaining Operating and Maintenance expenditures at $2.8 billion a year for the next three years. The theory is cost cutting will offset usual annual increases. Many analysts are working these rosy forecasts into their EPS expectations. If management fails to achieve this and O&E increases by a mere 2% annually, or the overall inflation rate, the difference could be as much as $0.33 a share cumulative in 2016, offsetting much of the anticipated EPS growth.
AEP reduced their dividend in 2003 from $2.40 to $1.40 and earnings improvements were a bit sporadic during the early part of the decade. This caused S&P to rank AEP a "B," or below average, for their Equity Ranking measuring consistency in earnings and dividend growth over the previous 10 years. At the current 5-yr average dividend growth, it will take until 2019 to recoup the dividend cut of 16 years earlier.
While the heavy reliance on regulated earnings lends itself to stability in dividends, there may be better alternatives in the utility sector for either transmission exposure or dividend growth. ITC Holdings (ITC) is the only utility company focusing solely on transmission business and should be worthy of further investor due diligence. There are nine other large caps (over $10 billion market cap) in the electric utilities sector offering higher current yields, and these should be analyzed as they may provide about the same level of safety with higher potential total returns.
While AEP probably should not be sold if owned, there are better opportunities elsewhere for new investment funds.
Author's Note: Please review important disclaimer in author's profile.
Disclosure: I am long AEP, ITC, . I wrote this article myself, and it expresses my own opinions. I am not receiving compensation for it (other than from Seeking Alpha). I have no business relationship with any company whose stock is mentioned in this article.