In my last article, I wrote about why China Mobile (NYSE:CHL) may be a good long-term investment opportunity given its discounted stock price and market positioning. In light of the recent sell off of China-based large-cap companies, CHL's two main rivals, China Unicom (NYSE:CHU) and China Telecom (NYSE:CHA), are both looking interesting. This article will focus on CHU since the stock looks especially interesting given its stellar growth rate.
Background
The telecommunications industry in China is dominated by three state-run businesses: China Telecom, China Unicom and China Mobile. The three companies, in their current forms, were formed by a recent revolution and restructuring launched in May 2008. Since then, all the three companies gained 3G licenses and engaged fixed-line and mobile business in China.
Like most of its peers, CHU's majority shareholder is the Chinese government, which owns over 70% of the stock. The State's control of the firm creates an overhang for minority shareholders - that is you and me - since the Chinese government's goals are often much broader than maximizing shareholder return. However, given China's continuous march towards the free-market economy, shareholders should not be overly concerned about the government's involvement since the government will likely ensure an adequate rate of return for investors in order to attract and keep capital.
Currently in China, there is insatiable demand for mobile services and infrastructure. With just under one-third of the Chinese 3G market and as the smaller brother of CHL and CHA, CHU is well positioned for future growth.
Performance Review
In terms of revenue, CHU is slightly smaller than CHA and less than half the size of CHL. However, CHU has the fastest growing major telecommunications company in China thanks for its superior 3G services.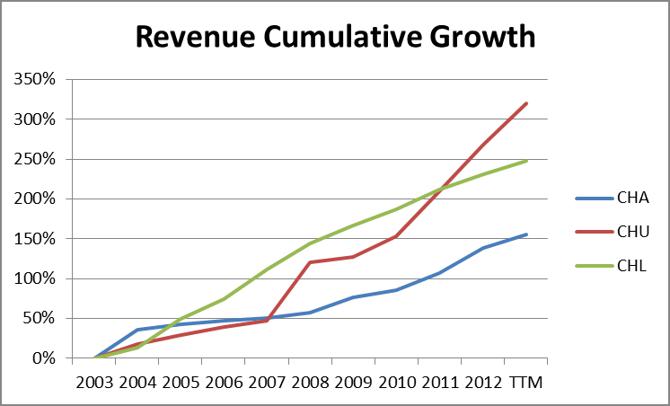 Click to enlarge
In recent years, CHU is expanding aggressively to capture market share. Looking at capital spending (capex) as a percent of revenue, CHU is far more aggressive than its two rivals.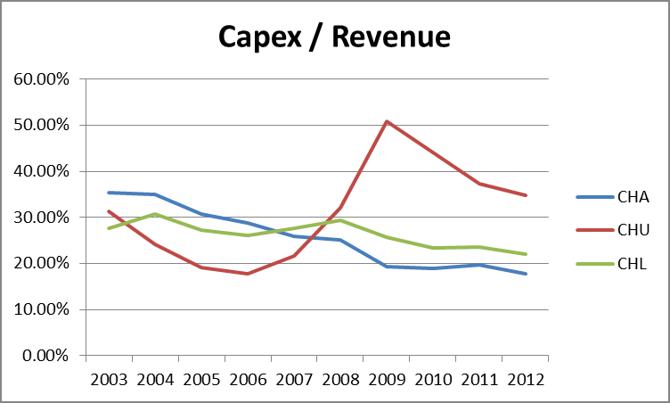 Click to enlarge
However, despite CHU's heavy capital spending, the company has significantly reduced its Debt / Equity ratio over time, making the company the least leveraged of the group. As a result, CHU's capital structure is well positioned to support the roll out of its 3.5G and 4G technology in 2014 / 2015.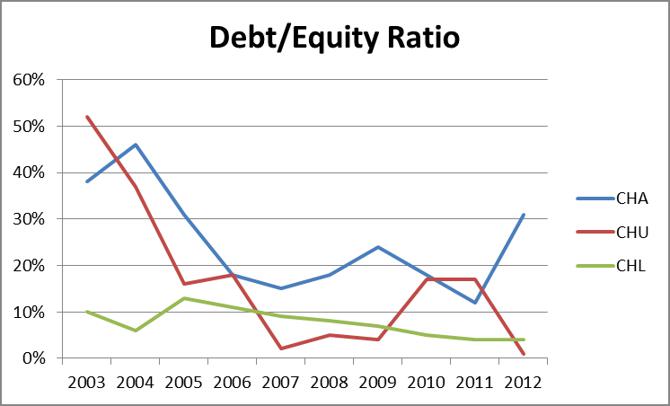 Click to enlarge
CHU's aggressive expansion has come at a cost: profitability. Besides high capex spending, the company has also significantly ramped up its marketing spending in order to capitalize on its superior 3G offerings. Higher marketing spending has driven faster subscriber growth. The firm's wireless base jumped 67.7% from the year-ago period to 272.76 million customers, with 40.9% (111.63 million) of those customers on Unicom's 3G network. However, if/when CHU diverts its attention away from growth to increasing its profitability, assuming a normalized operating margin to 10%, the company's current P/E of 19.8 can easily reduce to approximately 10x.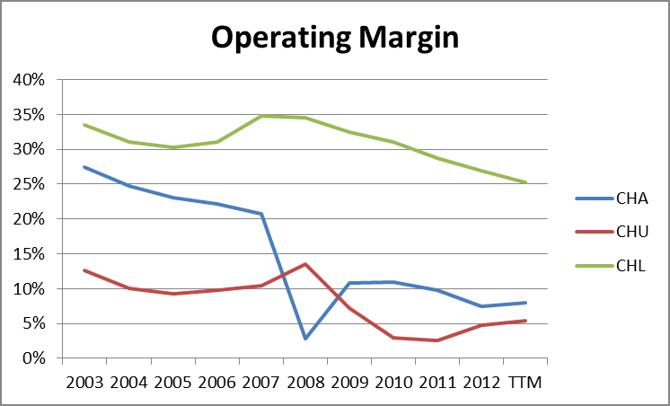 Click to enlarge
Going Forward
There are many challenges the firm must overcome so we will just highlight two of the most salient challenges going forward. First, CHU is much smaller than CHL in terms of network coverage, revenue, profitability and subscriber base, which puts the Company at an obvious scale disadvantage. Second, CHU's recent acceleration in revenue growth is primarily driven by its superior 3G network, which may fade with the rollout of 4G technology in 2014 by China Mobile. However, with the rapid growth of 3G subscribers and given that most Chinese subscribers are still using 2G mobile technologies, we believe that there is still significant growth potential for 3G and 3.5G technologies.
With revenue growing at a 9-year CAGR of ~17%, much higher than CHL's 15% and CHA's 11%, investors should hope that this growth rate continues. However, the realistic expectation should be that revenue and market share growth will come at the expense of profitability. In light of CHU's lightning fast growth rate and historically depressed operating margin, patient investors will be well rewarded when the Company refocuses on profitability (like CHL).
Disclosure: I am long CHL. I wrote this article myself, and it expresses my own opinions. I am not receiving compensation for it (other than from Seeking Alpha). I have no business relationship with any company whose stock is mentioned in this article.