Noble Corp. (NYSE:NE) is at a good entry point after a -9% decline following the company's 4Q2013 earnings release. While the company reported a 35% increase in earnings, an 8% increase in revenue and a 9% increase in average day rates, it warned of a slowdown in new contracts in the first half of 2014. This creates a great buying opportunity for long investors. Short-term weakness should always be considered a buying opportunity for the patient investor.
Two new rigs were added to the Noble active fleet during the 4th quarter and added 8% growth in revenue compared to the previous quarter. The Noble Mick O'Brien jackup began its contract in November 2013 in the Middle East and will run till late April 2014. Noble also delivered an ultra-deep water drill, the Noble Bob Douglas, in December which commenced a three-year contract beginning in New Zealand before going to the Gulf of Mexico. Another jackup commenced operations in 1Q2014 and another was delivered and is expected to commence operations in April 2014. In 2013 Noble added 3 ultra-deep water drillships and 2 high-spec jackups. In 2014, the company expects 2 new ultra-deep water drillships and 4 high-spec jackups to be delivered. At the end of 2013, Noble had a contract backlog of $15.4 billion.
Spin-off
Noble Corp. is planning a spin-off of its standard rig fleet into a separate company by the end of 2014. Under the split, Noble would utilize the younger high specification drillers which generate higher daily rates and return on capital. With the spin-off, the company will incur a one-time $50-60 million expense. The spin-off will also get rid of some of the standard jackups which the company expects short-term weakness in.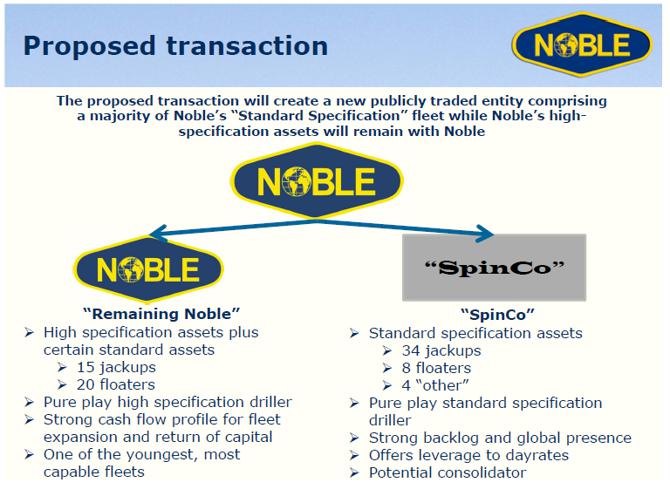 PEMEX
The energy reforms in Mexico are likely to bring an uptick in offshore drilling. Analysts predict that Pemex will likely focus on onshore and shallow-water resources, while letting the foreign firms bid for deep water oil fields. Luis Miguel Labardini, a Mexico City energy consultant, said,
"Deep-water is going to be mostly an (international oil company) play, with some participation of Pemex as a member of a consortium, but not as the operator of the fields, and not as the main investor."
This will create opportunity for Noble Corp. which already has 11 jackups under contract with Pemex. With 31% of revenue coming from the Gulf of Mexico, Noble Corp is in a good position to benefit from the new Mexican energy reforms. In 2013, there were 11 deepwater discoveries in the Gulf of Mexico, which is a single year record in the region. Roger Hunt, senior VP of marketing and contracts, said,
"Let's not forget about the opportunity present in the ultra-deepwaters offshore Mexico where political reform should lead to increased participation from international operators and numerous rig needs."
Conclusion
Noble Corp. had a strong 4Q2013, but disappointing short-term guidance. Nothing has changed in the mid-to-long term outlook, which creates a great buying opportunity. The weakness in jackup renewals and new contracts in the first half of 2014 will be a non-factor after the spin-off is completed. David Williams, Chairman, President and CEO, said,
"The current environment of uncertainty and concern toward the offshore drilling industry that Roger just reviewed does not change our view on value or timing of the divestiture of the standard capability assets. This divestiture has never been specifically about timing. The divestiture has always been about the strategic importance to Noble, a step necessary to allow the 2 fleets to be optimally managed and operated, placing both in a stronger competitive position for future cycles."
Noble Corp. after the spin-off will be one of the youngest fleets in the industry and the company will be focusing on more profitable areas, such as ultra-deep water drilling and high-spec jack-ups, which command a premium. All the new builds delivered in 2013 and the 2 new ultra-deep water drillships and 4 high-spec jackups being delivered in 2014 will belong to Noble Corp, not the spin-off company.
Disclosure: I have no positions in any stocks mentioned, but may initiate a long position in NE, over the next 72 hours. I wrote this article myself, and it expresses my own opinions. I am not receiving compensation for it (other than from Seeking Alpha). I have no business relationship with any company whose stock is mentioned in this article.