Immucor (NASDAQ:BLUD), which makes automated systems used in blood transfusions, reported third quarter results on Wednesday after the market closed. The results were mixed as they earned $20.1 million or 28 cents per share, which is one cent better than expected and an improvement from last year's $19.5 million or 27 cents per share. However, revenue came in just shy of expectations at $80.5 million. Revenue was 7% higher than a year ago thanks to currency gains as well as pricing, but it was less than the $80.9 million analysts were expecting. The results failed to impress as traders apparently had very high expectations for the earnings release; options traders had nearly 3 times as many puts on the stock than calls coming into the earnings release.
Overall, we think the results were actually pretty solid but failed to live up to the earnings "whispers". The stock is selling off nearly 9% on Thursday afternoon which may present an opportunity for investors looking for decent value. As you can see from our historical ratings chart, we had an Undervalued rating on BLUD since last April 25th all the way through last week. We downgraded BLUD to Fairly Valued because the valuation was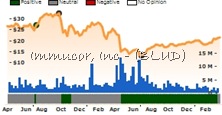 no longer appealing. However, after today's decline on decent results and in-line guidance, we may consider an upgrade in the following weeks' reports.
The company narrowed its full fiscal year guidance with just one quarter left. They expect earnings per share of $1.14 to $1.16 versus the previous range of $1.10 to $1.17. Furthermore, revenue guidance is now $326 mln to $330 mln, which compares to the old range of $322 mln to $332 mln. Management neglected to raise guidance, although both earnings and sales should come in near the high end of the previous ranges. The EPS guidance fits right in with Wall Street's view, but revenue guidance is again just a little short of consensus expectations of $330.8 million.
By looking at the way the market has historically valued Immucor, we can get a better idea of the current valuation. For example, over the past ten years (with recent years weighted more heavily) BLUD has warranted a price-to-cash earnings range of 15.7x to 36.0x, but the current ratio is just 15.1x. Furthermore, price-to-sales for this year currently stands at 4.35x, which is on the low end of the historical range of 4.21x to 9.56x. Of course, this is a very aggressive multiple of price-to-sales, but not especially expensive considering what the market has normally paid for a given level of sales per share.
The last quarter was too light on revenue and fairly conservative in guidance to call it a major success. However, we wonder if the 9% decline in BLUD is warranted based on latest report. We believe this stock can be bought with confidence for the long term in the high teens.