On January 22, 2014, Norfolk Southern Corporation (NYSE:NSC) provided their fourth quarter and year-end earnings report. The information below is meant to illustrate how the company's financial and operating trends have adjusted based on the initial released information. All year-to-date, or YTD, information assumes Norfolk Southern's closing stock price of $89.61/share as of January 24, 2014. Please refer to the Seeking Alpha transcript for this report for additional information.
Norfolk Southern peer earnings announcement comparison to date:
STOCK PRICE PERFORMANCE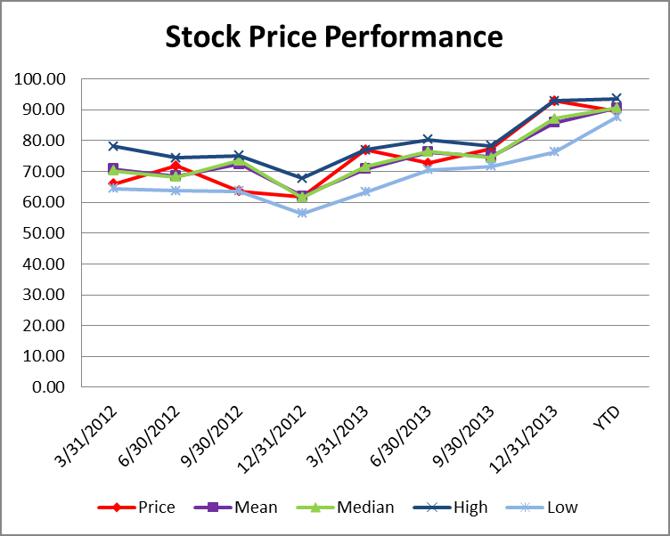 Click to enlarge
Norfolk Southern's stock price has closed near the quarter-end high three out the past nine times. The company's stock price has closed near or above the mean and median all but three times during the same period. Since the earnings announcement the stock has initially dropped below these levels. This is not a reflection of the company's performance, but is rather driven by the broad-based market declines.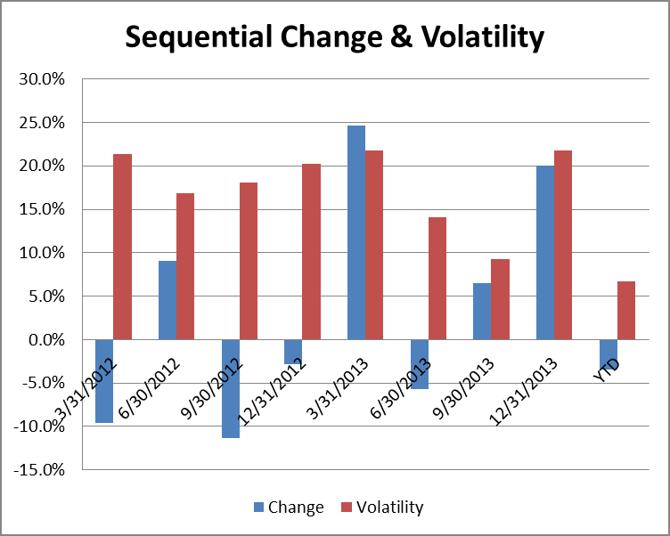 Click to enlarge
2012 was a very volatile year as Norfolk Southern experienced a 15% annual stock price decline. The 2013 fourth quarter period was almost an exact replication of the company's first quarter performance based on stock price appreciation leading into the earnings report. On a quarter over quarter basis, stock price change has declined over 50% of the time out of the past nine quarters. Volatility (expressed as the difference between the high and low stock prices for the quarter) has remained at over 15% for a majority of the time period. The company has reached or topped 20% volatility four times. With the positive exceptions of the first and fourth quarters during 2013, the stock has not performed that strongly.
REVENUE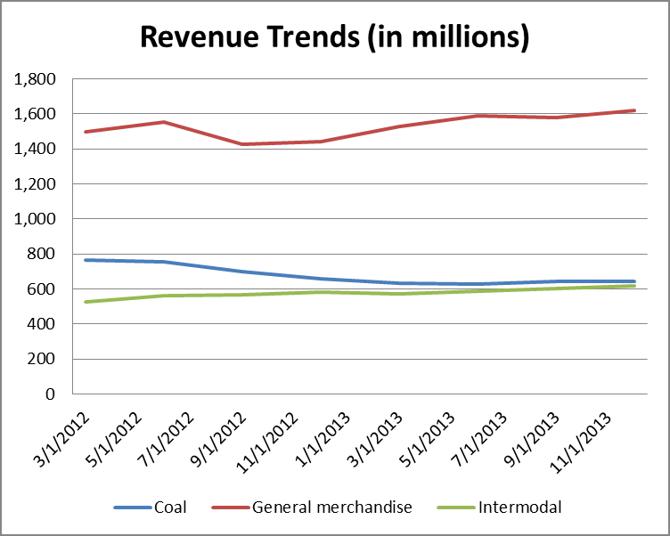 Click to enlarge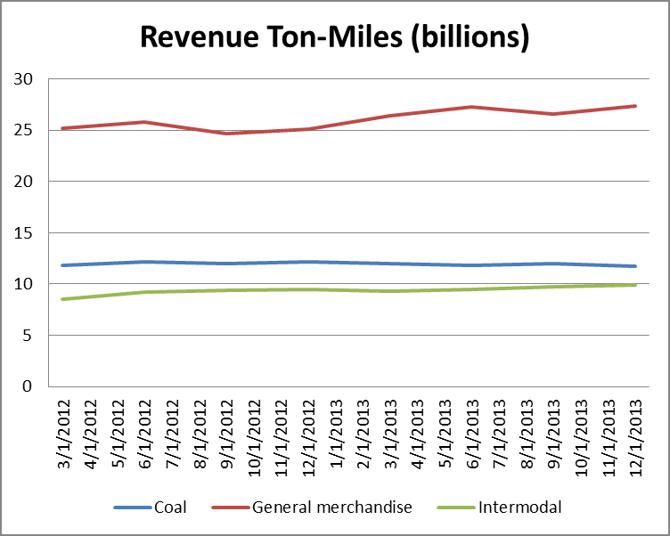 Click to enlarge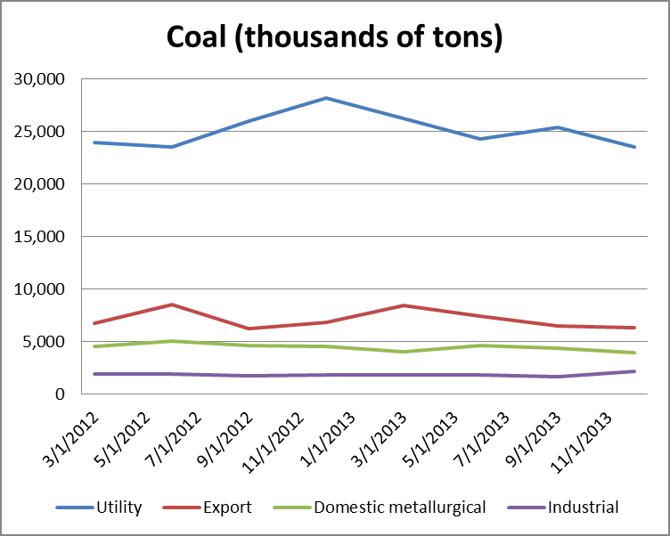 Click to enlarge
The trend for Norfolk Southern's revenue has been negatively impacted by reduced coal volumes and pricing issues similarly as CSX Corporation (NYSE:CSX). A key difference is it appears that revenues have stabilized over the past few quarters. On the positive side, also similar to CSX the company has recently experienced improved general merchandise and intermodal revenue growth. Merchandise revenue growth has been primarily led by positive developments for chemicals, agriculture/consumer/government, and automotive products.
Coal continued to generate a substantial amount of Norfolk Southern's revenue, however, it is not nearly as extreme as the case for CSX. Coal only reflects 4% more revenue than the next closest freight transport category, intermodal; and reflects nearly 18% of total freight revenues on a trailing twelve-month, or TTM, basis.
Management's statements related to coal weaknesses included the following:
"Weaker demand across nearly all markets resulted in an overall volume decline of 8%. Utility coal, which was the largest driver of the decline, was down nearly 20,000 carloads or 9%. Volumes in the North were up an estimated 1% versus last year, while Southern Utility volumes were down 18%. That was driven by continuing competition from natural gas and excess stockpiles at Southern Utilities."

"Export shipments were down 8%, largely due to declines in steam coal at the Port of Baltimore, partially offset by higher fourth quarter volumes at Lamberts Point in Norfolk, which increased by 13%."

"In the Domestic Metallurgical Coal segment, volume was down 14% for the quarter as a result of reduced demand from our steel customers. But on a positive note, industrial coal increased 11% due to business gains."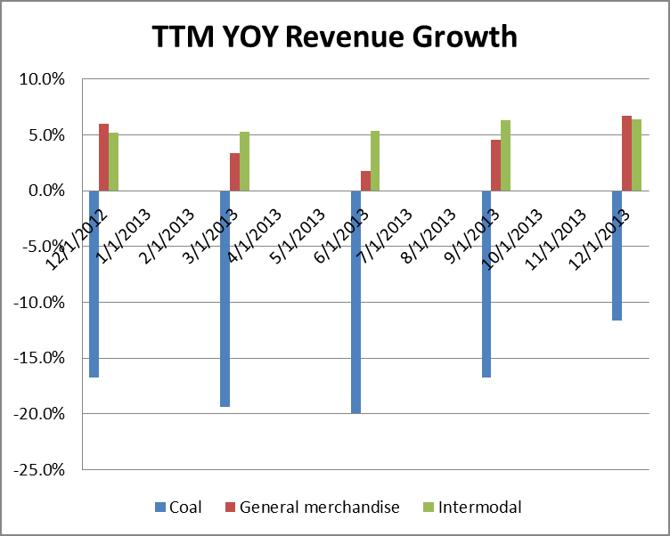 Click to enlarge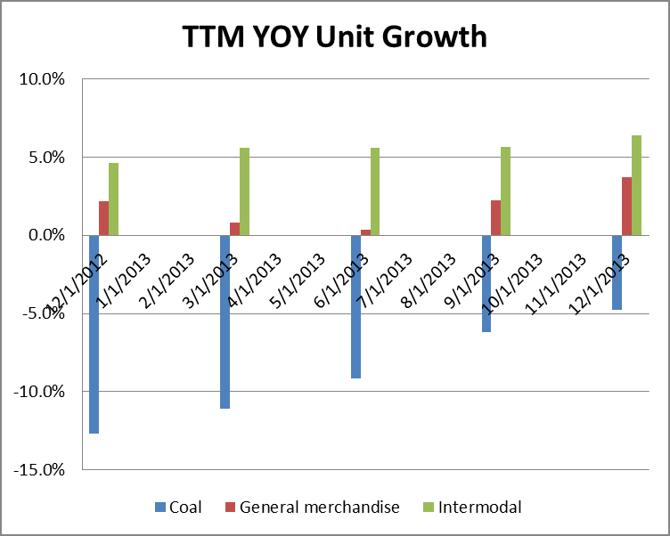 Click to enlarge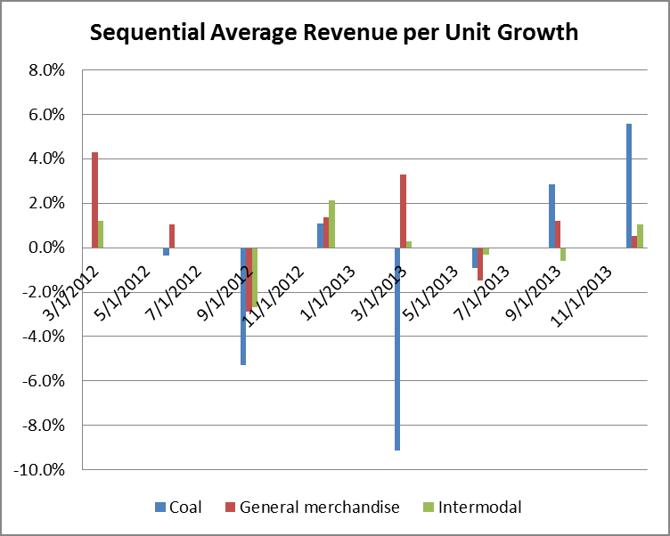 Click to enlarge
The tables above provide a break-down of TTM year-over-year, or YOY, revenue growth and similar information for unit growth. Unit growth encompasses the number of railcars moving merchandise, coal, and intermodal containers for a particular period. Trends from the fourth quarter point to increased unit demand for both general merchandise and intermodal areas and an improving decline rate for coal. This trend indicates more stability when compared to CSX, however the substantial pricing advantage for CSX still yielded a stronger top-line performance. Management provided key guidance for 2014 expectations for the three core revenue categories:
"Now concluding with our outlook for 2014. We see growth opportunities ahead in our Intermodal and Merchandise markets, while the Coal market continues to present challenges and headwinds. While demand for electricity was up 2% in the fourth quarter, 2014 demand is still expected to be sluggish, particularly in the South. In the export market, we continue to expect a challenging environment with strong competition in the Atlantic metallurgical coal market and soft demand and oversupply of thermal coal."

"On the upside, our outlook for Intermodal remains bright as we continue to add attractive freight to our new Corridors and Terminals. The South Carolina Inland Port opened in the fourth quarter, and our new Charlotte Terminal officially opened December 9. Highway conversions and growth with our international shipping partners represent ongoing opportunities, and we will remain strongly focused on delivering superior Intermodal service and efficiencies across our double stack network."
For general merchandise the company expressed positive viewpoints for crude by rail and shale-related liquid petroleum gases, improved steel production for 2014, improved automotive based on increased light vehicle production for 2014, and growth opportunities for both agriculture and forest products led by housing recoveries.
OPERATING PERFORMANCE AND EFFICIENCY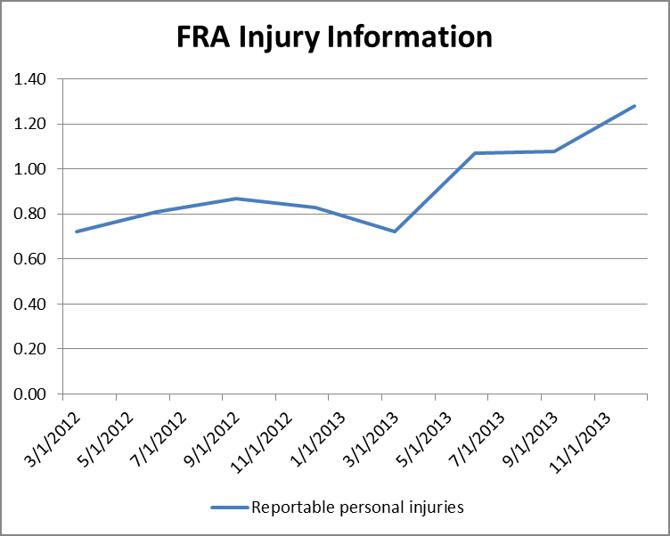 Click to enlarge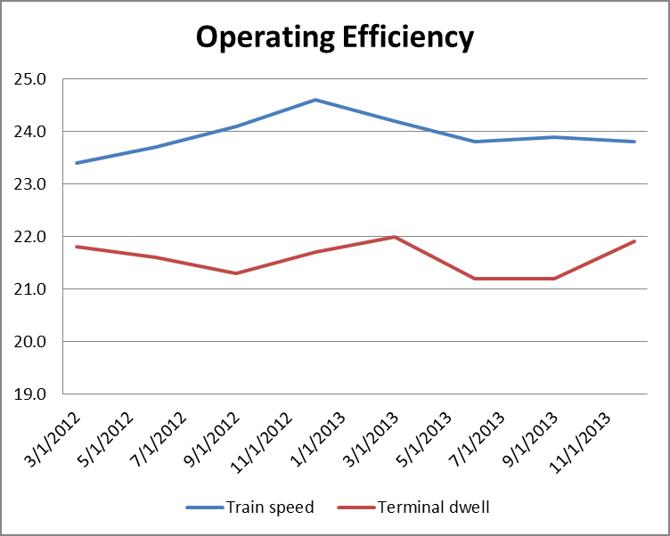 Click to enlarge
Personal injury and accident rates have spiked higher (train accidents have not been disclosed based on insufficient trend information and currently stand at 2.4 for the quarter). Management stated that the increase in train accidents was related to switching and storm-related occurrences in the year. Management also provided the following personal injury update:
"Our operations, managers and workforce have all attended behavior-based leadership training and we've implemented a new approach in behavior-based safety. We like the fact that we are seeing a more engaged workforce and while we haven't reduced the number of overall injuries, we've seen an 11% drop in serious injuries."
Operating efficiency has remained stable during the past couple of years as evidenced by train speed and terminal dwell times. It would appear that weather-related impacts from the quarter were not felt as much, especially when considering terminal dwell times.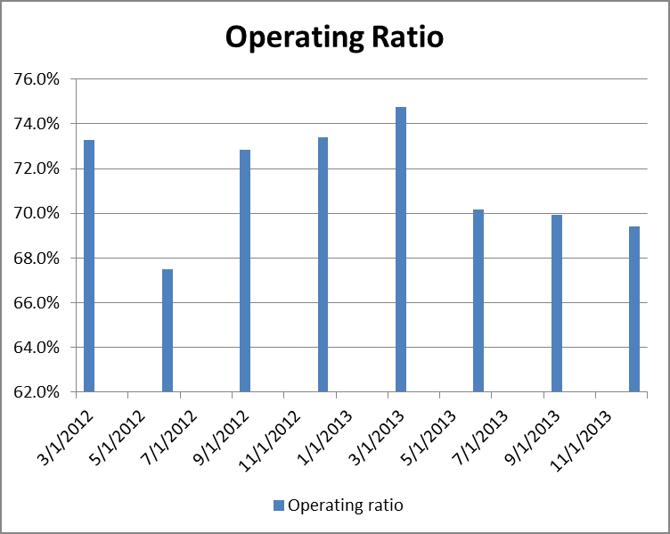 Click to enlarge
Norfolk Southern's operating ratio maintained a level below the 70% mark for the second consecutive quarter. Management generally was upbeat regarding operational performance and provided the following statement leading into 2014:
"With strong network performance, combined with a number of ongoing productivity initiatives, we fully expect to see in excess of $100 million in productivity and leverage gains in 2014."
CASH FLOW AND DIVIDENDS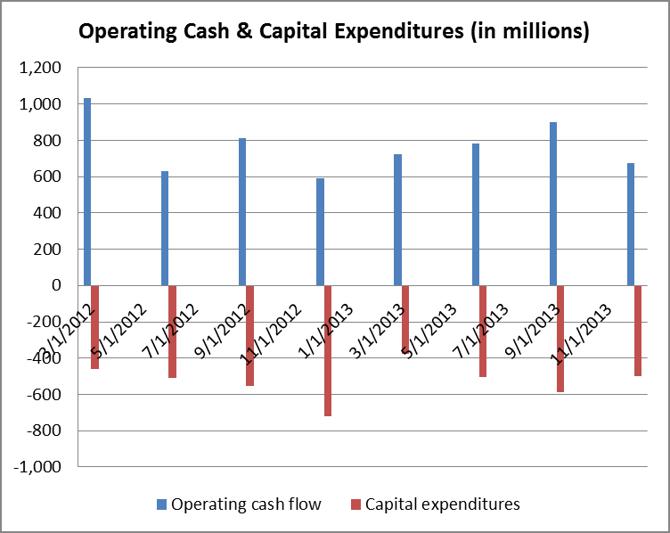 Click to enlarge
From this table we can clearly see that Norfolk Southern generates sufficient operating cash flow to cover all of its capital expenditures. The company has averaged roughly $200 million more operating cash flow than capital expenditures four quarters in a row.
The company stated the following for its 2014 capital budget:
"We have concluded a record year with a strong balance sheet and full confidence in our outlook, which is a great segue into our 2014 capital spending highlights. Here we show historical and budgeted capital expenditures. The 2014 total of $2.2 billion is a 12% increase over 2013, and about even with 2012 and 2011."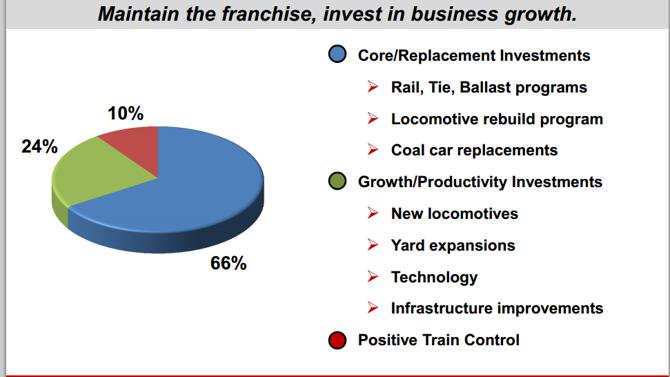 Click to enlarge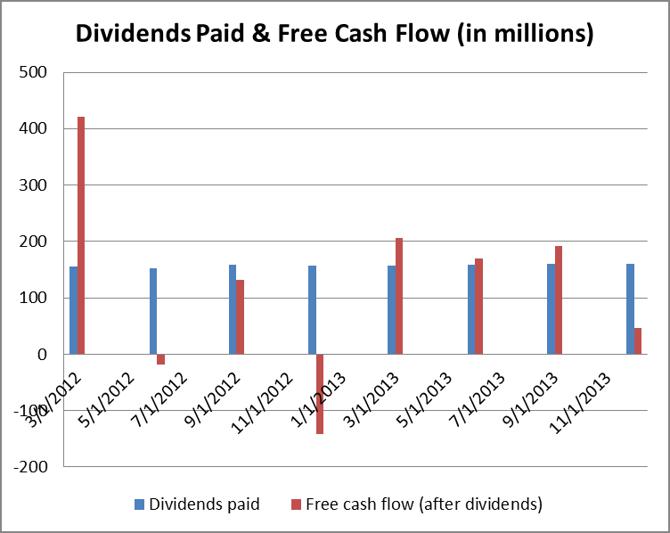 Click to enlarge
After paying out dividends, Norfolk Southern has displayed much more stability during 2013 with maintaining free cash flow. This trend weakened during the fourth quarter, however. Prior to the earnings announcement, Norfolk Southern announced that they would increase their dividend by $0.02 per share. Management echoed this as a testament of the confidence that their board has in the company's ability to execute its plans for growth.
The current TTM dividend payout ratio for Norfolk Southern is at 33% and has averaged between 30% to 36% the past couple of years.
BROAD MEASURES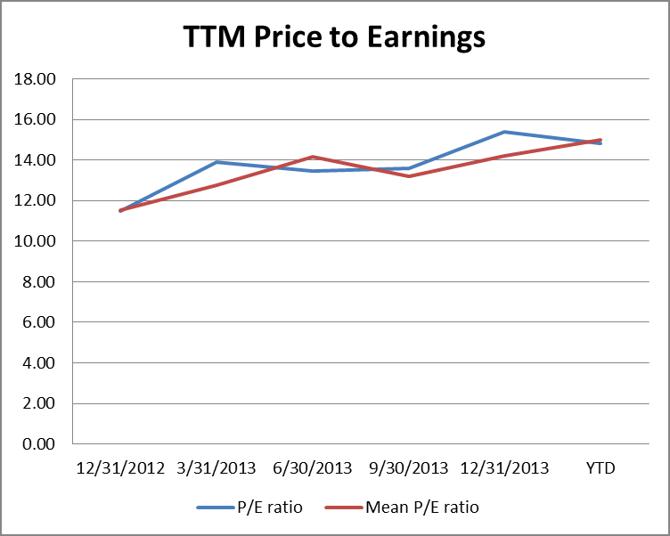 Click to enlarge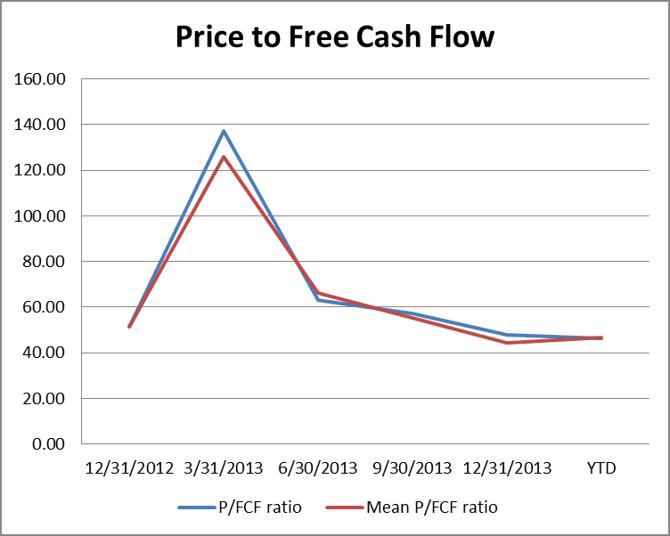 Click to enlarge
Over the past two years, Norfolk Southern's stock price has tended to get ahead of the P/E ratio only to revert back over the course of a couple of quarters. The company is most likely going to trade around the 15-16 P/E level as fair value. The P/FCF ratio displays a similar pattern but with a stronger correlation when compared to the mean. Improved free cash flow has benefited the company by putting it near the top of the rail industry when considering the P/FCF ratio.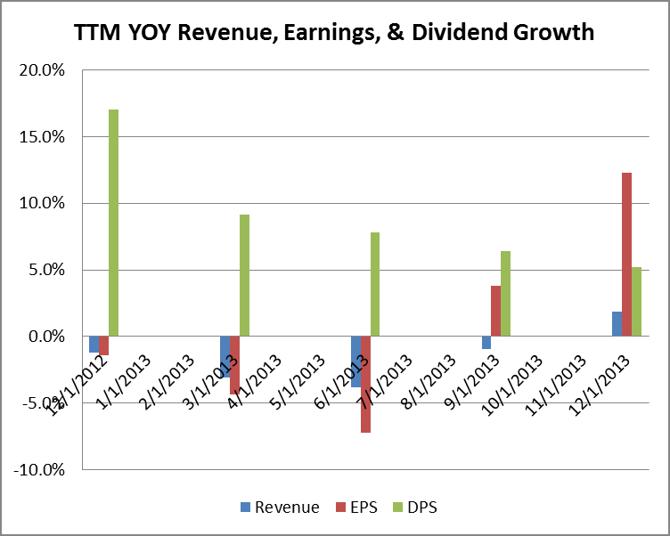 Click to enlarge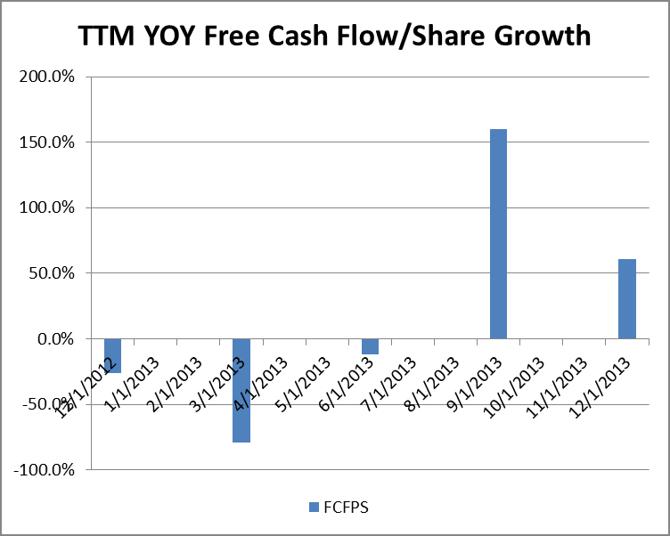 Click to enlarge
On a TTM annual basis, the charts above clearly reflect Norfolk Southern's fourth quarter revenue improvement, albeit at a slow rate. EPS growth on the other hand has significantly improved throughout the year. This has led to strong cash flow generation and a contrary market reaction as opposed to CSX's performance post earnings announcement. DPS growth has slowed significantly from 2012 to near 5%. The company does offer one of the higher dividend yields in the industry, but based on other peer growth rates and yields (although slightly lower), a 5 % growth rate is not very appealing.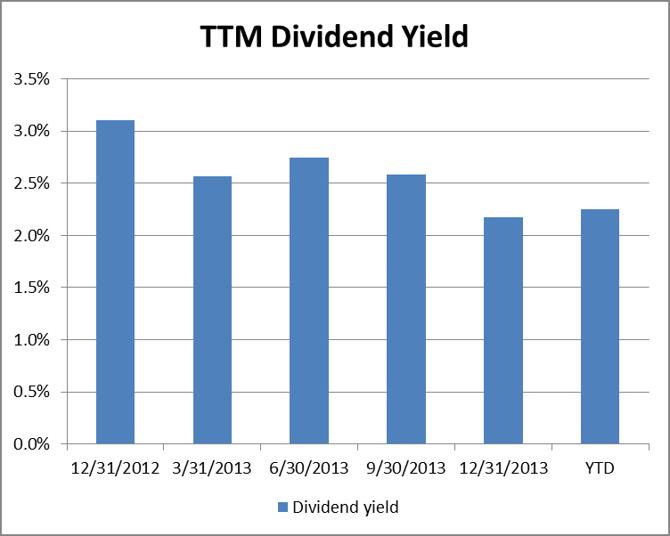 Click to enlarge
CONCLUSION
Upon reading through the transcript, it appears that Norfolk Southern was able generate improved top-line growth with a substantial increase in net income. As the second rail company to report, Norfolk Southern trades at a slight premium to CSX. It appears that Norfolk has achieved greater operating efficiencies and executed well managing bottom-line growth. The company like CSX has continued to face challenges from its coal operations. 2014 will be no exception. Expectations for continued general merchandise and intermodal revenue growth should again offset any coal declines.
When considering CSX and Norfolk Southern as the primary East Coast peers, to date it would seem that Norfolk has the edge heading into 2014. With Union Pacific (NYSE:UNP) and Kansas City Southern (NYSE:KSU) reporting the next couple of days, we will soon get some perspective from rail companies operating in other regions.
Disclosure: I am long UNP. I wrote this article myself, and it expresses my own opinions. I am not receiving compensation for it (other than from Seeking Alpha). I have no business relationship with any company whose stock is mentioned in this article.