Alcatel-Lucent (ALU) reports its earnings on February 6, 2014. Our earnings preview takes a look at EPS estimate trends and other data, including the EPS whisper number, to determine how ALU might fare on its report. We examine sensitivity and risk to determine what the odds are for ALU shares on the upside and downside against positive and negative scenarios and based on valuation and stock price and operational trends make a short short-term recommendation. Alcatel-Lucent will be reporting its fourth quarter ended December on February 6th, and you'll be able to access the press release and webcast via this link.
Earnings History
Alcatel-Lucent's EPS history is a record of disappointment over the last four quarters. Though the reported loss was minimized in the company's most recent period, it still missed the mark by four cents. It's interesting that Wall Street was looking for positive EPS in last year's Q4, because it is forecasting a similar result this year. The fourth quarter, however, tends to be the "kitchen sink" quarter for companies in the midst of restructuring, and with steep losses reported through the past three quarters, I wonder if a similar result might ensue this February.
| | | | | |
| --- | --- | --- | --- | --- |
| | Q3 2013 | Q2 2013 | Q1 2013 | Q4 2012 |
| Reported | -$0.11 | -$0.50 | -$0.19 | -$0.70 |
| Expected | -$0.07 | -$0.09 | -$0.11 | $0.02 |
| | -57% | -456% | -73% | -3600% |
Earnings Estimate Trend
The earnings estimate trend shows little change through the quarter, though the full year figure has deteriorated. This could be a sign of lack of quarterly visibility, and verifies that some analysts are forgoing quarterly estimates. Yahoo Finance shows only 4 analysts weighing in on this quarter and next, but it has eleven analysts' estimates for the full year. Take note that a loss is forecast for the current quarter ending in March and for the full year 2014. This just hurts the credibility of the fourth quarter consensus estimate for a positive result in my view.
| | | | | |
| --- | --- | --- | --- | --- |
| | Q4 2013 | Q1 2014 | 2013 | 2014 |
| Current | $0.03 | -$0.08 | -$0.59 | -$0.02 |
| 7 Days Ago | $0.03 | -$0.08 | -$0.59 | -$0.02 |
| 30 Days Ago | $0.03 | -$0.09 | -$0.54 | -$0.03 |
| 90 Days Ago | $0.02 | -$0.08 | -$0.50 | -$0.08 |
The Whisper Number
Neither Earnings Whisper nor Estimize have a whisper number for ALU, which I believe illustrates the difficulty in predicting the company's results lately. In fact, each have a different consensus figure than we find at Yahoo Finance, with Earnings Whisper reporting the analysts' consensus at -$0.01 and Estimize holding at EPS of $0.05. I found the chart interesting at Estimize, as it illustrates the consistent underperformance of results against Wall Street expectations.
The Chart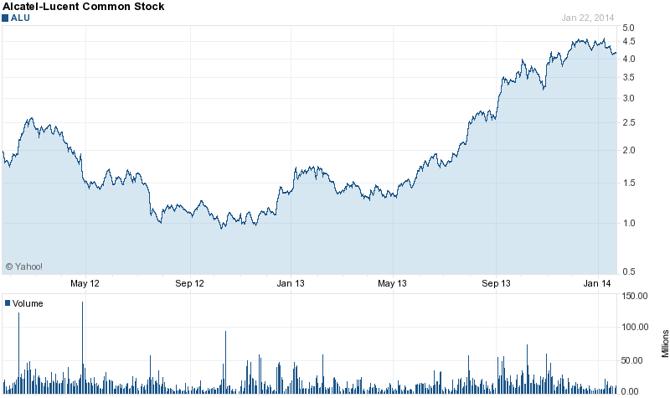 The two-year stock chart offers some interesting insight as well. Notice that last year around this time there was some excitement in the stock price, which I believe was due to the positive EPS expectation. After the large reported loss, the stock dropped and drifted into the spring. I believe the same result may occur this year due to the same setup in EPS estimate and price trend.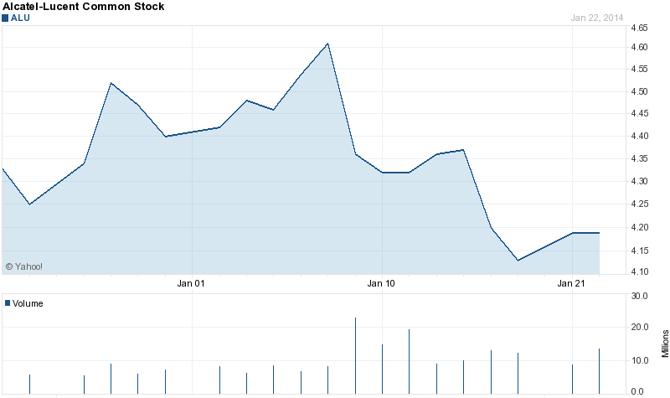 1-Month Chart at Yahoo Finance
The one-month chart seems to reflect trepidation and, I suspect, also some of the same capital flow disfavor seen in stocks generally this year. I wrote about the risk in stocks at the start of the year, suggesting that the broad-based increase in 2013 likely meant a troubled January. Certainly, ALU's impressive capital gains in 2013 might have led some investors to unload the stock since the turn of the year in order to push forward tax responsibilities and to reduce risk heading into the quarterly report. This is a point I also made on December 31st, when I said investors should sell ALU.
Conclusion
In conclusion, visibility is cloudy for the quarter as illustrated by the varying consensus figures and short list of estimates, not to mention the lack of a whisper number. It seems there is a greater likelihood for another earnings disappointment, given the quarter marks the final reporting period for a company in transition and a year that includes heavy losses already. Furthermore, we've seen that the recent EPS history offers little reason to expect otherwise. The stock price trend seems to reflect trepidation and I think that could continue heading into the report. If, however, the company posts a positive result, the stock would likely regain all its recently lost ground. Management seems to be making progress, and eventually could get ALU on track. It just seems a bit early today, and the stock a bit extended for a company in the position ALU is and given its recent reporting history. So, I would avoid risk heading into the report.
Disclosure: I have no positions in any stocks mentioned, and no plans to initiate any positions within the next 72 hours. I wrote this article myself, and it expresses my own opinions. I am not receiving compensation for it (other than from Seeking Alpha). I have no business relationship with any company whose stock is mentioned in this article.