Verizon's (NYSE:VZ) fourth-quarter performance showed us why we had been considering the firm for inclusion in the Dividend Growth Newsletter.
The company experienced revenue growth across all strategic areas (84% of business), showcasing 3.4% year-over-year expansion. The most recent quarter marked the fifth consecutive period of at least 8% service revenue year-over-year growth. The communication giant's strong cost management controls sent its full-year adjusted EBITDA margin to the highest levels in 8 years (34.9%), a very impressive showing. Wireless segment EBITDA jumped more than 22% from last year's quarter. Verizon's fourth-quarter adjusted earnings-per-share of $0.66 was also impressive, coming in nearly 74% higher than the level posted in the same period a year ago. For all of 2013, the company generated $38.8 billion in cash from operations and registered $16.6 billion in capital expenditures, resulting in free cash flow of $22.2 billion (or about 18.4% of sales), a very strong number. At the end of 2013, net debt to adjusted EBITDA was 1, a very manageable level.
However, the leverage metric is somewhat misleading. Verizon's decision to purchase Vodafone's (NASDAQ:VOD) stake will more than double the amount of debt on the company's balance sheet, to roughly $116 billion, driving its net debt to adjusted EBITDA to roughly 3 times (see image below). Moody's recently downgraded the firm a notch (Fitch did the same here), but we think the company's credit health will be tested if it doesn't de-lever significantly before the next downturn. In any case, management's decision to double its already large debt load has prompted us to re-evaluate the attractiveness of its dividend growth prospects. Our view is that debt holders will now be first in line to absorb additional capital that otherwise would have been available for future dividend increases. Verizon's pro forma capitalization is shown below: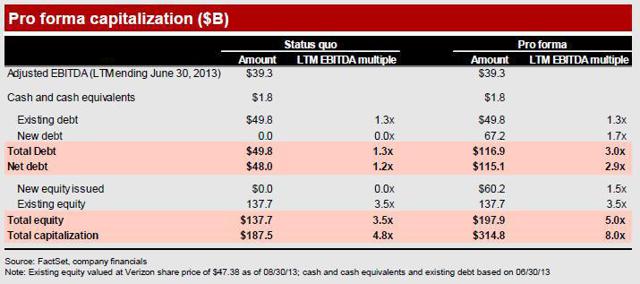 Click to enlarge
Image Source: Verizon
Valuentum's Take
We think Verizon is one of the market's great cash generators. However, we have material concerns about the size of Verizon's debt load following its decision to bring Verizon Wireless into the fold. Simply put, investors cannot ignore the balance sheet, which is critical in assessing financial risk and the concept of value creation. We do not think Verizon's elevated debt load bodes well for dividend growth investors in the near term, nor do we think it is a prudent move to add on so much debt so late in the economic cycle. We believe that further credit downgrades are on the horizon, and we do not think Verizon is as attractive as an idea as it once was. We are typically debt-averse, given the restraints it creates on financial flexibility and the advancement of shareholder payouts. We think investors will have a better time to scoop up shares of Verizon down the road, and we remain on the sidelines.
Disclosure: I have no positions in any stocks mentioned, and no plans to initiate any positions within the next 72 hours. I wrote this article myself, and it expresses my own opinions. I am not receiving compensation for it (other than from Seeking Alpha). I have no business relationship with any company whose stock is mentioned in this article.