Auto sales have been rolling in all day and for the most part have been a little less than stellar.
Ford (NYSE:F) reported sales that increased about 40% year over year, and while that is a great number, a good portion of the increase came from fleet sales and was also buttressed by much higher incentives. That being said, the Company's market share was about 16.5% and continues to improve.
General Motors reported that total sales (accounting for different selling days) increased about 16% year over year, which is far below our expectations. The "core 4" brands (Chevrolet, Cadillac, GMC, and Buick) are definitely benefiting from the increase of marketing spend, with Buick seeing sales increase 69.0% year over year. The Buick LaCrosse may be the biggest benefactor of Toyota's (NYSE:TM) problems, as its commercials of late has pitted the LaCrosse against the Lexus ES. The LaCrosse saw its sales increase about 223% year over year and about 197% through the first three months of the year (compared to the first three months of 2009). Toyota's numbers were extremely strong, increasing 35% year over year; so much for the recalls affecting future sales.
So we are seeing some big year over year increases, but we have to remember that March of 2009 was near the bottom of the auto industry. General Motors and Chrysler limped back to Congress asking for money and sales were dismal. It is also when the stock market reached terra firma and began the year plus rally that we have enjoyed. A good portion of the increase from this month was fueled by incentives that are at their highest levels in years. Following the cash for clunkers program last year the automakers have been avoiding offering incentives, instead vying for full price sales. However, following the Toyota debacle, most automakers implemented aggressive incentives to keep customers coming into show rooms. (Click to enlarge)

Ford indicated that industry auto sales were above one million units (inline with our expectations), but the big guys were back on top in March. During February Ford outsold GM which is the first time in decades it has happened (minus a few strike ridden months), but Toyota and GM both surpassed Ford in terms of monthly sales. Interesting to note that Chevrolet outsold all the other automakers save for Ford and Toyota.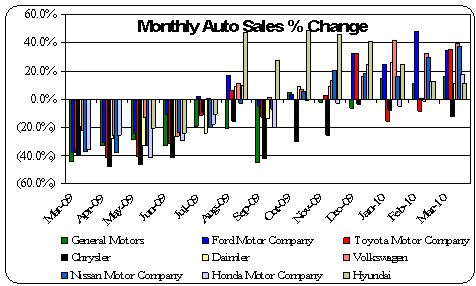 The government also signed into law a new Corporate Average Fuel Economy (CAFÉ) standard that brings the 35.5 miles per gallon threshold to 2016. In 2007, the new CAFÉ standards said that the average fleet had to have an average mile per gallon of 35 by 2020; the average right now is 27 mpg. The move is expected to cost an extra $1,000 per vehicle, but is expected to be recovered by consumers in three years. This is going to be another tax on the auto makers which will then be passed on to consumers. President Obama estimated that tougher requirements will save 1.8 billion barrels of oil over the life of vehicles sold under the program covering the 2012-16 model years. He said this would be the equivalent of taking 58 million cars off the road for a year.
The CAFÉ standards represent a serious roadblock for automaker profits in an effort to reduce emissions. It will be very interesting to see how the government accounts for fully electric cars. Automakers have been banking on the fully electric vehicles to help offset the lower fuel efficiencies models to get inline with the government's 35.5 mpg threshold, however, these new vehicles will not be included as zero emission anymore (coal used for electricity will be accounted for). The full details have not been released yet.
Toyota came back with a vengeance during the month, but it will be important for all automakers to lessen incentives in coming months if profitability is going to return to the industry. The auto industry has gone through drastic changes over the past year which should help boost profitability, however, a main reason Ford rebounded so quickly was that incentives were at historically low levels. My favorite in the industry is still Ford, and after reiterating our BUY recommendation on shares of Toyota for our institutional clients when the stock was trading at $70, we still like shares of Toyota. The Company isn't out of the woods just yet (sales in Europe are going to be pressured for the next few months), but we do like the risk/reward at this level.
Disclosure: Long F