McDonald's (NYSE:MCD) delivered weak sales and operating income results on Thursday. US comparable sales decreased 140 basis points in the fourth quarter of 2013 and group revenues increased only slightly by 2% to $7.1 billion. McDonald's operating income for the fourth quarter was flat at $2.2 billion and its diluted EPS increased by only 1% to $1.40 compared to $1.38 in the fourth quarter of last year. On a full-year basis, revenues increased by 2% to $28.1 billion. 2013 group operating income stood at $8.8 billion vs. $8.6 billion in 2012 (a slight increase of 2%). McDonald's 2013 EPS came in at $5.55 vs. $5.36 in 2012 (up 4%). With marginal top and bottom line growth I consider McDonald's not an attractive investment in the fast food sector. McDonald's still achieves a premium valuation (most likely because of its brand value and its dividend yield of above 3%) which I don't think is warranted given the troubles the company has in attracting new crowds to its restaurants.
Twelve month trailing share performance
McDonald's has quoted at a High of $103.70 in the last twelve months but has largely traded between the $94 and $102 level throughout much of 2013. The stock price has been quite oscillating in that range for quite a while although the pricing trend points downward.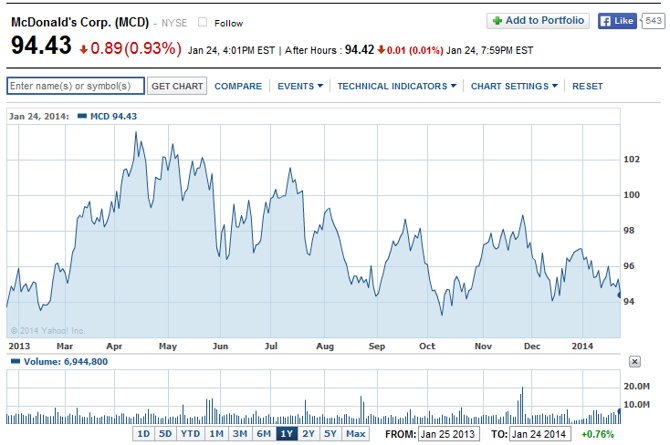 Compared to other publicly traded fast food franchises, McDonald's has delivered a very poor performance. Domino's Pizza (NYSE:DPZ) produced a two-year return of a massive 119% (its five-year return is even more spectacular at nearly 1,000%) while Burger King Worldwide (BKW) gained 54% and Yum! Brands 10%. McDonald's has to carry the red light with a dismal two-year return of minus 5% mainly because of weak sales growth and ongoing troubles to attract new customers.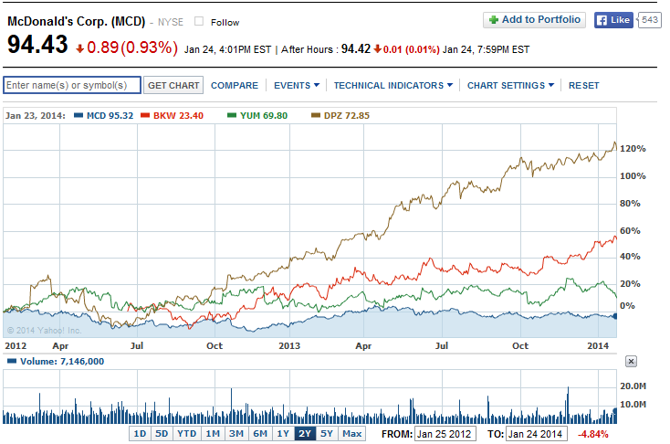 Dividend discount model
The dividend discount model I employ considers McDonald's' dividend stream in order to value the company. In my last article about McDonald's, I projected that the company will pay about $3.12 per share in dividends which reflects a 9% y-o-y increase. I estimate that McDonald's will pay a dividend of around $3.37 in 2014 which would translate into a y-o-y increase of 8%.
The dividend discount model (assuming capital costs of 10% and a fairly generous terminal dividend growth rate of 5%) yields an intrinsic value of $70.29. Based on the input assumptions, McDonald's has about 26% downside potential.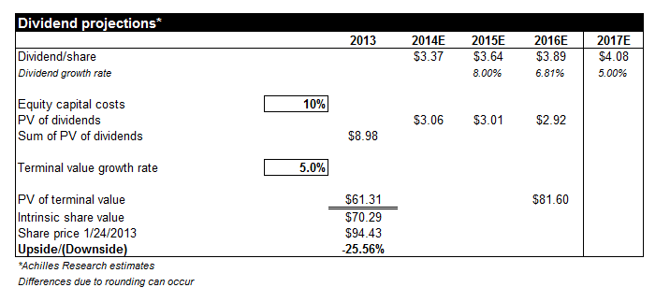 Market valuation
In addition to the dividend discount model, I look at the forward P/E ratios of fast food companies. McDonald's trades comparatively cheaply when benchmarked against other restaurant companies. However, the restaurant business is not an attractive one for investors. A high degree of rivalry in the fast food business, large-scale promotional activities that cut into profits and stubbornly low margins do not go down well with earnings multiples of over twenty. I have repeatedly voiced my concern over the valuation of fast food companies whether it was Yum! Brands or Burger King Worldwide. Considering that investors can purchase high-yielding cyclical equity investments (e.g. in basic materials, financials, real estate and energy) at P/E multiples of around ten, why bother purchasing a low-margin, low-growth business at a multiple of around fifteen or twenty?
McDonald's trades at a slightly lower multiple than the average peer group company but that doesn't make it more attractive: McDonald's fetches a P/E multiple of 16 which is still a premium multiple considering McDonald's current sales and income growth prospects.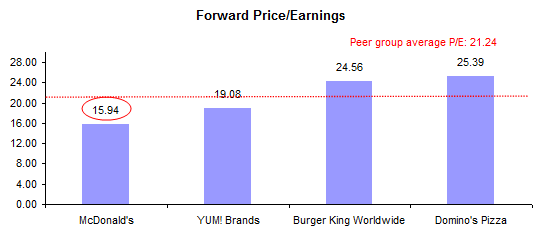 McDonald's currently pays a dividend of $0.81 per quarter which equates to annualized dividend payments of $3.24. Consequently, McDonald's trades at a dividend yield of 3.44% which represents about a 74% premium on the peer group average dividend yield of 1.98%.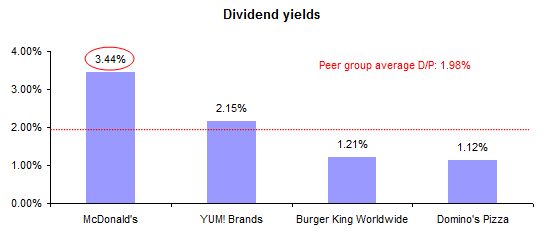 The table below summarizes all valuation metrics and depicts the premiums/discounts at which McDonald's trades compared to the peer group averages.

Conclusion
The restaurant/fast food sector trades at high multiples and low yields compared to other sectors with better earnings outlooks. Market-leading, top-tier companies in the financial or basic materials sector trade at multiples of 10-12; for instance Freeport-McMoRan (NYSE:FCX) or BP (NYSE:BP). Given the forward earnings multiples for McDonald's and other fast food franchises in the sector, I cannot really see where substantial growth in the underlying business metrics or multiple growth could come from. The dividend yields are also not too enticing especially considering that McDonald's already trades at a rich premium to intrinsic value. McDonald's and other restaurant companies are not in bargain territory and investors should steer clear of them for the time being.
Disclosure: I am long FCX, BP. I wrote this article myself, and it expresses my own opinions. I am not receiving compensation for it (other than from Seeking Alpha). I have no business relationship with any company whose stock is mentioned in this article.