By Paul Carton and Jean Crumrine
The latest ChangeWave corporate survey points to a steadily improving U.S. economy for the first quarter led by an uptick in corporate sales growth and a major breakthrough in the long suffering jobs market.
Importantly, this is the fourth consecutive ChangeWave survey showing an uptick in current quarter sales. The February 22-March 4 survey of 2,815 corporate respondents also points to a broad improvement for a range of other key indicators – including the second quarter sales pipeline and capital spending.
There are also small but promising signs that the corporate credit crunch is beginning to ease.
Firm Upward Movement for U.S. Economy
Better than one-in-five respondents (22%) say that their company sales will come in Above Plan for first Quarter 2010 – two points more than in the previous survey. Another 32% say their company sales will come in Below Plan – but that's a three point improvement.
As the following chart shows, this is the fourth survey in a row that we have picked up an increase in current quarter sales.


Looking forward, sales pipeline projections for the second quarter have also improved. One-in-four (25%) now say their company sales will come in Above Plan – which represents a four point improvement over the previous survey. Only 19% report they'll come in Below Plan – one point better than previously.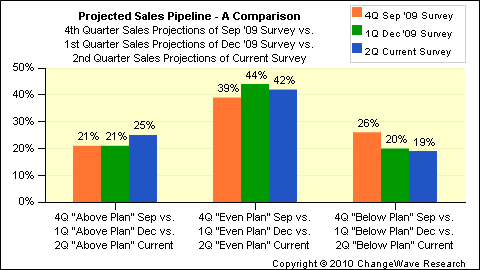 Importantly, second quarter sales projections represent a net five point positive change from the previous quarter – yet another indicator of increased U.S. economic momentum going forward. Here's a look at the projected pipeline results from 2001 to the present:

Capital Spending
In six of the previous seven years, our March survey registered a seasonal dip in the rate of cap spending going forward. But in a highly positive sign, our latest survey actually shows a slight improvement in cap spending going forward.
A total of 14% of respondents are projecting an increase in their second quarter capital budgets while 17% project a decrease – but that's a net four point improvement over the previous survey.
Thus, while the overall rate of cap spending growth still remains below pre-recession levels, the net four point improvement we're seeing going forward is a welcome sign.
Job Market
In the most bullish finding of the survey, the U.S. labor market is registering a major breakthrough. A total of 19% report there are More new hires in their company at this point in the first quarter vs. last quarter – up six points since the previous survey. Only 13% say there are Less new hires – also six points better than previously.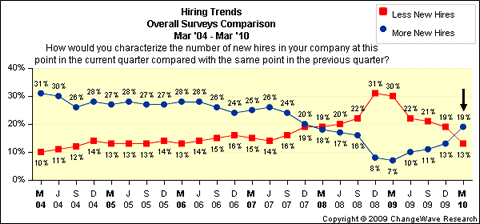 These results clearly support the thesis that the U.S. job market has stabilized and that it should begin showing positive net growth in March.
Impact of the Credit Crunch
For more than two years we have been measuring the impact of the credit crisis on U.S. businesses – which has generally been considered to be a key cause of the recession. While the current survey shows the availability of credit remains very tight, for only the second time since we began surveying on this issue in 2007 we're seeing a slight improvement.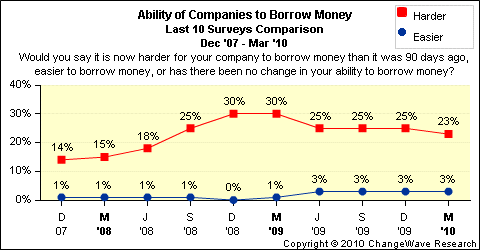 A total of 23% of respondents continue to say that it is harder for their company to borrow money than it was 90 days ago – but that's a two point improvement from the previous survey. Just 3% say it's easier to borrow money, unchanged from previously.
In terms of individual sectors, for the fourth consecutive survey the Semiconductor sector is again showing the most momentum. We note that this is the first time one individual sector has led all others over four consecutive ChangeWave surveys. Other top performing sectors this quarter include Manufacturing, Natural Gas & Oil and Computer Hardware & Networking.
Disclosure: No Postitions