The recent move to the downside certainly does not represent a market correction, or even likely an opportunity to buy on the cheap. Markets are essentially back to where they were a month ago. No one was jumping up and down about bargains a month ago. Most of the talk was still about over valuations and historically expensive stock markets.
All said, even in that environment investors should still stick to their existing plan and buy on that regular schedule if they are in the accumulation phase. Markets will go up and markets will go down, an investor should remain rock steady.
That said some investors who are nearing the final years or stage of their accumulation phase might consider protecting their gains from the decades by moving funds to cash and bonds. On December 16th, in this article, I suggested that a recent trend that might protect portfolio price is the addition of Long Term Treasuries (NYSEARCA:TLT). In that article entitled The Best Market Correction Insurance I showed how TLT provided an incredible inverse relationship to the U.S. stock markets. In fact, it is uncanny, it's like TLT and the broader markets (NYSEARCA:SPY) are standing on either side of a pond with their reflection being the mirror opposites of each other. Have a look at this chart, and reflect. Sorry.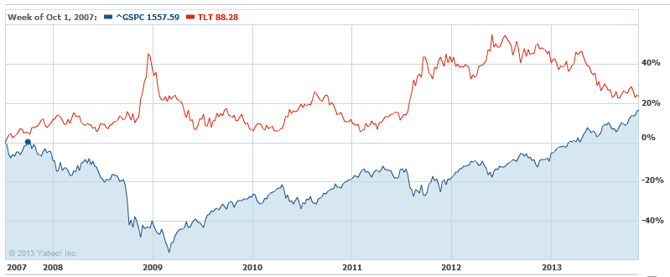 As we can see, TLT provided incredible price protection for those investors who were holding a traditional balanced portfolio. That relationship was present in 2008-2009 and even during the little blip at the end of 2011. That inverse relationship presented itself again over the last month as markets gave us a little 'scare' of perhaps a head fake. We'll have to see about that. I don't know what Mr. Market has in mind.
Here's the five day for TLT vs. the S&P 500.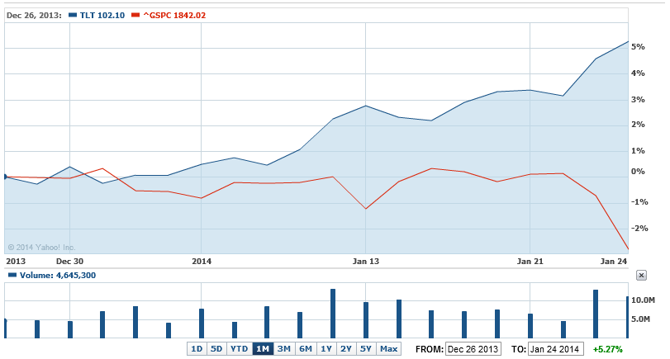 And here's the three month chart for TLT vs. the market.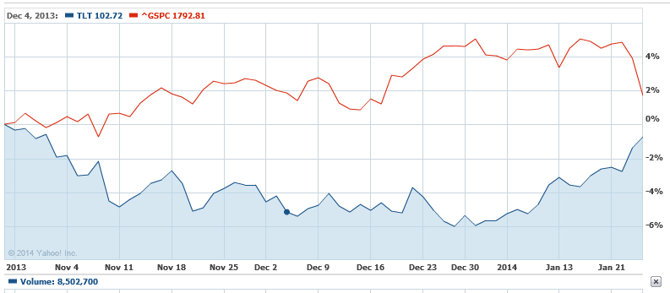 Once again that is a consistent trend or relationship that clearly presented itself in the recent market move. Given that we are either in the early stages of a true correction, or perhaps this is just a minor move in a longer term bull trend, it's not too late to add that market insurance. If you're getting nervous at this little move, you might want to consider adding some portfolio price protection. One can even add some inversely related equity market ETFs if they are on the more investor-savvy side of the ledger and understand that inverse market ETFs can be tricky and need to be monitored closely and perhaps traded to harvest some gains in aggressive market moves to the downside. One then might hold those gains in cash. That said, I am a fan of simply investing in a very basic mix of stocks and bonds. I'll take the more modest drops in the market that come with a balanced portfolio. Again, if markets did drop 50%, my balanced portfolio might fall 15-20%. I can handle that. A very large percentage of investors can handle that level of volatility. My freakishly low volatility portfolio has shown a beta in the area of 0.2 in recent months and years. Here's an article on how U.S. investors can somewhat recreate that low beta mix with ETFs. Please note that in that portfolio, the asset mix is in the area of 2/3 bonds to 1/3 equities. I have personally moved to more of a mix that has the equities just above the 50% mark.
All said TLT appears to still offer an incredible form of price protection and inverse relationship to the markets. TLT certainly goes against current and widely-accepted investor philosophy. Many fear the price risk of long term bonds and rising rates. But the trend is the trend - and the trend is your friend. And there's nothing wrong with the income above the 3.5% level.
The incredible dynamic of stocks and bonds in a balanced portfolio continues to hold up and present wonderful opportunities for investors to manage risk and experience attractive gains over longer periods.
More on the success of Balanced Portfolio in articles this week.
Happy investing and be careful out there.
Disclosure: I am long DIA, SPY, EWC, EFA, . I wrote this article myself, and it expresses my own opinions. I am not receiving compensation for it (other than from Seeking Alpha). I have no business relationship with any company whose stock is mentioned in this article.
Additional disclosure: Dale Roberts aka cranky is a Streetwise Coach at ING Direct Mutual Funds. Dale's commentary does not constitute investment advice. The opinions and information should only be factored into an investor's overall opinion forming process.