(Editors' Note: This article covers a micro-cap stock. Please be aware of the risks associated with these stocks.)
As an investor, some of your biggest wins come from recognizing the potential of a new technology, understanding when that technology is ready to be adopted, and narrowing the field of stocks down to the ones most poised to profit.
What We Learned From Technology Past
We recently experienced just such an opportunity in the smartphone and tablet boom that occurred over the last several years. But did you know that IBM (NYSE:IBM) invented the first smartphone in 1992? It was called Simon and included a calculator, address book, email, and even a touch screen. However it was not until 2002, when the first BlackBerry (NASDAQ:BBRY) was introduced, that the smartphone revolution began; and 5 years later, in 2007, we actually recognized the potential of the smartphone and witnessed a true adoption of the technology when Apple (NASDAQ:AAPL) introduced the iPhone.
Investors following smartphone technology had many ways to play: from handset makers, to chip makers, to wireless network infrastructure. Even those who missed the BlackBerry boom experienced significant gains in Apple, chipmaker ARM Holdings (NASDAQ:ARMH), and network infrastructure play American Tower (NYSE:AMT). The charts below represent the gains you would have experienced had you bought AAPL, ARMH, and AMT in January 2007 (a full 5 years after the BlackBerry had become a household name).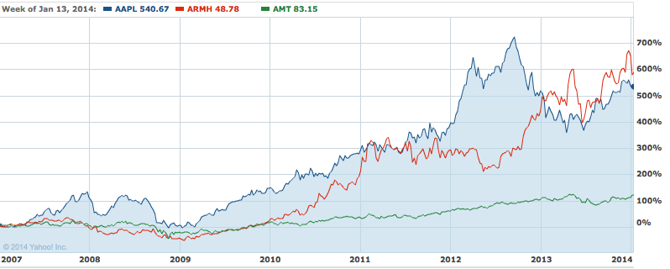 Chart Courtesy of Yahoo! Finance
In 2008, Google (NASDAQ:GOOG) entered the smartphone fray with the release of the first Android phone. And in 2010, the tablet revolution began with the release of the first Apple iPad. This provided investors, who were paying attention, with yet another buying opportunity. The charts below represent the gains you would have experienced had you bought AAPL, ARMH, AMT and GOOG in January 2010 (a full 8 years after the BlackBerry had become a household name).

Chart Courtesy of Yahoo! Finance
It is not my intention to point out what could have been, in fact, if you are reading this article, you likely profited from at least one of the names mentioned here. The intention is rather to remind investors of an old axiom - to paraphrase Peter Lynch: to make money in stocks pay attention to what's going on in the world around you. Had we been paying attention to the world around us between 2002 and 2006, we would have noticed the massive enterprise adoption of the BlackBerry. Smartphone technology would have been on our radar screen with plenty of time to invest before the release of the first iPhone.
The Next Big Opportunity in Technology
Just as enterprise was the first to adopt smartphone technology, enterprise is rapidly adopting another new technology as I write this article. I'm referring to the rather obtusely named Internet of Things [IOT]; or more precisely described as Machine to Machine technology [M2M]. IOT/M2M technology is basically a series of networked sensors or devices exchanging information or performing actions without the manual assistance of humans.
Forbes, in an article titled: The Next $100 Billion Technology Market, aptly described why enterprise finds IOE/M2M technology so attractive:
Productivity gains and cost efficiencies have been early drivers in adoption. Heavy service-based industries that have traditionally relied on field personnel to make customer visits for troubleshooting equipment problems stand to gain tremendously from M2M deployments. Many of these companies are seeing dramatic reductions in service costs because what was once done on-site, can now be done remotely. As a result, those requisite on-site visits actually become more efficient thanks to M2M technology, since technicians can often diagnose the problem before they even arrive.
Real world applications of M2M technology can already be found across a broad sector of industries. What follows are a few examples of the game-changing abilities of M2M:
A heart monitor with M2M sensors can recognize a heart arrhythmia and notify the patient's attending physician, local Emergency Medical Services [EMS], and the nearest hospital. This technology can be found here.
Vending machines with M2M sensors that allow vendors to monitor stock levels remotely, requiring fewer site visits and more efficient inventory management. Customers at the vending machine no longer need cash to make a purchase as the vending machine can communicate with the customer's cell phone and take payment through reverse SMS or Near Field Communications (NFC). This technology can be found here.
A USB Key with M2M sensors designed specifically for automotive use; when the key is plugged into the vehicle, it provides the driver with real-time information on traffic conditions, weather, and navigation, as well as information about services nearby. The key is plug-and-play and incorporates 3G wireless connectivity, and advanced processing capabilities. This technology can be found in select models of Peugeot vehicles.
According to ABI Research, IOT/M2M will outpace growth in smartphones and tablets and double over the next five years to $200 billion worldwide. Which begs the question, where might investors look to put their money?
How to Play This Exciting Opportunity
There are many players dabbling in the IOT/M2M space but, after researching the field, only a few of them are pure plays on Machine to Machine technology. The following 3 players stood out as having business models that are all-in on the Internet of Everything. Each of them are small companies with market caps ranging from $57 million to $732 million, so there is plenty of room for growth.
Sierra Wireless (NASDAQ:SWIR) - With 16 years of experience deploying M2M applications, SWIR boasts a 34% market share in M2M embedded modules and has shipped more than 50 million M2M devices worldwide. SWIR has a nice moat with 350 issued patents in wireless technologies. In April 2013, they divested their air card business to NetGear for $138 million to focus exclusively on the Internet of Everything. In October 2013, SWIR made a targeted acquisition of the M2M module business of South Korea's AnyData Corporation for $5.9 million and announced that they will be exploring additional acquisitions in the space to maintain their leadership role in M2M. SWIR is already working with the following OEM, enterprises, and wireless network operators:

Numerex (NASDAQ:NMRX) - Delivering certified packaged wireless services for 17 years, NMRX bundles a scalable application, certified device that operates over a secure M2M network. NMRX produces white label offerings (products that customers can re-brand to make it appear as if the customer produced it). NMRX boasts a subscription model with more than 2.3 million subscriptions and predicts a 24% Compounded Annual Growth Rate [CAGR]. NMRX offers predictive analytics, global network connectivity, private or public cloud services, and Device Network and Applications [DNA] integration. Numerex reports the following partners: United Technologies (NYSE:UTX), Deere & Co. (NYSE:DE), British Petroleum (NYSE:BP), the American Red Cross, and Sanchez Energy (NYSE:SN). NMRX offers a wide range of services: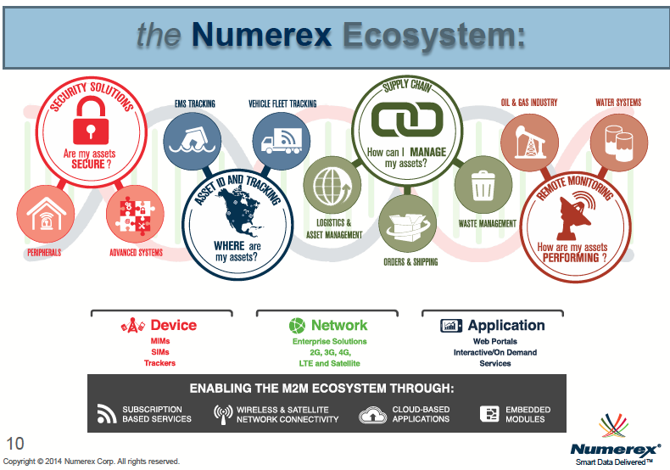 Elecsys (NASDAQ:ESYS) - Specializing in systems designed for the most demanding applications in remote, harsh, and extreme environments, ESYS offers rugged field hardware, data management applications, wireless communication systems, and data interface options, all of which can be accessed by the customer through a simple web-based interface. ESYS focuses on niche markets and, in 2013, established a full-time sales office in the United Arab Emirates to target new business in the underserved Arabian Gulf region. ESYS strategy to serve niche customers in remote and harsh climates provides opportunity for higher margins. ESYS specializes in energy, water, transportation, and agricultural infrastructure. In an open letter to investors, CEO Karl B. Gemperli and Chairman Robert D. Taylor described the fantastic opportunity in the Internet of Things:
We find ourselves at the early stages of a revolution in remote M2M data systems and are excited to be a leader in an industry with substantial untapped growth potential worldwide.
Fundamental Comparison
While the sales and revenue growth numbers in the below table may not appear very impressive when compared to other growth industries, it is important to remember that M2M Technology is in the early stages of growth and consolidation from an enterprise standpoint with consumer adoption in the very early stages and in mostly niche markets.
| | | | |
| --- | --- | --- | --- |
| Metric | SWIR | NMRX | ESYS |
| Market Cap | $732m | $291.4m | $57.8m |
| Cash | $188m | $25.8m | $500k |
| Debt | $0 | $1.84m | $2.71m |
| PE Ratio | 9.57* | 2,238 | 25.3 |
| Forward PE | 41.3 | 68.1 | 17.8 |
| Sales Growth | -31.3%* | 14.4% | 9.8% |
| Revenue Growth | N/A* | 27.8% | 59.13% |
*The Trailing PE Ratio, Sales Growth, and Revenue Growth for SWIR are not representative due to the sale of their air card business.
While NMRX has lagged, SWIR and ESYS have experienced significant share price appreciation over the past year indicating that investors are beginning to realize the potential of this emerging technology.

Chart Courtesy of Yahoo! Finance
Conclusion
In a recent Wired Magazine article IOT/M2M was described as a technology with the potential to:
...transform the world of everyday objects into a designable environment, a playground for coders and engineers. It will change the whole way we think about the division between the virtual and the physical. This might sound like a scary encroachment of technology, but the Programmable World could actually let us put more of our gadgets away, automating activities we normally do by hand and putting intelligence from the cloud into everything we touch.
I believe that in 2002 someone looking forward at smartphone technology might have described the potential in a similarly poetic way and those who were listening invested their money in several multi-baggers. Opportunity is knocking again and the Internet of Things may just be offering you a second bite at the multi-bagger technology apple.
Disclosure: I have no positions in any stocks mentioned, and no plans to initiate any positions within the next 72 hours. I wrote this article myself, and it expresses my own opinions. I am not receiving compensation for it (other than from Seeking Alpha). I have no business relationship with any company whose stock is mentioned in this article.