Emerson Electric Co. (NYSE:EMR) is one of the leading diversified global companies and its core operations are process management, network power, and industrial automation. EMR generated 34% of its revenues from Emerson process management, 24% from network power,and 19% from industrial automation during fiscal year 2013. Over the past five years EMR has grown at a steady growth rate and its financial outlook is pretty stable making it attractive to investors.
The financial results of Emerson have been challenged by the fiscal policy changes in the U.S, the European financial crisis, and growth rate slowdown in China. These factors caused the growth of the global telecommunication and information technology sectors to slow down. The global telecommunication industry is expected to grow at a CAGR of 3.76 percent from 2012-2016. However the contracting profit margins of the telecommunication industry could challenge the growth of this industry. For 2014, Emerson predicted adjusted earnings per share growth rate of 4% to 7% and sales are expected to grow or decline by 1%.
Revenue from each segment is shown in the following chart: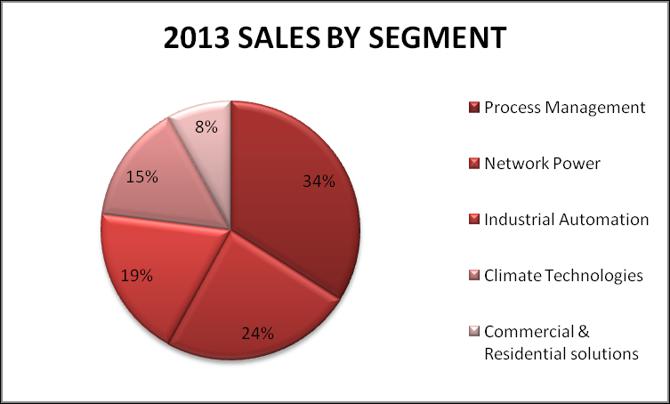 Financial Performance of the Fourth Quarter
For the quarter that ended September 2013, EMR reported sales revenues of $6.81 billion reflecting a1.67% increase from the results of the corresponding quarter of the previous year. This increase was led by strong growth in the process management business and moderate growth in the climate technology's worldwide compressors business. EMR reported profits of $795 million or $1.11 earnings per share up from $282 million or $0.39 earnings per share in the same quarter a year earlier. A year ago the financial report included a goodwill impairment charge of $592 million compared to the $25 million charge of the latest period. If this impairment effect is excluded, then the earnings per share went up to $1.18 instead of $1.11. Due to its rich cash position EMR raised the quarterly dividend to $0.43 from $0.41.This is 57th consecutive year of dividend increase. The P/E ratio of EMR is 25.1 compared to the industry's average P/E of 21.1 reflecting investors' confidence in the company's growth potential. The management is effectively deploying EMR's assets and generated an 8.3 return on asset "ttm" in comparison to the industry's average ROA of 4.3. The interest expense was reduced by $6 million and the company's debt/equity ratio was 0.4 in comparison to the industry's figure of 0.9.Also, EMR has less finance costs to bear and cushion to raise debt in the future without taking excessive financial risks.
Embedded Computing Loss and Partial Disposal
Emerson's 3Q2013 earnings from its embedded computing and power business dropped by 75% and in November the company sold 51% of its stake of this segment to Platinum Equity for $300 million in cash so that it can focus on its core business activities. EMR will retain a minority stake of 49%. Due to the early completion of this transaction EMR's revenues were approximately $175 million and approximately $25 million of this figure was pretax earnings for the first quarter 2014. I expect that after the sale this business segment may turn out to be profitable and that EMR may receive value through its 29% stake.
Acquisitions to Boost Historically Steady Growth
Following the company's aggressive history of mergers and acquisitions, during 2013 EMR made some acquisitions to speed up its steady inorganic growth. Emerson is expected to continue this strategy in 2014 and expected to spend $1.5 billion on acquisitions. The company's strategic reorganization leads me to believe that the company will mainly focus on its core business of process management and industrial automation.
EMR's major acquisition of the year EMR was the acquisition of the remaining 44.5% minority interest of EGS Electrical Group. The company gained 100 percent ownership for $571 million. This business generated annual revenues of $500 million in 2013 and has been consolidated into the industrial automation segment.
The EGS acquisition is a strategic fit for EMR as both companies are exposed to the oil and gas industry and its complementary business segments. The revenue generated from oil and gas sales is 50% of EGS's total sales revenue. Since oil, gas and chemical opportunities have developed EMR's 100 percent holding over EGS will realize these synergy benefits and will speed up the growth rate during 2014. Soon after this transaction the earnings per share slightly accelerated and the EPS increased by 4% to $3.54 compared to $3.39 in 2012.
According to the estimate of the International Energy Agency oil demand will increase to 92.4 million b/d for the next year. The U.S oil demand rose by 390,000 barrels a day or by 2%. Looking at these trends Emerson announced it would acquire a privately held Indian company, Virgo Valves and Controls LTD. Virgo Valves and Controls Ltd is a leading manufacturer of ball valves and automation systems that serves diverse markets worldwide operating in the oil and gas, power and mining industry. The company generated $250 million in revenues last year. I believe this company is another strategic acquisition. This acquisition will enable Emerson to generate revenues in oil and gas and will prove to be a smart move as analysts believe that in 2014 increased demand for oil will come from the emerging markets. Also, Emerson's lead in the process management industry will enable Virgo Valves to expand through Emerson's global distribution channels.
With the globally increasing demand for oil and gas there is the possibility of a demand and supply gap and this will adversely impact the market. Emerson announced that it has acquired Enardo LLC. Enardo is a profitable company that reported revenues of $65 million last year. Enardo LLC will be added to Emerson's process management segment to enhance its productivity in safety and environment control equipment for the oil, gas, and petrochemical industry. This addition will enable Emerson to meet its demand orders and add value for investors.
To concentrate and grow its main business activities EMR is targeting the emerging Pervasive Sensing market. It is estimated that this market will double in the next 10 years from its existing level of $16 billion. Exploiting this opportunity will allow Emerson to secure its future earnings.
Conclusion
For investment purposes EMR has very stable returns and pays a growing dividend. Although the revenue growth is steady pace I believe this growth rate is expected to quickly rise due to EMR's recent acquisitions and improving demand in the oil and gas industry. EMR's cash flow base is strong and in the recent years the company generated $3.6 billion cash flows from operations reflecting an increase of 19.5% from the 2012 level. Using these cash flows EMR intends to repurchase shares worth $850 million to cancel the effect of dilution and return the cash to shareholders. I believe this is the right time to buy this stock.
Disclosure: I have no positions in any stocks mentioned, and no plans to initiate any positions within the next 72 hours. I wrote this article myself, and it expresses my own opinions. I am not receiving compensation for it (other than from Seeking Alpha). I have no business relationship with any company whose stock is mentioned in this article.