By: Craig Bowles
Overview
Yahoo!, Inc. (NASDAQ:YHOO) is slated to report 4Q2013 earnings after the bell on Tuesday, January 28. The earnings release is expected at approximately 4:05 p.m. EST with a presentation to follow at 5:00 p.m. through Yahoo! Investor Relations.

Outliers & Strategy
Non-GAAP EPS: The current Street estimate is $0.38 with a range of $0.33 to $0.45. (Source: Yahoo! Finance).
Revenues: Revenues are seen declining 1.6% y/y to $1.20 bln.
Yahoo!'s stock is up 16% in the last quarter and has pushed the trailing P/E to 33.4 compared to a five-year average of 23.5.
Insiders have sold just over 11 mln shares the last six months and raised $1 bln by selling convertible debt but the company announced a $5 bln buyback in November.
Yahoo! shares have had mixed movement off earnings during the last year, so the 1-day average price change on earnings of 1.6% is deceiving. Having beaten estimates every quarter during the last year with mixed market reaction, earnings at the high end of the range could still be treated indifferently by investors.
Recent News
01/24: Yahoo owns 24% of Alibaba, China's biggest e-commerce company could be valued at $100 billion dollars or more in an IPO. Market participants have been speculating on whether asset injections are being done for the purpose of getting listed in Hong Kong. Alibaba's recent purchase is not a backdoor listing move, according to a post on Wall Street Journal.
01/16: Topeka Capital maintained a Buy Rating on Yahoo! saying investors should focus on Asia and the Alibaba IPO more than the core business that continues to struggle and recently fired their COO, according to a post on StreetInsider.com.
01/16: SunTrust Robinson Humphrey called the firing of COO de Castro a "great move" for two reasons:
1. Advertising clients were unimpressed which is part of the reason for hiring Ned Brody from AOL.
2. Investors had been fearful Mayer wouldn't let a high profile hire go if underperforming, according to a post on StreetInsider.com.
01/15: Yahoo! COO Henrique de Castro left the company with no explanation given for his departure. Mr. de Castro had been an advertising star with Google and was the first major hire for CEO Marissa Mayer, according to a post on Barron's Blogs.
Technical Review
Yahoo! shares moved up over 250% since October 2012 but ran into some resistance above $40. The stock is testing the 50-day moving average and moved up too fast to produce any noteworthy support levels above the low $30s. (Chart courtesy of StockCharts.com)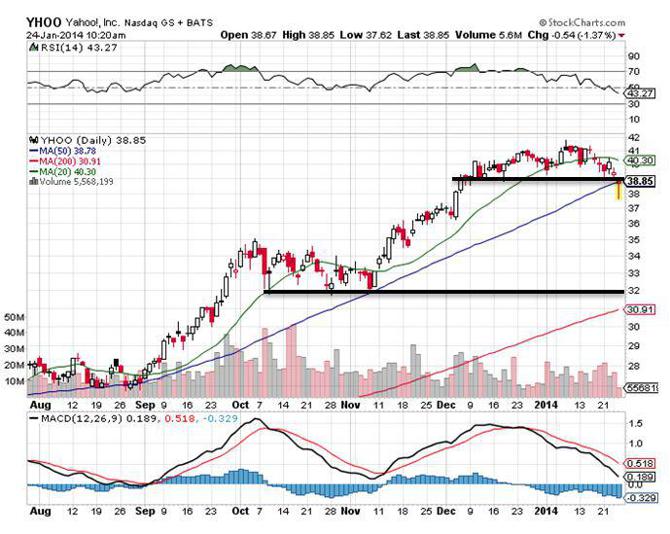 Summary
Yahoo! has beaten estimates in each of the last four releases but the market reaction has often been indifferent. With the recent focus on a departing COO and the Alibaba IPO, earnings could come in at the high end of estimates and still see limited reaction from the stock. Above $40 and the stock runs into resistance. Below $38.75 would suggest a lack of support by the 50-day moving average.
DISCLAIMER: By using this report, you acknowledge that Selerity, Inc. is in no way liable for losses or gains arising out of commentary, analysis, and or data in this report. Your investment decisions and recommendations are made entirely at your discretion. Selerity does not own securities in companies that they write about, is not an investment adviser, and the content contained herein is not an endorsement to buy or sell any securities. No content published as part of this report constitutes a recommendation that any particular investment, security, portfolio of securities, transaction or investment strategy is suitable for any specific person.
Disclosure: I have no positions in any stocks mentioned, and no plans to initiate any positions within the next 72 hours. I wrote this article myself, and it expresses my own opinions. I am not receiving compensation for it (other than from Seeking Alpha). I have no business relationship with any company whose stock is mentioned in this article.