By: Craig Bowles
Overview
Qualcomm, Inc. (NASDAQ:QCOM) is slated to report 1Q 2014 earnings after the bell on Wednesday, January 29. The earnings release is expected at approximately 4:00 p.m. EST with a conference call to follow at 4:45 p.m. that is webcast through Qualcomm Investor Relations.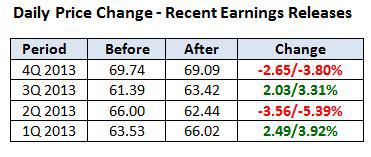 Outliers & Strategy
Non-GAAP EPS for 1Q 2014: The current Street estimate is $1.18 (down from $1.29 three months ago) with a range of $1.15 to $1.24. (Source: Yahoo! Finance). The company guidance is for $1.10 to $1.20, so analysts have adjusted back into the guidance range.
Revenues for 1Q 2014: Revenues are seen increasing 10.7% y/y to $6.66 bln (range $6.60 bln to $6.84 bln).
Adjusted Earnings Per Share Guidance / Revenue Guidance (2Q2014 & FY2014):
2Q 2014 Adjusted EPS Guidance will compare to analyst expectations for $1.26 (range $1.16 to $1.37).
2Q 2014 Revenue Guidance will compare to analyst consensus of $6.73 bln (range $6.55 bln to $6.96 bln).
FY2014 Adjusted EPS Guidance is currently $4.95 - $5.15 per share and the Street estimate is in the middle at $5.08 (range $4.97 - $5.20), so any change of more than a couple of cents in guidance should cause a reaction in the stock.
FY2014 Revenue Guidance is currently $26.00 bln to $27.50 bln. Analyst consensus is $27.05 bln (range $26.68 bln to $27.82 bln).
Qualcomm's trailing P/E of 19.4 compares to a five-year average of 23.4 and industry average of 44.6.
Insiders have sold close to 2.5 mln shares the last six months but the company is currently conducting a $5 bln buyback, up from the $4 bln that was completed by mid-2013.
Over the past several quarters, Qualcomm has benefited from its relationship with Apple (NASDAQ:AAPL), supplying chips for the popular iPhone device. In addition, the majority of Android devices run on Qualcomm chipsets.
Qualcomm shares have a 1-day average price change on earnings of 4.65%. Traders have to factor in a combination of current results and forward guidance as the second and third quarter of 2013 saw those quarters on top of estimates with very different results in the stock price.
Recent News
01/24: Cowen and Company speculated that the cost of patents and pending patents might have run from $50 to $100 million. The purchase may have been to block other companies from targeting QCOM's customers but more likely saw something valuable, according to a post on StreetInsider.com.
01/23: Qualcomm looks to be seeking a third act with the acquisition of 2,400 patents from Hewlett-Packard that include Palm and IPAQ portfolio, according to a post on Fortune.com.
12/13: Qualcomm promoted COO Steve Mollenkopf to CEO. After nine years as CEO, Dr. Paul Jacobs will assume the role of Executive Chairman on March 4, 2014, according to a press release on PR Newswire.
Technical Review
Qualcomm shares have been somewhat volatile around the 20-day moving average which is trending upward. The recent balance in the $72-$74 area should provide support if this recent breakout fails. As long as the balance periods are moving higher, traders are going to be leaning toward the long side. (Chart courtesy of StockCharts.com)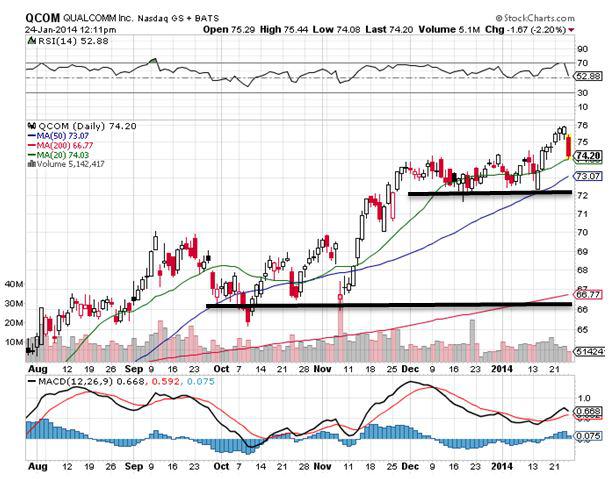 Summary
Qualcomm earnings releases are a mix of current results and forward guidance that create an often exciting stock price reaction. The company named a new CEO in December followed by a large patent purchase in January, so the investment community will have an increased focus if only to satisfy a growing curiosity. Earnings estimates have been reduced to within company guidance, so earnings coming in above $1.20 could bring this attempted breakout back to life if guidance is in-line. Also, an in-line quarter with a guidance FY 2014 guidance increase of more than a couple of cents would be bullish. Otherwise, the stock likely settles back into a support range and investors digest what these recent events mean for the company's future.
DISCLAIMER: By using this report, you acknowledge that Selerity, Inc. is in no way liable for losses or gains arising out of commentary, analysis, and or data in this report. Your investment decisions and recommendations are made entirely at your discretion. Selerity does not own securities in companies that they write about, is not an investment adviser, and the content contained herein is not an endorsement to buy or sell any securities. No content published as part of this report constitutes a recommendation that any particular investment, security, portfolio of securities, transaction or investment strategy is suitable for any specific person.
Disclosure: I have no positions in any stocks mentioned, and no plans to initiate any positions within the next 72 hours. I wrote this article myself, and it expresses my own opinions. I am not receiving compensation for it (other than from Seeking Alpha). I have no business relationship with any company whose stock is mentioned in this article.