It's insanity that all I heard on CNBC to end the week last week was questions about whether or not the world was coming to an end when - wait for it - the market (NYSEARCA:SPY)(NYSEARCA:DIA) was down 500 points in two days.
The more CNBC I watch, the more I understand where the panic comes from some days. Anyways, the argument that went on for the closing couple of hours of the day was whether or not we are in the beginning of an actual correction - to the tune of 10% or so - or whether this pullback was a delayed result of the Fed tapering.
From there, the discussion turned to what Janet Yellen would do and what the Fed's coming plans are for the taper. Keep the taper? Pause the taper? Reverse the taper? Scream panic and run around like chickens with our heads cut off? What do we do? Someone save us!
Alright, that's being a bit sensationalistic, but it was certainly the vibe I got from the discourse at the end of the day on Friday.
As the Fed meets for the first time this year, Ben Bernanke will hand over the printing press - I mean, title of Fed Chair - to Janet Yellen. Additionally, the Fed is expected to address further tapering due to the fact that the economy is showing strength.
And such, I'm surprised that last week's pullback was a surprise to people. I, on the other hand, was dumbfounded when it didn't occur at the time of the announcement. I just wrote, last week, in an article about why I'm long-term bullish on gold (NYSEARCA:GLD) and silver (NYSEARCA:SLV):
Wow - $65 billion a month that the Fed continues to inject into the U.S. economy? Sure sounds like a great time to be buying gold, the world standard of non-renewable value on a planet that continues to plant money. But, no! Gold has fallen 2% on this news - because apparently a taper to just $65 billion a month is signs of progress.

Let's perform an exercise here. If you remember correctly, gold's ten year bull run that it's been on all happened well before QE was even a glimmer in our eyes. 15 years ago, if I told you the Fed would be injecting $65 billion/month into the U.S. economy, what do you think gold prices would have done then? Can you say $5,000 an ounce?
I was surprised at first that the market didn't show us this type of correction when the Fed started to taper. This correction is healthy, and it's likely a delayed result of the Fed's tapering combined with the emerging market currency issue and the cloud over China.
Part of me wants to be wrong, just for the amount of bearish calls I've made since the market has hit 15,000 - link back through my SA articles and you'll find them.
However, when you look at a company like Procter & Gamble (NYSE:PG), which reported last week, the earnings haven't been forecasting a major economic downturn. In fact, P&G's foray into emerging markets remains in the forefront for the company, according to CNBC's report of the earnings:
Procter & Gamble, the world's largest household products maker, reported a dip in quarterly profit on Friday as its push in emerging markets led to a lower gross profit margin.

Chief Financial Officer Jon Moeller told reporters on a conference call that sales in emerging markets had risen 8 percent during the second quarter, easily outpacing developed markets, where sales barely edged up.

But P&G's gross margin is lower in those markets as the company establishes itself. Still, the costs are worth paying, said one investor.

"The emerging markets are definitely the future for P&G," said Matt McCormick, portfolio manager at Bahl & Gaynor Investment Counsel, which manages about $11 billion and has long owned P&G and Kimberly-Clark shares.
The company's guidance for the coming year remained unchanged, showing the company has confidence that it can meet its goals for 2014 - so far.
What this also shows us is that here in the U.S., things continue to look like they're heading in the right direction. Forget China, forget emerging market currencies - this pullback looks more and more like a buying opportunity than it does a spot to sell off and rethink your investments - and that's coming from a guy who perpetually has a semi-bearish mindset. From a technical standpoint as well, the market remains simply in the dip of an uptrend: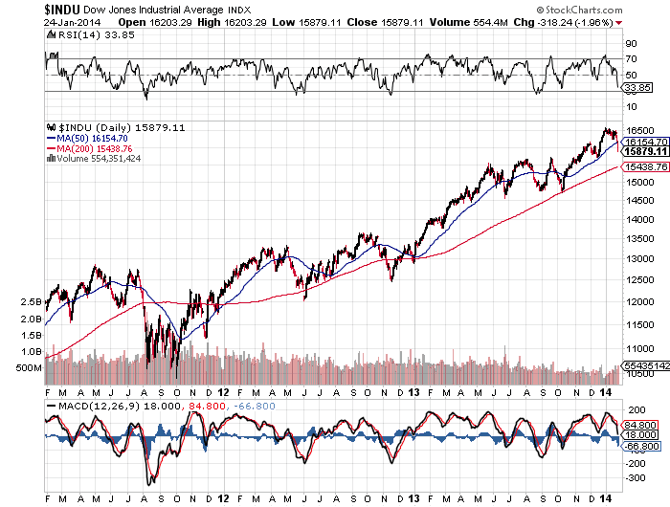 So, make no mistake about it, the pressure is going to be on Yellen and how she acts. Personally, I think she'd do well to continue the taper in the midst of this pullback - if it's a Fed induced correction, there's no need to dance around it. We risk far greater peril if we let the Fed continue to inject money into the economy to a point where the public starts to lose confidence in the Fed's ability to help. Then, we'd have ourselves a real mess.
I'd love to see Yellen continue the taper to invite further buying opportunities. This way, the next time the market continues another leg up over 16,000, the move will be au naturale and healthy, just like our recovering domestic economy.
So, last week was a mess and now the ball is in Yellen's court. Welcome to the Fed, now don't screw it up.
Disclosure: I am long SLV. I wrote this article myself, and it expresses my own opinions. I am not receiving compensation for it (other than from Seeking Alpha). I have no business relationship with any company whose stock is mentioned in this article.