On January 24, 2014, Kansas City Southern (NYSE:KSU) provided their fourth quarter and year-end earnings report. The information below is meant to illustrate how the company's financial and operating trends have adjusted based on the initial released information. All year-to-date, or YTD, information assumes Kansas City Southern's closing stock price of $99.49/share as of January 24, 2014. Please refer to the Seeking Alpha transcript for this report for additional information.
Kansas City Southern peer earnings announcement comparison to date:
STOCK PRICE PERFORMANCE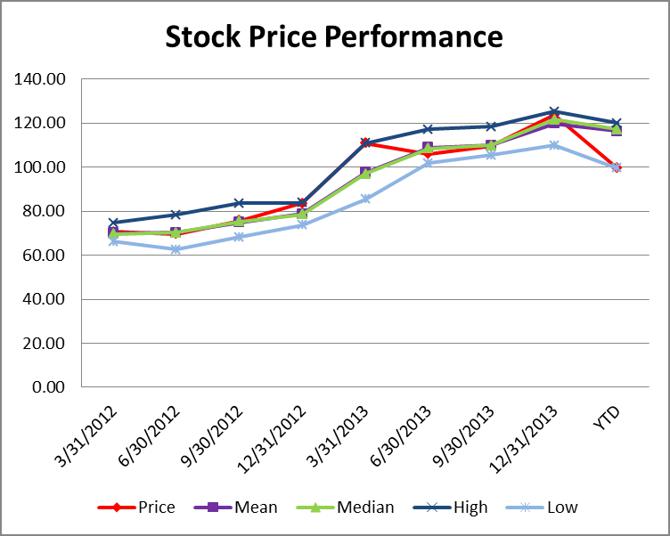 Kansas City Southern's stock price has closed near the quarter-end high three out the past nine times. The company's stock price has closed near or above the mean and median almost every time during the same period; exception being Friday's extreme sell-off. Friday's broad-market plunge was no help to Kansas City Southern's performance. It is also worth mentioning that Kansas City Southern for a majority of the time period, has maintained parity with the mean and median. Friday's plunge marks only the second time the company's stock has underperformed this trend.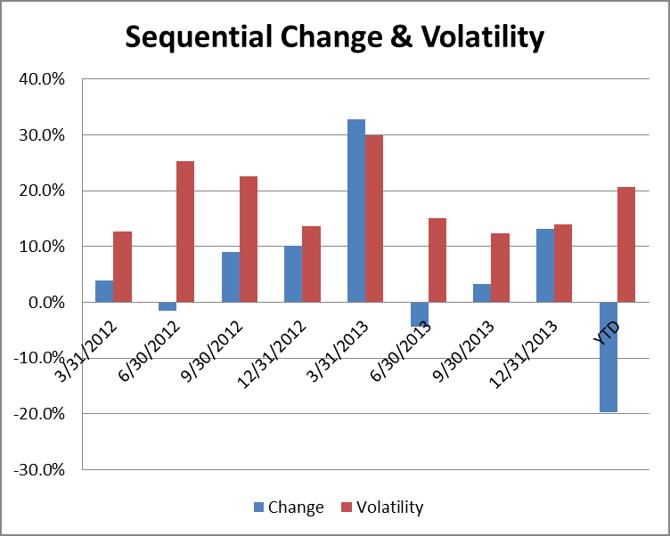 Kansas City Southern has generated positive and strong stock price growth over the past two years. The 2013 fourth quarter missed bottom-line expectations which led to the company's worst performance during this time period. On a quarter-over-quarter basis, stock price change has declined two times out of the past eight full quarters. Volatility (expressed as the difference between the high and low stock prices for the quarter) has remained at over 10% every time during the time period. The company has topped 20% volatility four times. Prior to Friday's sell-off Kansas City Southern had outperformed many of its peers.
REVENUE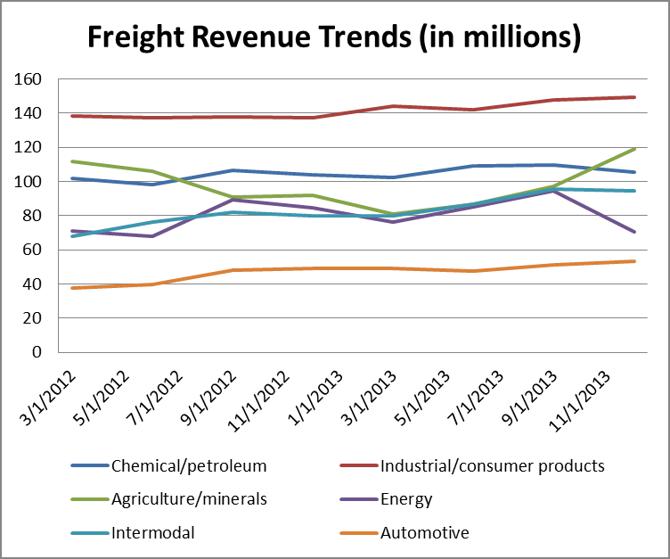 The trend for Kansas City Southern's revenue has been negatively impacted by reduced energy volumes and pricing issues; primarily driven by utility coal. However, prior to the fourth quarter, the company had been witnessing more positive growth than peers. On the positive side, Kansas City Southern has maintained a fairly stable trend for chemical/petroleum, and increasing trends for industrial/consumer products, agriculture/minerals, intermodal, and automotive.
When considering utility coal revenue for Kansas City Southern as a percentage of total freight revenue, the company is the second to have a freight transport category, intermodal, outperform coal (by 34%). Additionally, coal reflects equal revenue with grain, 4% more revenue than metals and scrap, 9% more revenue than forest products, and 30% more revenue than automotive and chemicals; and reflects nearly 9% of total freight revenues on a trailing twelve-month, or TTM, basis.
Management's statements related to the fourth quarter coal weaknesses included the following:
"Our energy business unit wins the prize for underperformance this quarter, and that was primarily driven by lower utility coal volumes. The lower crude oil shipments also contributed to this weakness. As I mentioned earlier, utility coal volumes were the lowest level we have seen for any quarter since the beginning of 2006. The explanation for this weakness includes the earlier-than-expected seasonal shutdown at one plant we serve in Texas, unplanned outages for 1 month at another plant we serve in Louisiana and reduced shipments to a third plant that we serve due to derating in anticipation of permanently shutting down one generating unit there by the end of 2015."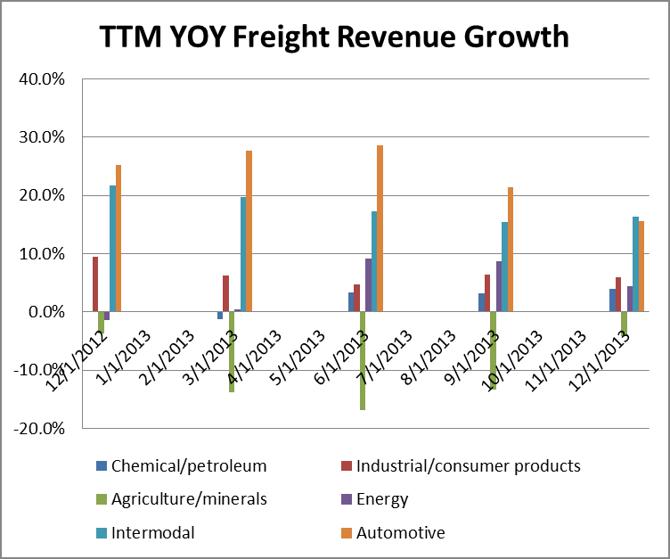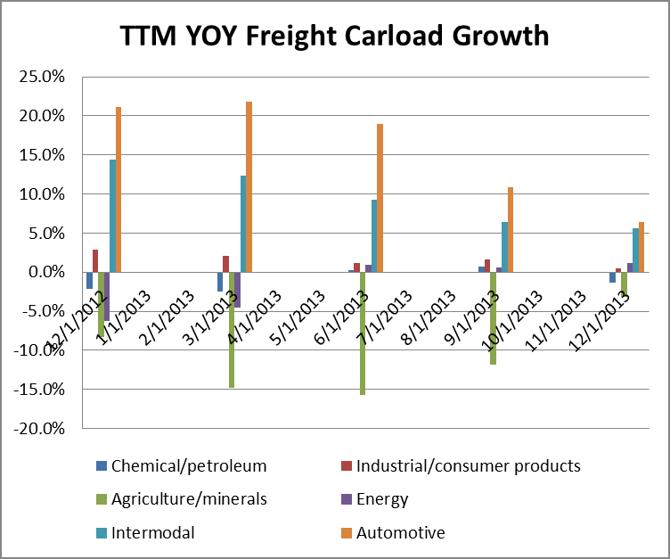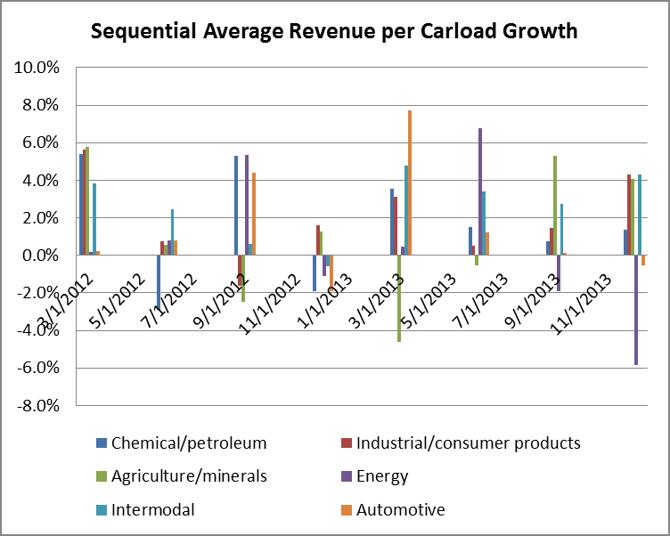 The tables above provide a break-down of TTM year-over-year, or YOY, revenue growth and similar information for carload growth. Carload growth is synonymous with unit growth and encompasses the number of railcars moving merchandise (agriculture/minerals, automotive, chemical/petroleum, and industrial consumer products), energy, and intermodal containers for a particular period. Trends from the fourth quarter point to stable carload demand for both energy and intermodal and a decrease in both chemical/petroleum and industrial consumer products, and an improving decline rate for agriculture/minerals. When combining Kansas City Southern's equivalent merchandise categories, the company is in-line with its rail peers. On the revenue side, Kansas City Southern did post collective positive energy results, however, utility coal revenue growth at year-end was negative. Pricing also appeared to be very strong at year-end, with a significant exception being energy categories. Management provided key guidance for 2014 expectations for core revenue categories:
"Here are some of the factors that we considered in putting the current guidance together. The ramp-up in production at the new auto plants will occur over a bit longer period of time than we foresaw a year ago. And this will have a ripple effect on other products like steel and plastics. The opportunities are significant. The plants are built. They're going to be opening soon, but the growth will be realized over an extended time frame than what we believed a year ago."

"We know a lot more about the crude oil business than we did last year and have adjusted our outlook to more accurately reflect permitting issues and capacity constraints, specifically the heating equipment required to handle heavy crude -- Canadian crude in the Gulf region. Again, the opportunity is there, but we'll play out over an extended time frame."

"Our Ag & Minerals business is expected to show single-digit revenue growth for the full year. Our grain business will have very easy comps into the first half or 8 months of the year, but we expect it to flatten out as we finish. In spite of another year of declines in our utility coal business, which will be in the mid single-digit range, we expect positive single-digit revenue growth in our Energy business unit overall, as frac sand, pet coke and crude oil will more than offset the lower coal revenues"

"Intermodal growth will be driven primarily by truck-to-rail conversion in our cross-border business, which we feel has a lot of runway to grow for a very long-term horizon. As fast as we've grown this business, we are still barely at 3% share of the available market, which we estimate to be nearly 3 million trucks crossing the U.S.-Mexico border and markets that we can serve."
OPERATING PERFORMANCE AND EFFICIENCY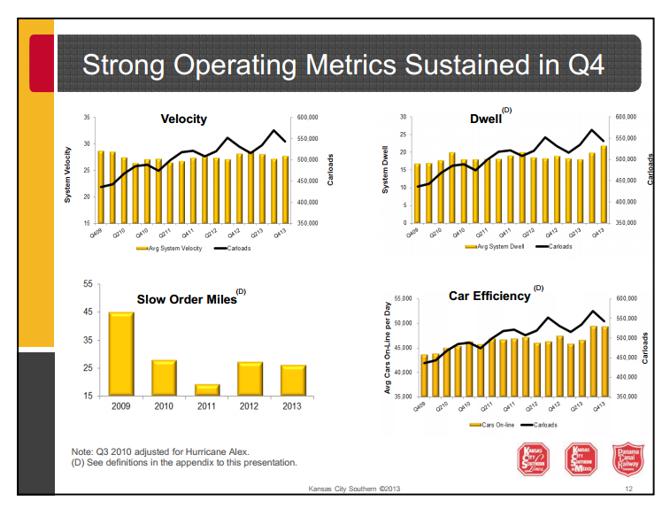 Kansas City did not provide any information with respect to personal injury, derailment incidents, or crossing accidents during the fourth quarter.
Operating efficiency displayed improved train speeds sequentially. Dwell times increased to the highest level during the period. Similar to Union Pacific Corporation and CSX Corporation, it appears that Kansas City Southern had more issues than Norfolk Southern from an operational standpoint. Management provided explanations for increased dwell times:
"Dwell was higher than last quarter by 2 hours at 21.9 hours, predominantly due to a mixed shift of traffic through Shreveport and Jackson during peak season and holiday shutdowns as Thanksgiving, Christmas and New Year hurt the dwell metrics while we shut down in the terminals. Weather also played a role as we had to endure the ice storms after the Thanksgiving start-up period."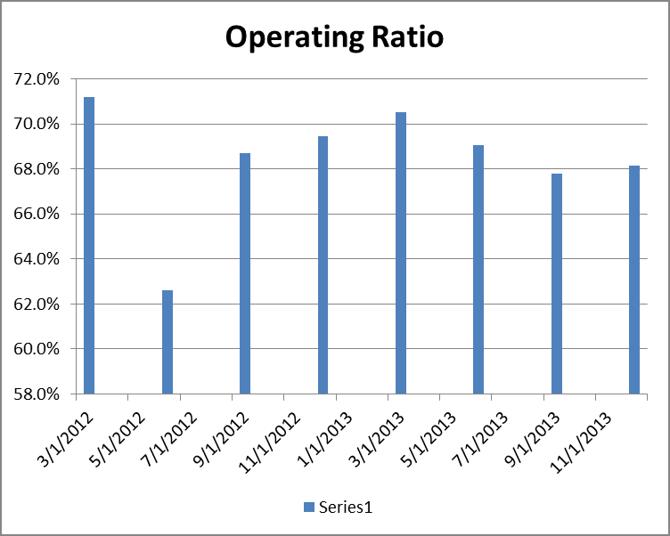 Kansas City Southern was able to maintain its operating ratio near the 68% mark for the second consecutive quarter. The company has been on a nice improving trend over the past four quarters. Management provided the following commentary regarding some of its operational efficiencies:
"We are seeing very positive results from our capacity investments, as indicated by the consistent performance of our train velocity at 27.8 miles per hour in the fourth quarter while achieving year-over-year record growth numbers."
CASH FLOW AND DIVIDENDS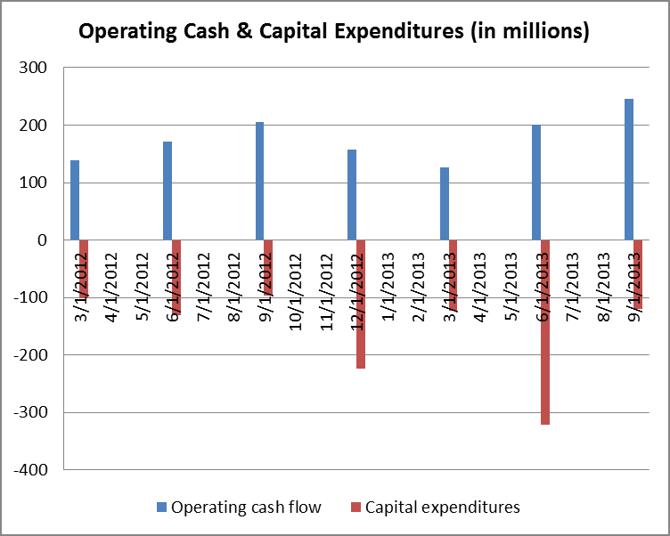 The company does not provide updated cash flow or specific capital expenditure information during the initial earnings report. The above chart only includes updated information through the third quarter for 2013. From this chart it is clear that Kansas City Southern has had inconsistent operating cash flow generated to completely cover capital expenditures since the fourth quarter of 2012.
The company stated the following for its 2014 capital budget:
"We're not deferring any maintenance spend. In fact, we have invested so heavily over the last 5 years to bring our main line to a steady state level of stability that we have achieved a more cyclical maintenance program. We'll continue to place the same importance on modeling growth, predicting capacity needs, executing a just-in-time approach towards our growth capital investments. We see those capacity enhancements along the cross-border corridor, the Sanchez and the Nuevo León terminal complex, and the sightings needed for targeted growth opportunities."

"Strategically, we'll continue to strengthen our Intermodal franchise on both sides of the border and invest in key corridor projects to handle the increased volumes of crude that we are projecting in the future. We also invested heavily in rolling stock equipment for auto and intermodal growth, while we continue to optimize the use of our existing fleet."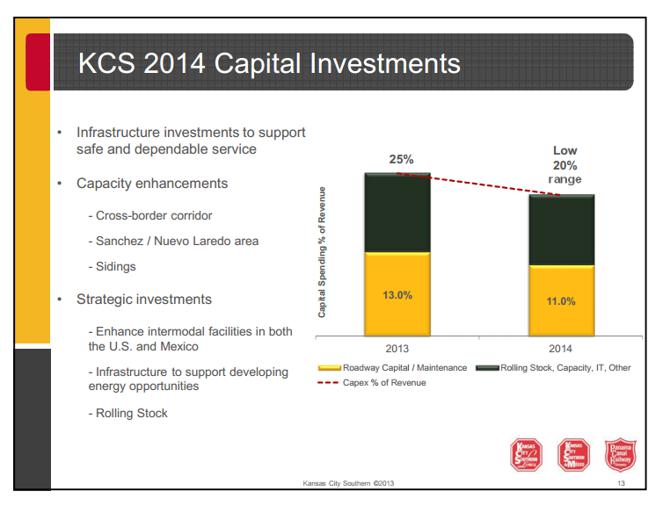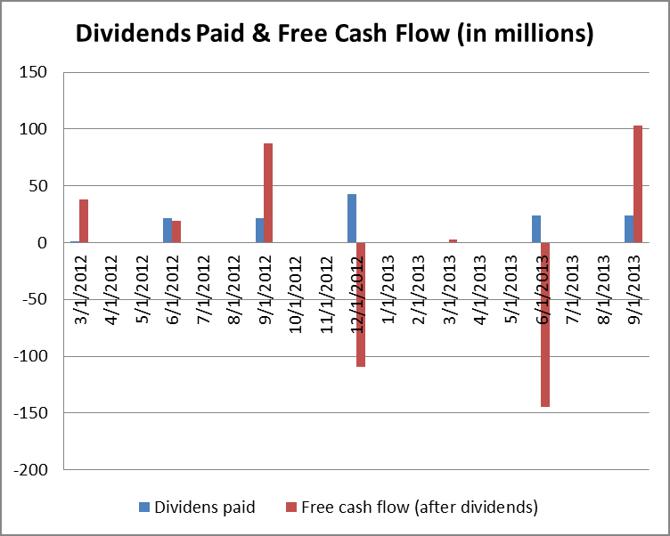 Similar to the previous chart, the information above only includes data through the third quarter of 2013 as Kansas City Southern does not initially report this information. Over the four previously reported quarters, Kansas City Southern has generated negative free cash flow. However, during the third quarter for 2013, the company generated over $100 million in free cash flow.
Management provided the following guidance for the dividend:
"And finally, turning to our dividend. Our yield has certainly declined below the 1% level that we initiated the dividend at a couple of years ago. We are continuing to evaluate that. But those are Board decisions, and we will keep your priced accordingly of any decisions with respect to the dividend."
The current TTM dividend payout ratio for Kansas City Southern is at 26%, which is three percentage points higher than 2012. Kansas City Southern only began paying dividends in 2010.
BROAD MEASURES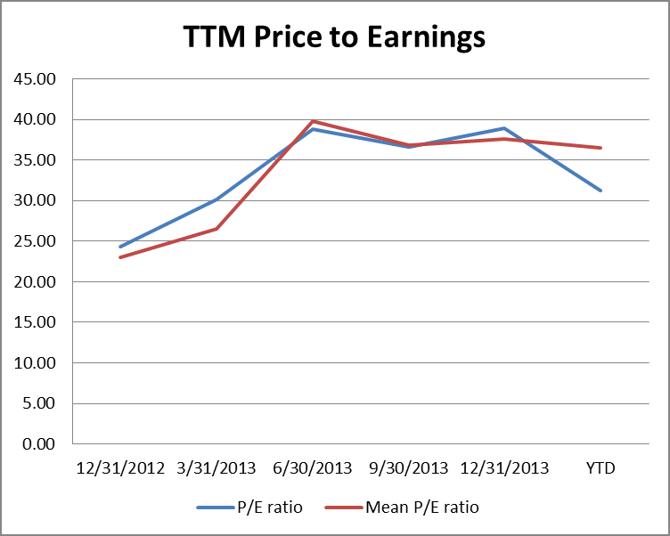 Over the past two years, Kansas City Southern's stock price has traded at a premium above CSX, Norfolk Southern, and Union Pacific. The company's trend has involved its stock price usually trading at a premium to the mean, the exception being after Friday's steep decline. Kansas City Southern has had an erratic P/E ratio during the past decade ranging from 10 to 55 times earnings. The company appears to offer value near the low 20s range and is most likely going to trade around the 25-35 P/E level, due to market volatility. Fair value is near a 30 P/E ratio. The P/FCF ratio is not displayed as the company has had TTM negative free cash flows of late and fourth quarter information was not available.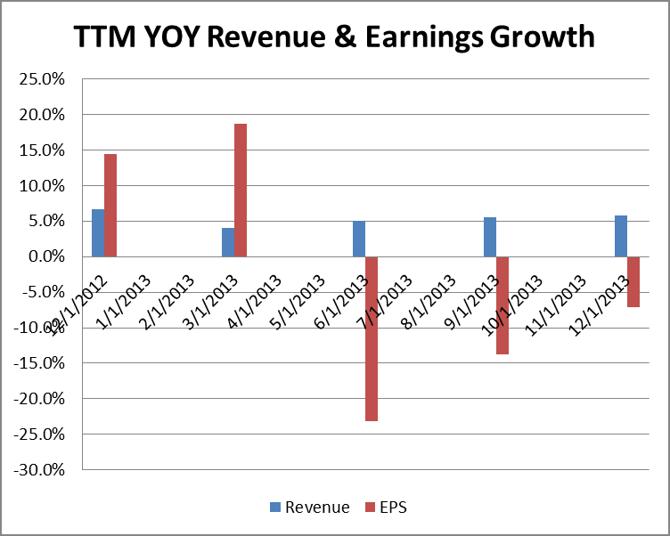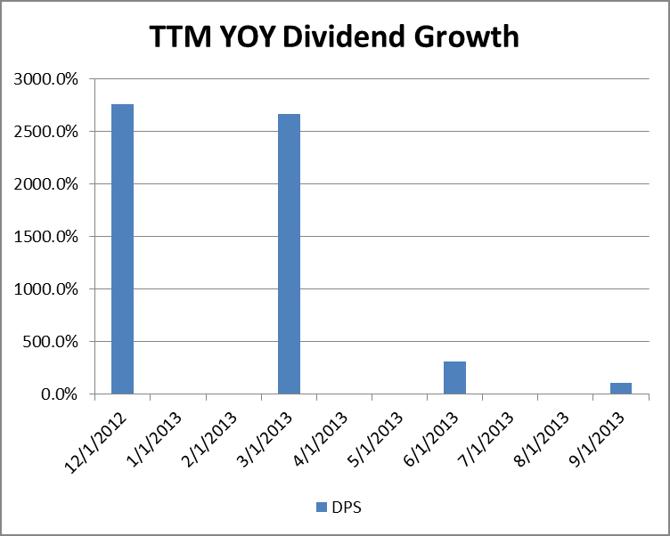 On a TTM annual basis, the first chart above clearly reflects Kansas City Southern's consistent top-line growth and two-sided picture of bottom-line developments. Revenue growth improved during the fourth quarter and despite missing estimates, EPS growth improved as well. Free cash flow growth was not included for similar reasons as stated above. DPS growth has displayed atypical growth rates due to the fact that Kansas City Southern only recently began paying dividends. However, it is good to see the substantial increases. It should be noted that all dividend information does not include fourth quarter data as Kansas City Southern does not disclose this information initially. The company has one of the lower dividend yields comparatively, and has ample room to further increase its dividend payout substantially. This opportunity is not a clear indicator for future substantial increases as Kansas City Southern will also continue to reinvest in the business.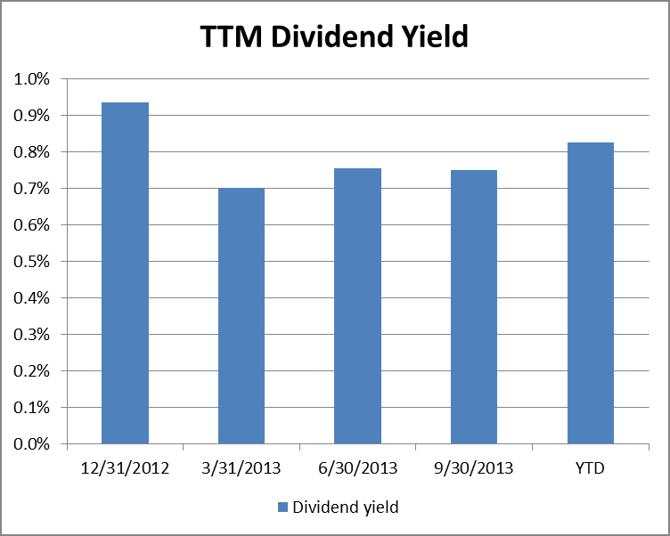 CONCLUSION
Overall management was very optimistic and confident regarding economic growth for the U.S. and Mexico; and expects to outperform GDP growth. The team also sees core pricing increasing more than inflation. A couple of key takeaways from the report were the fact that the company has achieved investment grade status which allowed for a major corporate debt restructuring, and that the company continues to make progress on its equipment lease buy-back program initiated in 2011.
Kansas City Southern has to be one of the more intriguing rail companies post earnings as it witnessed the most significant volatility after the report. This is definitely a reflection of how faster growth companies react based on their premium valuations from higher growth prospects. If Kansas City Southern is able to grow revenues near the single-high digits over the next two-three years, the company should be able to generate substantial bottom-line results from the success the management team has made during the past couple years. The current price provides an entry opportunity for long-term investors.
Disclosure: I am long UNP, . I wrote this article myself, and it expresses my own opinions. I am not receiving compensation for it (other than from Seeking Alpha). I have no business relationship with any company whose stock is mentioned in this article.