Individual Investor Portfolio - December 2013 Quarterly Update and Review
The portfolio has attempted to better organize its company holdings in the past. However, I have liquidated the majority of the portfolio's holdings as of the fourth quarter 2013. All funds will continue to be managed through a Roth Individual Retirement Account, or Roth IRA.
The primary reasoning for liquidating most of the positions was to generate substantial cash for 2014 and to adjust the portfolio's goals moderately and rebalance holdings based on these adjustments. The same format used throughout 2013 will be followed for comparative purposes.
The fourth quarter for 2013 ended up being a grand finale for the primary market indices including the Dow Jones Industrial Average, S&P 500, and NASDAQ. On a year-over-year percentage change basis, the Dow tripled for the year, while the S&P more than doubled, and the NASDAQ also more than doubled.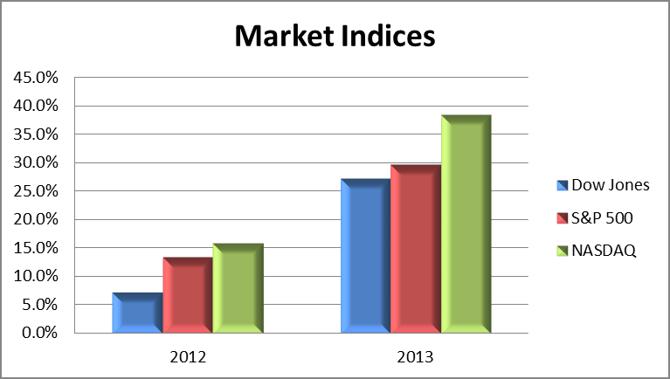 Detailed information regarding each company's performance is listed below in the Total Return, YTD, and Previous Performance tables and Management Activities section.
CURRENT HOLDINGS AS OF DECEMBER 31, 2013
All enterprise values are as of the last trading day for the fourth quarter of 2013.
Transportation Growth Fund - TGF

Media & Advertising Growth Fund - MAGF
N/A
Small & Mid-Cap Growth Fund - SMCGF

TOTL RETURN, YTD, AND PREVIOUS PERFORMANCE AS OF DECEMBER 31, 2013
All of the information regarding the Fund's performance from quarter to quarter is compared by a percentage point basis. For example, if a stock is up 25% through the first half of the year, and then is up 20% in the third quarter of the year, the stock has increased by twenty percentage points. Total return is based on realized and unrealized gains from the initial date a position was taken and varies for each company for the years between 2012 and 2013. Where gains have been realized, percentages are included to be considered against the total return.
Transportation Growth Fund - TGF

Laredo Petroleum (NYSE:LPI) was the only transportation-related company retained at the end of 2013. Laredo Petroleum has had a very strong year after a slow IPO-year start. No companies were held from the media & advertising portion of the portfolio.
Small & Mid-Cap Growth Fund - SMCGF

WhiteWave (NYSE:WWAV) was the only originally acquired company prior to the fourth quarter which was kept for the small & mid-cap section. The company has had a very strong year similar to Laredo Petroleum after a poor IPO-year. Zulily (NASDAQ:ZU) was added to the portfolio in mid-November and had a strong month and a half.
BENCHMARK COMPARISON AND PERFORMANCE
The portfolio in its entirety returned 11.6% for 2013. This is a decrease of 2.3 percentage points from the third quarter. Comparatively, the S&P 500 has returned 29.6%, an 11.7 percentage increase and the Russell 2500 has returned 34.9%, a 10.3 percentage point increase. The VMGMX fund has returned 31.4%, a 7.3 percentage increase and the FMCSX fund has returned 34.5% a 7.3 percentage point increase. For 2013, the portfolio was significantly outperformed by this group. On a positive note, the portfolio has registered back-to-back double-digit gains.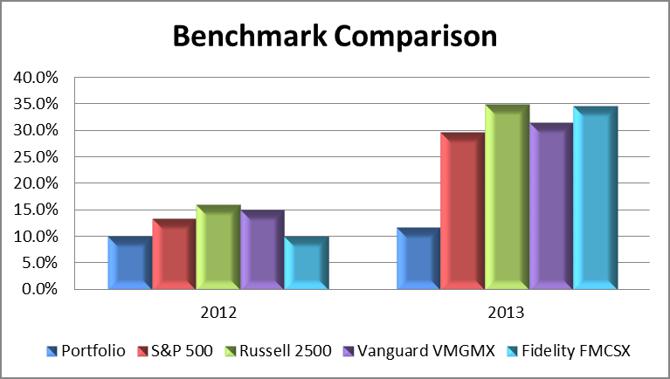 The management activities section below will highlight the liquidation-related activities from the third quarter. The portfolio's biggest blunder for the year was investing in Velti plc (VELT). The company ended up going bankrupt. Without this company being included, the fund would have performed substantially better.
Management Activities
All charts in this section are used from Yahoo! Finance.
Recent transactions where entire positions were sold included LinkedIn Corporation (NYSE:LNKD), MercadoLibre (NASDAQ:MELI), Millennial Media (NYSE:MM), Seadrill (NYSE:SDRL), Scripps Networks (NYSE:SNI), SINA Corporation (NASDAQ:SINA), Textainer Group (NYSE:TGH), TripAdvisor (NASDAQ:TRIP), Youku Tudou (NYSE:YOKU), and V.F. Corporation (NYSE:VFC):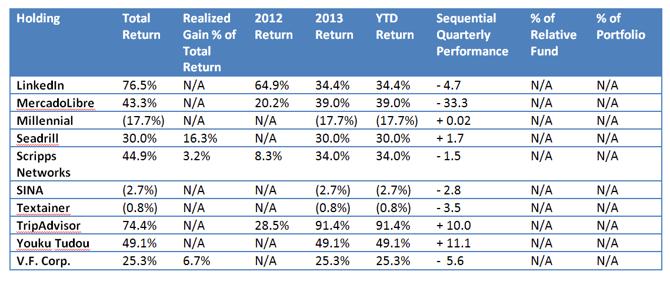 The following positions were sold in order to reallocate funds to meet adjusted portfolio goals as well as to provide ample cash for 2014. Companies that will be considered in 2014 in the event they experience stock price pullbacks include both Seadrill and Textainer Group.
Positions were not added to any existing holdings during the quarter.
All existing positions that had no buying or selling activity included Laredo Petroleum and WhiteWave:
Laredo Petroleum climbed to its highest level near $34/share during the fourth quarter, only to witness a strong pullback resulting from severe weather conditions substantially affecting business operations. The company finalized the asset sale of its Anadarko Basin properties and recognized roughly $430 million during the third quarter. While not a consistent form of cash operations, the company generated positive free cash flow as a result.
Laredo spent roughly $920 million on capital expenditures during 2012. For 2013 the capital program remains constant at $725 million, with an expected increase to $900 million during 2014. To date, the company has spent roughly $570 million. Also as a result of the cash generated from asset sales, debt to equity decreased from 165% to 88% in the third quarter, driven by decreases in long-term debt to roughly $1 billion.
It will remain to be seen how much of an impact the weather had on Laredo's business operations. As of the third quarter, the company was making progress towards improving net income.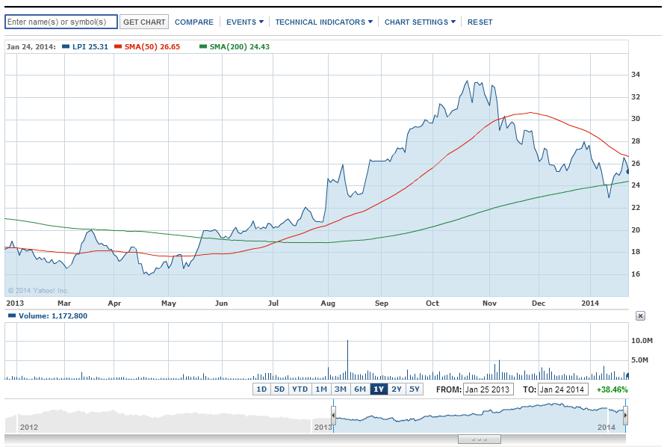 WhiteWave manufactures and sells products in three categories; plant-based foods and beverages, coffee creamers and beverages, and premium dairy. Many consumers are quite familiar with WhiteWave's products including Silk (57% market share), Alpro in Europe (38% market share), International Delight (30% market share), Land O Lakes half & half (22% market share), and Horizon Organic (43% market share).
The company recently completed the acquisition of Earthbound Farm for $600 million in cash. The acquisition was primarily financed through WhiteWave's senior secured credit facilities.
Interesting developments for the third quarter include the following; 11% YOY revenue growth lead by North American and Europe plant-based food and beverages and North American coffee creamers and beverages. The company has now generated free cash flow for seven consecutive quarters. It will be important to see how the synergies of the acquisition play out as the company will now have substantial goodwill and be in a more levered position moving forward.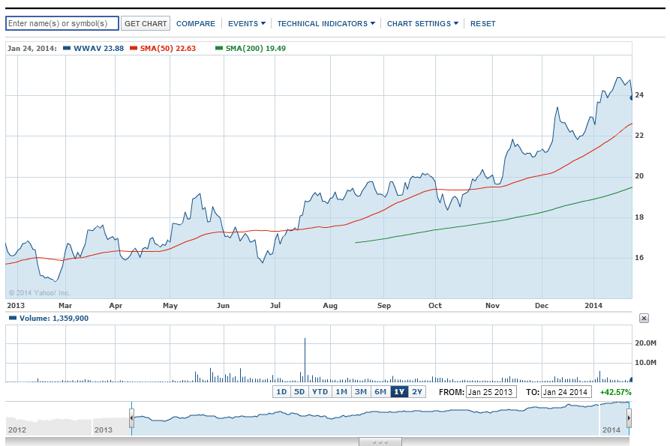 The only company where a new position was taken included Zulily, Inc.:
Zulily, Inc. is an Internet e-commerce company which incorporates a flash-sales model for its customers. The company caters to the "mom" demographic and provides a variety of discount fashion items which have a sale period usually lasting for only a few days.
Zulily has witnessed substantial top-line growth since the start of its business in 2010. The company is currently growing revenues near 120% YOY. The company has minimal profit margins on a TTM basis, however free cash flow generation has been growing extremely rapidly as active customers and customer product orders continue to show significant demand.
The company ran into some order issues during the holidays as shipping companies including FedEx and UPS struggled to meet order demands through harsh weather. The company also faces the challenges of reducing its delivery times to be more competitive with other e-commerce sites, and making adjustments to its return policies in the U.S.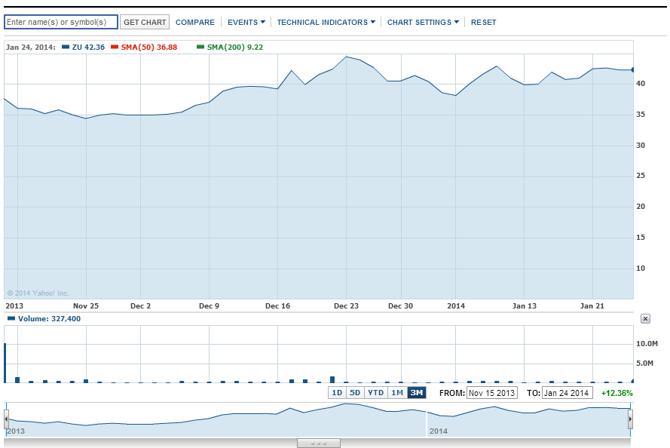 RADAR SCREEN
Companies being considered for the portfolio are listed on the Instablog, Radar Screen.
NEXT UPDATE
The next IIF portfolio update and review will occur at month end, March 2014.
Disclosure: I am long LPI, WWAV, ZU. I wrote this article myself, and it expresses my own opinions. I am not receiving compensation for it (other than from Seeking Alpha). I have no business relationship with any company whose stock is mentioned in this article.