There's not a lot of things that we, as humans can predict accurately. If there were, a lot of us would be a lot richer. One thing we can predict is the weather - in the Midwest, where I'm from, every summer it gets hotter, every winter it gets colder.
The entire U.S. has been freezing its collective rear off over the last few months, as record low temperatures and two massive polar chills have slapped around the northern Midwest and northeastern United States. As such, natural gas futures have gone through the roof due to massive demand and reductions in "inventory".
Seeking Alpha reported at the end of last week:
Stocks like United States Natural Gas benefited from the pop:
(click to enlarge - source Yahoo! Finance)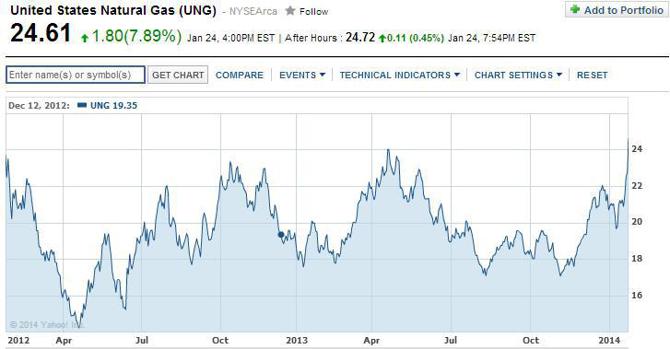 So, while the rest of the country watched headlines about the cold negatively effecting companies and businesses through December and January, those that saw the pop with natural gas coming had a chance to cash in.
But, here's the catch: as you can see from the below EIA chart, natural gas storage and usage is cyclical - just like when you have a window unit air conditioner and you open up the electric bill. The summer months generally tend to "stand out".
As such, natural gas in storage decreases after every winter, and pops back up after the summer months.
(click to enlarge - source: US Energy Information Administration)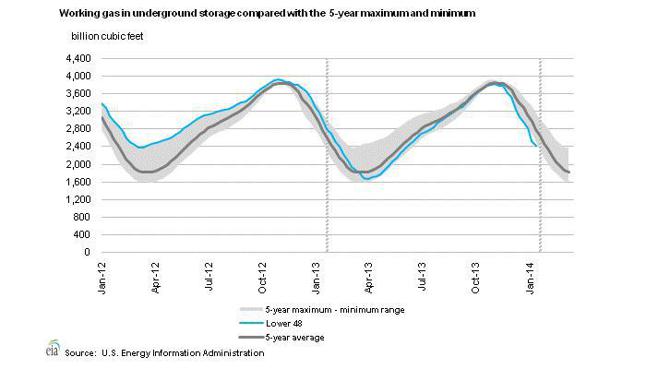 And, in addition to that, long term supply and natural gas inventories have increased since the early 2000's.
If you're going to go long on natural gas, why not do it through a vehicle that also offers great business fundamentals, like Natural Gas Services Group (NYSE:NGS), which I've advocated in the past. As a company, they've been able to brave the sector-wide ups and downs and continue to execute as a business. Additionally, they'll benefit from natural gas pricing, should it continue to rise long term.
At this point, the obvious trade for me is to short natural gas through whatever vehicles you can. Just like any other commodity, natural gas goes through cycles. Yes, we are benefiting from an abnormally cold winter, but as the days turn and the clock winds, natural gas prices are likely to pull back in the coming weeks as we head towards summer.
Best of luck to all investors.
Ways to short natural gas:
Disclosure: I have no positions in any stocks mentioned, and no plans to initiate any positions within the next 72 hours. I wrote this article myself, and it expresses my own opinions. I am not receiving compensation for it (other than from Seeking Alpha). I have no business relationship with any company whose stock is mentioned in this article.