Nobody is sure where the price of gold is heading. Some analysts claim that production costs should create a floor at its current price. Others point out the low impact that fiscal policy has had on dollar inflation, arguing this alone indicates gold still has a way to fall. This uncertainty has made it difficult for investors looking for exposure to the gold industry to decide where to allocate capital. One option is Kingold Jewelry (NASDAQ:KGJI).
An Introduction
KGJI is a Chinese company that designs, manufactures and sells gold jewelry. Headquartered in the Hubei Province, the company supplies both retailers and wholesalers with 24kt product. Rather than waste words on a company history, the image below gives a nice visualization of KGJI's growth to date.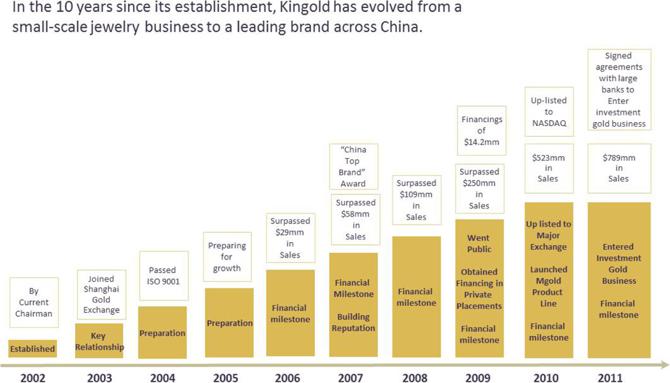 (Source - kingoldjewelry.com)
During 2012, KGJI generated $915M revenues and during the first three quarters of last year generated $872M. Over the past three months, a number of SA authors have pointed out that KGJI looks undervalued based on these figures alone; a valid claim when considered against the company's current market capitalization of just $114M.
KGJI vs. Physical Gold
First, it is important to point out that investors in KGJI do not just get a piece of the company; they also get direct exposure to the price of gold. This direct exposure emanates from KGJI's gold stock. At September 30, 2013, the company held $169.3M gold. At the September 30 price of $1,289/oz., this equates to 131,400 oz. gold. This presents the question, "if the company's assets comprise mainly gold, why not just buy gold?" The benefit to holding KGJI stock rather than physical gold or SPDR Gold shares (NYSEARCA:GLD) is the company sells its products at a markup, typically between 4-6%. This markup offers investors exposure to the benefits of a rise in the price of gold, while also providing a buffer against the costs associated with a fall.
To illustrate, consider these alternatives against one another. Since the beginning of January 2013, the price of physical gold has fallen more than 24%. GLD is down over 25% during the same period. Both of these declines come as a direct result of cash flow into a booming equities market. In contrast, KGJI stock is up 53% despite the capital shift. This raises another interesting point. The price of GLD shares and their physical counterpart is heavily tied to investor sentiment. KGJI's inventory means the company benefits from risk aversion, and the resulting increase in the demand for gold, but the company also benefits from consumer demand. As the price for gold fell last year, consumer demand for gold products rose to all-time highs. At year to date Q32013, consumer demand totaled a record 2,896 tons. In short, KGJI benefits from an increase in both investor demand and consumer demand for gold. Simple supply and demand suggests that as investor demand falls, consumer demand should increase as a result of lower prices. This reflects an almost no lose situation for KGJI. Whatever happens, either the company's inventory value will increase or its sales volume will increase.
KGJI vs. Gold Mining Companies
The gold mining industry is struggling. At current price levels, it is no longer financially economic to pull gold out of the ground for many miners. A fellow SA author estimated average all in costs excluding write-downs and taxes across a range of gold mining companies to be $1,221/oz. This figure does not take into account taxes, and so in reality the actual average cost/oz. is much higher than this. At current prices, this means the majority of mining companies are losing money. If the price of gold falls further, as many analysts expect, the share price of gold miners will fall. To illustrate this, consider the Market Vectors Gold Miners ETF (NYSEARCA:GDX). Since the beginning of last year, GDX has lost 49% of its value.
Again, this draws the question, "Why with the 49% decline in GDX has KGJI gained 53%?" The answer lies in exposure, or lack of it. The cost of gold as a raw material is not heavily linked to the cost of jewelry. As this article states, "Retail jewelry prices are less market-driven…prices at the counter factor in much more than the market rate for materials." KGJI buys gold at-market prices from the Shanghai Gold Exchange as needed. Therefore, a fall in the price of gold translates simply to a reduced cost of goods sold (COGS) for the company.
KGJI vs. Gold Royalty Companies
An almost identical argument applies to KGJI's superiority over gold royalty companies. Consider Franco Nevada (NYSE:FNV), the world's largest gold royalty company. Investing in company's such as FNV can provide lower risk exposure to the gold mining industry due the diversification. This diversification however, does not mitigate an investor's exposure to the price of gold. FNV receives royalties calculated from the revenue a mine generates. Naturally, as the price of gold falls, the value of each mine to FNV will decrease. Once again, the company's share price performance throughout 2013 illustrates this connection. Since the beginning of last year, FNV stock is down 28%, up from mid-2013 lows of 44%. To reiterate the point made in the previous section, KGJI's revenues do not fall as the price of gold falls.
Metrics support the fundamental benefits KGJI has over FNV. During 2013 the book value of KGJI grew by 26% and its current price to book value currently stands at just 0.55. In comparison, the book value of FNV fell by 0.95% and its current price to book value is 2.12. Further, at current prices, FNV is trading at a P/E of 112.7, compared to KGJI's P/E of just 3.8.
A Visual Representation
The chart below illustrates the discrepancy in performance between KGJI and the alternative gold exposure options over the last year.

KGJI, FNV, GDX and GDL: Jan 2013 - Jan 2014
(Source - Yahoo! Finance)
Catalysts
A couple of recent and future catalysts should help support and advance the price of KGJI shares.
The first was last month, with the announcement that the company is one of nine that NASDAQ added to its Golden Dragon Index as part of the latest quarterly changes. NASDAQ describes the purpose of the index as providing "insight and access to the unique economic opportunities taking place in China while still providing the transparency offered with U.S. listed securities." This listing should serve to boost the credibility of KGJI, overcoming a lack of investor confidence that arose as a result of issues that have plagued Chinese investment prospects in recent years.
The next catalyst is rooted in expansion. On October 23, 2013, KGJI entered into an acquisition agreement to acquire the operating rights for 66,666 square meters of industrial land in the Jiangan district of Wuhan. The company expects the development to become a hub for the manufacture and sale of jewelry in central China and the acquisition is part of its long-term expansion. In an SEC filing KGJI states construction should complete by mid-2015. To acquire the land, KGJI paid approximately $164M. For the past eight years, the average value of land has grown at a compound annual rate of 16% and analysts expect this rise to continue. In short, even without development, large land purchases such as this should drive up the company's book value per share in the coming years.
Risks
KGJI's business model shields investors from the majority of the commodity risk normally associated with companies operating in the gold space. This said however, there is still risk associated with buying its stock.
While KGJI's margin acts as a buffer to falling gold prices, as its price falls the value of KGJI's inventory also falls. Reduced inventory value would lower the company's book value.
In addition, if the price of gold continues to fall consumers may hold back on gold purchases on the assumption that if it falls far enough retailers will reduce prices. This could create a temporary dip in consumer demand, and in turn, KGJI's revenues.
Conclusion
KGJI offers investors a reduced risk exposure to gold in an uncertain gold environment. While GDX, GLD and royalty companies like FNV all have considerable upside, if gold has not yet bottomed out, the downside associated with each makes for a risky investment. KGJI exposes investors to this upside, while also offering a degree of downside protection.
Disclosure: I have no positions in any stocks mentioned, and no plans to initiate any positions within the next 72 hours. I wrote this article myself, and it expresses my own opinions. I am not receiving compensation for it. I have no business relationship with any company whose stock is mentioned in this article.