Nokia (NYSE:NOK) announced that it is acquiring Novarra, a privately-held Chicago-based mobile web browser company. Novarra's web-based technologies are targeted to low-end mobile phones and include functionality for internet access, portals, videos, widgets and advertising.
We believe that this acquisition could lead to improved web experiences on low-end Nokia phones, making the company's phones more useful to value conscious consumers and helping to retain consumers that are considering smartphones.
This is particularly important in emerging markets (India, China, Brazil) where there is a large growth opportunity for Nokia phones. There could be an upside of $1.30 (5%) to the $26 Trefis Price estimate for Nokia's stock if Novarra's technology helps to slow decline in Nokia's share in emerging market phones.

Majority of Nokia Mobile Phones Sales Are the Feature Phones in Emerging Markets

We estimate that mobile phone business in Emerging markets constitutes 71% of the $26 Trefis price estimate for Nokia's stock.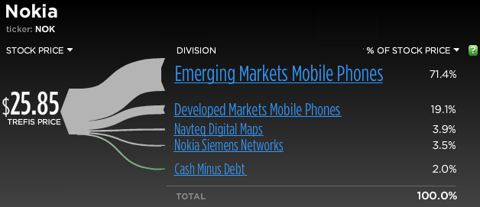 The majority of the phones sold by Nokia are low-cost feature phones based on Nokia's proprietary Series 40 software platform and have limited software capabilities. In addition to internet connectivity, Series 40 phones provide a platform for developers to build content and applications like games, video, wallpapers, ringtones and social networking applications. The popular Nokia 5300 series of mobile phones operates on S40.
Novarra Technology Will Make Web Browsing Experience Better on Low-End Nokia Phones
Novarra technology improves the web browsing experience on feature phones by making it easier to render feature rich websites. For example, Novarra's Vision Browser supports Flash, video, JavaScript, AJAX, RSS and widgets.
The browser makes it easier to view rich websites by introducing multiple viewing and navigation options including "Fit to Screen" layout, Snapshot, Zoom, Slideshow, SmartScroll. Novarra can also help compress browser data for faster rendering and less bandwidth consumption.
Novarra technology will help to improve the accessability of the web for the millions of Nokia S40 platform phones and make Nokia phones a more valuable alternative to more expensive smartphones.
5% Upside to Nokia's Stock if Its Share in Emerging markets Stabilizes
We estimate that the Nokia Mobile phone share in emerging markets has declined from 45% in 2008 to 40% in 2009, and believe that it will continue to decline.
Although we forecast that Nokia's mobile phone market share in emerging markets will decline to around 37%, there could be an upside of $1.30 (5%) to the $26 Trefis Price estimate for Nokia's stock if its market share were to stabilize at 40% by the end of Trefis' forecast period.
You can modify our forecast for Nokia market share above to see how Nokia's stock would be impacted if the company's market share were to stabilize rather than decline as we forecast.
For additional analysis and forecasts, here is our complete model for Nokia's stock.
Disclosure: No positions