End consumers just can't seem to get enough from equipment manufacturer and distributor Alamo Groups (ALG). For the last 18 months, Alamo has endured the luxury of riding out a persistent demand for its products and services that are mainly distributed across the industrial and government sectors. This spike in demand can be easily seen through the 8% YoY increase in its sales revenue, but this is also just as transparent through the adjustments it was forced to make within its cost structure when it was required to increase production levels to match the demand at hand.
While the strong demand continues to be an underlying stimulant for boosting its profitability, investor's have a fine opportunity to ride out earnings growth to a higher valuation. Current investors have seen close to 50% appreciation over the last 12 months, but there's plenty left to go. Alamo may be living out a strong streak, but this does not appear to be short-lived. Its intrinsic value is a good indication we have not seen the best, and with strong fundamentals and low risk profile, this investment is highly feasible.
Background
Founded in 1969, Alamo has had plenty of time to gain experience before its initial public offering in 1993. Today, its business is headquartered out of Seguin, Texas, but its operations are facilitated around the world. For simplicity, its business can be broken down into three operating divisions, including (1) North American Industrial, (2) North American Agricultural, and (3) Europe). Under its three divisions there are a total of 18 different manufacturing locations spread through the United States, Canada, England, France, as well as Australia. For a small company, its operations cover a vast landscape, and the key reason for this is because it has to keep up with its extensive distribution network consisting of over 5,600 independent dealers and distributors. In addition, the regional break down of its sales is pretty evenly disbursed, which help hedge the risks from one particular region experiencing a set back. Although the graph revealing the breakdown of its sales is fairly dated, it still provides a good depiction of the diversification its product and service offering provides.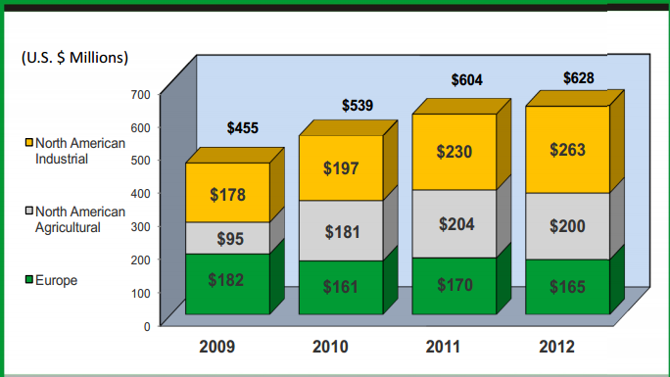 (Source: Alamo's Investor Presentation from the 2013 Baird's Industrial Conference)
As we know, there are two main types of products that contribute Alamo's success in generating this revenue, and these products fall under (1) Industrial, and (2) Agricultural. While it may not seem there would be a tremendous difference in the actual products used by consumers in North America versus Europe, there actually is, and this difference is directly linked to the varying uses and preferences of consumers across both regions. Here's an overview of the industrial products Alamo provides to its US consumers: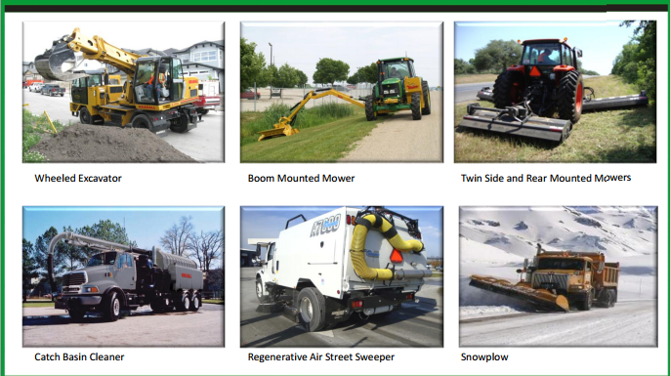 (Source: Alamo's Investor Presentation from the 2013 Baird's Industrial Conference)
Alamo's industrial division within the US provides products that cater to a wide array of different applications. Some of these include, but are not limited to tractor mounted mowers, street sweeping equipment, excavators, vacuum trucks, snow removal equipment, and replacement parts. As you can tell, these products are primarily used for maintenance on highways, airports, military installations, recreational areas, and commercial landscapes. Therefore, the end users that feed off this segment of Alamo's business are mainly government agencies and contractors. In terms of distribution, Alamo sells these products directly to consumers as well as through 525 dealers with placement in over 1,060 different stores. According to the US Census Bureau, non-construction capital outlays in the US have experienced steady growth consecutively for the last several years, and it's expected that government spending on infrastructure maintenance will continue to go up. The need for industrial equipment in the US will play a critical role in continuing to maintain the strong demand we have seen for Alamo's products for this segment.
Furthermore, the economics circulating the US agricultural industry are not bad either. Currently, there is a positive correlation coefficient between US Farming Income and the demand for agricultural equipment, and based off what the US Census Bureau has reported, we are ripe for an increase in the demand of agricultural equipment. With the exception of 2012's small decline in US Net Farm Income, this figure is continuing to grow, and will help drive the sales for Alamo's products within this segment. Here's an overview of its product line catered to the agricultural industry: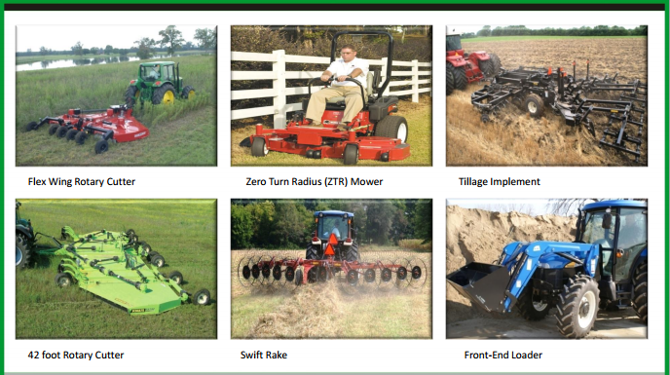 (Source: Alamo's Investor Presentation from the 2013 Baird's Industrial Conference)
Its line of agricultural products consist of tractor powered mowers, tillage implements, post hole diggers, scraper blades, rock pickers, front end loaders, and the list goes on. These products are designed for independent farmers with a small amount of property, farmers who operate on a commercial scale, as well as mowing contractors. The distribution of these products is typically not a direct sale like we see with the industrial products and government contractors. However, Alamo has roughly 3,100 dealers specifically designated for the distribution of these products. Finally, let's take a look at the products within its European segment: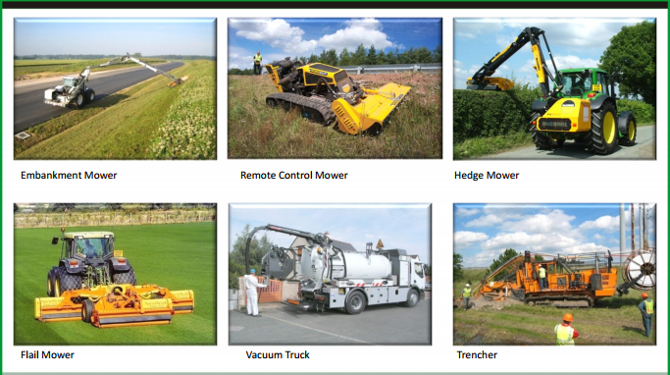 (Source: Alamo's Investor Presentation from the 2013 Baird's Industrial Conference)
As mentioned earlier, the amount of revenue its European products generate is significantly less than what its US segments bring in regularly. However, with Alamo's low capital expenditures, tapping into this additional market does not hurt its profitability. This segment is basically a smaller combination of its two US segment with an even split between industrial and agricultural products. The customers which feed off this segment are contractors, government agencies, and agricultural markets.
Operating Performance Caters to a Higher Valuation
For the last two years, Alamo reveals an average P/E of 15.5x, and if you bring forward earnings estimates into the mix, you'll notice its currently trading at a P/E of 14.5x. In both cases, neither of the ratios suggest its shares are expensive, and if we take a look at how Alamo matches up on a comparable basis, we will witness the same things. The industry 2 year average P/E at 16.5x is substantially higher than what Alamo has seen in previous years, which indicates a discount on its shares does exist.
From a quick glance at the income statement, we can see that Alamo's operations are fairly profitable. With a TTM revenue figure of $660.63mm, the effectiveness embedded within its cost structure really stands out given the level of operating cash flow it continues to turnover. As mentioned earlier, the strong demand for Alamo's products and services has been the core driver for growth. Since the demand shock Alamo experienced in the latter part of 2011, the large increase in its operating cash flow really does a thorough job depicting how this demand shock fortified the health of its business.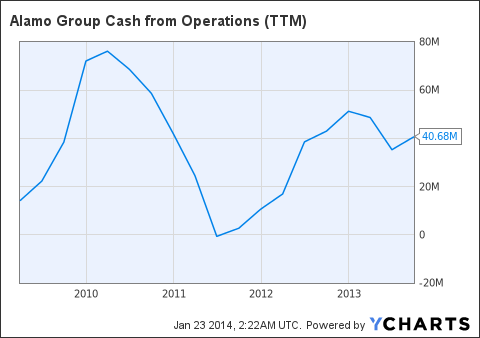 ALG Cash from Operations (TTM) data by YCharts
When it comes to capital budgeting, large equipment manufacturers are constantly being put to the test. High operating costs can often make the capital intensive nature of this industry quite vivid to shareholders when it's time to analyze a firm's true valuation. Needless to say, Alamo's valuation is quite fine, and on the expense side, there are no pressing concerns that investors may perceive to be alarming. Below, you find Alamo's free cash flow and capital expenditures, which are both presented on a TTM basis.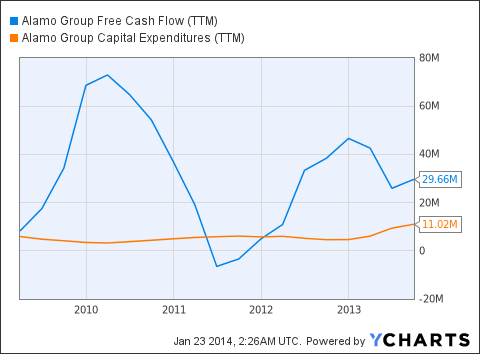 ALG Free Cash Flow (TTM) data by YCharts
Prior to 2012, Alamo's free cash flow was all over the place, but more importantly, its CAPEX was merely the opposite. Management has always displayed a strong effort towards maintaining a stable costs structure, and with a steady level of CAPEX, its ability to effectively capitalize expenses via the balance sheet finally paid off. So it goes to show that by implementing strict policies pertaining to capital allocation, Alamo was capable of generating FCF in excess of $29mm. Industry wide, this level of FCF is a long ways away from matching up in terms of dollars, but let's not forget the size of the company we're dealing with. Today, you can purchase shares for less than $58, and with only 12.08mm shares outstanding, its market capitalization is still of $700mm.
There's several ways to go about placing a fair value on Alamo's common shares, but to start, an ordinary DCF model serves as an easy way to compute the intrinsic value of its operations. From there, we can then easily find the implied equity value by accounting for the appropriate balance sheet items, such as short-term investments in non-operating assets, debt, preferred stock, and minority interest. The assumptions in this model include Alamo's FCF TTM figure of $29.66mm from above, Alamo's WACC of 7%, and last, a perpetual growth rate of 3.5%. While all of these inputs hold a fair share in importance, it's critical to recognize how influential a firm's capital structure can be in this model, which is reflected through how low its WACC is. On a comparable basis, Alamo's WACC is much lower across the board, and this is primarily due to the large amount of debt financing firm's in this industry typically engage in. In this model, we start out by projecting the FCF figure one period forward by the growth rate and then we discount this figure back by the difference between the WACC and the growth rate. In doing so you will arrive at roughly $877.09mm, which is the value of Alamo's operations. Next, we need to compute the intrinsic value of equity by subtracting several balance sheet items mentioned above, and after doing so, you will find its implied equity value to be $862.09mm. Finally dividing this figure by the 12.08mm shares it has outstanding, you will see the intrinsic value of its common equity is approximately $71.36. Assuming all else is held constant, this calculation indicates the true value of Alamo's shares have a premium of about 27% over what the market has priced in today.
Risks
Up to this point, Alamo has surpassed the expectations of analysts, and has utilized the high demand by its end consumers to fuel its appetite for abnormal growth. Nevertheless, a strong desire for maintaining high growth is essentially not enough to guarantee it will last forever, but while the industry's economics remain in its favor, it's important to understand the risks pertaining to Alamo's current business model.
As we saw, Alamo's product and service menu is diversified fairly well along with the geographical breakdown of the different markets in which it sells its goods. However, its customer base does not have this same luxury, and we was earlier, its customers are all very similar in nature. Therefore, Alamo's largest business risk is directly linked to the fact its end consumers display the homogeneous characteristics that are associated with a mature business stage. So in other words, Alamo's highly subject to the risks associated with a high degree of reliance on the economic factors that will continue to stimulate growth among those who feed off of its products and services. While this factor will mostly likely not be an issue over the next 12 months, depending on a mature market to generate an economic profit can be detrimental during distressed economic times. Thus, something for investors to bear in mind.
In terms of market risk, the beta of Alamo's holding period returns for the last two years is just slightly higher than market's overall beta, which is extremely low given the large movements its stock made in the last year. Also, if you take a look at the ownership breakdown of its common stock, you will notice nearly 90% of its shares are held by institutions. In a lot of cases, high institutional ownership is a strong deterrent for many individual investors, but with Alamo, it's important to only take this with a grain of salt. It's fairly common to see this level of institutional ownership in small, rapidly growing companies which trade at severe discounts.
The Bottom Line
The strong demand may not last for ever with the mature customer base Alamo has brought on over time, but it will surely cater to a steady stream of operating cash flow as the orders from its customers materialize this year as they did in 2013. By sustaining the already low level of expenditures as it continues to experience further growth, investor's may be in store for a much large upside than what has been priced in here. The uncertainty associated with risks embedded into its customer base has raised questions of how long Alamo will be capable of sustaining it current growth, but management's track record help takes the edge off this concern. Historically, management has proven its ability to turn the business around during harsh economic times, which provides reassurance to the idea that management is indeed capable of restructuring its business if need be.
Even after the gains we saw in 2013, Alamo continues to offer an attractive risk to reward profile. Intrinsic valuation suggest the fair value of its business is substantially higher than the market has accounted for, and this is not the only valuation method that arguably speaks in Alamo's favor. Enterprise value also supports this case, and with an EV multiple at 11.5x 2014 EBITDA of $60mm, it shares are a bargain at today's price. And considering the fact that Alamo continues to operate under the radar, this may be just the break that's needed for its valuation to be driven higher.
Disclosure: I have no positions in any stocks mentioned, but may initiate a long position in ALG, over the next 72 hours. I wrote this article myself, and it expresses my own opinions. I am not receiving compensation for it (other than from Seeking Alpha). I have no business relationship with any company whose stock is mentioned in this article.