(Editors' Note: This article covers a stock trading at less than $1 per share and/or with less than a $100 million market cap. Please be aware of the risks associated with these stocks.)
Even though more than 27 million small-to-medium sized businesses operate in the United States, most of their websites are not optimized for mobile devices. However, eMarketer predicted that overall spending on mobile advertising in the U.S. would increase to $4 billion in 2012, $7.19 billion in 2013, and nearly $21 billion in 2016. In other words, businesses and other organizations will shift their marketing budgets from traditional media to online channels. One small company that I ran across wants to capitalize on the situation. LiveDeal, Inc. (NASDAQ:LIVE) believes that it can leverage new services for gains as companies shift their marketing budgets to mobile platforms.
In this article, I would like to argue a case for the company. My findings indicate that LiveDeal has a minimum 20% upside offering. The company's initiatives are providing growth opportunities for the stock.
The business
LiveDeal is a tech company that provides specialized online marketing solutions to local businesses. Its solutions boost its customers' market visibility. LiveDeal offers affordable tools for small-to-medium sized business enterprises to extend their marketing reach via the internet. The company recently put together a strategic plan for its growth. The plan starts with a redefinition of the company's focus and direction.
LiveDeal's new initiatives
The intention of the new initiatives is to grow the base of restaurants. In preparation for the strategy, LiveDeal centered its focus on the new livedeal.com platform. In September of last year, the platform was launched. It became an avenue for a real-time relationship between merchants and consumers. It enabled restaurants to create offers and publish them to entice customers to visit their establishments.
Secondly, LiveDeal announced earlier in the month that it will release Apple iOS and Android apps of livedeal.com. The apps are to keep pace with an expanding mobile user base. The mobile applications are scheduled for release shortly. The management of LiveDeal believes its in-house app development is strategic as its users are mobile owners who spend a greater time on mobile solutions than on the web.
Strategically, these moves are important for LiveDeal's planned expansion. They will provide plenty of room for growth and create additional opportunities to drive the brand allegiance of livedeal.com. However, it must be admitted that LiveDeal needs some time before its new strategic plan translates into a resounding success.
Financials
For example, net revenues decreased year-on-year by $718,635 in the last quarter. This was primarily due to the end of the company's LEC billing. Its cost of services increased year-on-year in 2013. Gross profits also decreased due to the decline in revenues.
Also, LiveDeal anticipates that net loss for 2013 would be $5.4 million, compared with $1.6 million for 2012. Things appear rough for the company.
Investment analysis
Despite its declining revenues, LiveDeal deserves a close look. The stock's trend is bewildering. It loves to rise in a spectacular fashion and then crash violently. Consider the chart below.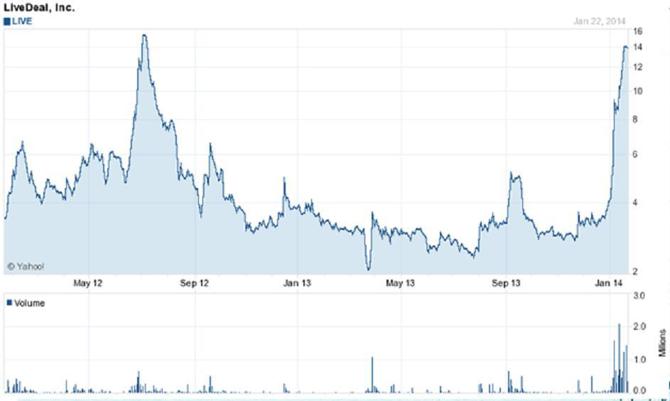 The stock has made about five pronounced upward movements in the past one year. It rose about around 100% in April and 20% in August. When LiveDeal launched the livedeal.com platform in September, there was a 50% rise in the share price to mark the event. In December, the stock rose by around 27%. A 250% increase in the stock can be observed early January. This coincided with LiveDeal's announcement that it will release Apple iOS and Android apps of livedeal.com. Based on the trend in the past one year, the stock has a minimum 20% upside potential.
If my observations about LiveDeal are right, and if the company continues with its progress, then the share should respond accordingly. Expect to see investors raise the price of the stock by a minimum 20% when it makes a pronounced upward movement in the next few months. What this means for investors is an opportunity for an upside. In hindsight, if investors had acted upon this trend in the past one year, they would have gained about 180%.
The shares are close to a long-term resistance area. Sellers will be active here. In fact, the shares reached this area around July 2012. The result was a sharp correction to the tune of around 63%. So with no new product announcements, I expect the shares to come under pressure in the short term. I expect the decline to be both sizeable and violent. It may persist for a few months. I'd be looking for a decline to $3.80. Traders can initiate positions then. They may have to wait for a few months before the stock witnesses another explosive movement upward.
Competitors
LiveDeal competes for local deals with rivals such as Groupon (NASDAQ:GRPN) and Living Social. However, livedeal.com's geo-location feature allows restaurants to send out deals to customers in real time. LiveDeal also competes with exchange carriers such Yahoo as (NASDAQ:YHOO) and Google (NASDAQ:GOOG) in the local search market. However, its principal competitive advantage over rivals is its lower prices. Also, its website design has a better quality. The combination of outstanding service and low-cost solutions enable LiveDeal to provide a suite of attractive packages to its clients.
Risk to consider
LiveDeal has a history of losses. Its net loss increased year-on-year. While it has reduced its operating expenses, it may not be able to maintain them due to a decrease in revenues. This may impact on the company's ability to implement new business strategies.
Also, LiveDeal incurs operating losses as it continues to transition its business toward its new strategic focus. In other words, there is no assurance that the company will achieve profitability in the short term. Besides, the company needs to introduce new products and services to remain competitive in an industry of rapid technological changes. The changes could render LiveDeal's technology and services obsolete at any time.
Final thoughts
It is a real act to capture the "Apples" of the investment world before they become large companies. In my research, I like searching for companies in the "transition phase." These are companies with a factor that could promote future growth. LiveDeal has this enviable criterion. It continues to transition its business to focus on mobile marketing solutions. Of course, it will need to build new revenue streams in business markets. It will also need to introduce new products and services in order to attract customers. When it does, the stock will show explosive growth. Given the upside, I identify it as an investment proposition with a clearly asymmetric risk/reward characteristic.
Disclosure: I have no positions in any stocks mentioned, and no plans to initiate any positions within the next 72 hours. I wrote this article myself, and it expresses my own opinions. I am not receiving compensation for it (other than from Seeking Alpha). I have no business relationship with any company whose stock is mentioned in this article.