When I first offered a warning to investors on New Year's Eve, it was not plainly obvious what was about to happen. Today, pundits are pulling out every possible excuse for why stocks are getting trashed. It's not at all because of Turkey or Argentina, but the fringes of risk, including emerging markets, are instead feeling it now because of growing investor aversion to risk. Momentum seems to be building against the market, and the wall of worry no longer seems surmountable, so I continue to suggest investors avoid passive long investment in the market through the SPDR S&P 500 (NYSEARCA:SPY) and similar vehicles.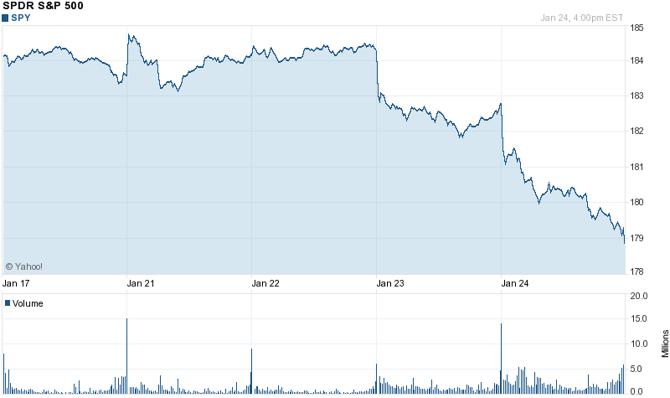 The initial catalyst for this crisis was simply the hangover following the party of 2013. The vast gains that stretched across sectors and stocks were so broad-based that just a handful of stocks within the S&P 500 (38 to be exact) finished the year in the red. With stocks rising into the end of December, who would sell and take a tax hit against 2013. Once the calendar turned, holders of high risers needed new destination for capital, but there were few that lacked the same risk as those being sold. Capital has clearly found its way into gold and the relative securities around it like the SPDR Gold Shares (NYSEARCA:GLD) and other perceived safe havens and value opportunities.
The second phase of the selloff was driven by second guessing and short-sighted speak out of Federal Reserve representatives. As stocks declined through the first few days of trading, many market pundits spoke about the historical example and the importance of the first week and month of the year. So a story availed for the media and selling begot selling.
Then Fed-heads got loose, perhaps on a fading Ben Bernanke's lax control. It seems every one of them was warning about inflation suddenly and the possibility of a faster tapering process and transition into rate hikes. This unfortunately followed a masterful Bernanke led transition into tapering in December, and his good work was ruined. Interest rates crept higher and stocks inched lower.
| | | | |
| --- | --- | --- | --- |
| Security | Last Week | Year-to-Date | Last 12 Months |
| SPDR S&P 500 | -2.6% | -3.1% | +19.7% |
| SPDR Dow Jones (NYSEARCA:DIA) | -3.4% | -4.2% | +14.8% |
| PowerShares QQQ (NASDAQ:QQQ) | -1.3% | -1.4% | +30.1% |
| SPDR Gold Shares | +1.1% | +5.3% | -24.2% |
| iPath S&P Crude Oil (NYSEARCA:OIL) | +2.9% | -2.2% | -0.7% |
The wall of worry was always there, but suddenly investors lost their climbing confidence. So when the Employment Situation Report showed the same sick trend it has presented since the economic recovery started, with unemployment improvement driven as much by the long-term unemployed falling off the radar as it was by people actually finding work, suddenly people noticed it. They also noticed fading consumer confidence and weak trends among brick and mortar retailers like Best Buy (NYSE:BBY) and Sears (NASDAQ:SHLD).
In summary, that is how we got here. Yet, the SPDR S&P 500 is only off 3.1% year-to-date. Where we go from here seems to now be in the hands of the panicked masses, and crowd logic tends to drive selling at times like these. Besides, the Federal Open Market Committee seems assured to keep to its only just initiated path of reduced asset purchases when it announces monetary policy this week. That will only add to market angst. So dear friends, with momentum seemingly building against us, I continue to suggest investors avoid passive investment in the market through the SPDR S&P 500 and securities like it.
Disclosure: I have no positions in any stocks mentioned, and no plans to initiate any positions within the next 72 hours. I wrote this article myself, and it expresses my own opinions. I am not receiving compensation for it (other than from Seeking Alpha). I have no business relationship with any company whose stock is mentioned in this article.